Black Dog
Who says they don't make them like they used to? Even after 20 years, if Hollywood sees a cash cow, they're going to milk it. Say moo to "Black Dog," a film so familiar you'd swear you've seen it before. You have. It was called "SMOKEY AND THE BANDIT." Both films come from Universal Studios. Both films feature a renegade truck driver who must make an illegal haul over a short period of times. Both films feature country and western singers as their co-stars. Both films feature a law enforcement duo hot on the trail of the trucker. Deja Vu? But wait, there's more. "Black Dog" and "Smokey and the Bandit" both feature a support character who is a dim wit, a dog who goes along for the ride, and numerous spectacular chases and crashes.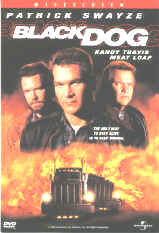 Patrick Swayze plays the Burt Reynolds role, an ex-con (he was sent up for vehicular manslaughter when he fell asleep at the wheel of his rig) named Jack Crews who is trying to get on with his life. He has a loving wife and daughter, and lives in a nice home in a nice neighborhood. All that is about to change when Jack learns that he's about to lose his home. His wife complains that it's hard to pay the bills when her husband is locked away behind bars. Even though he no longer has a license, Jack agrees to haul a shipment for his boss from Georgia to New Jersey.
Against the wishes of his wife, and desperate for money, he flies off to Georgia, where he's met by job foreman Red (Meatloaf). He's partnered with an aspiring songwriter named Earl (Randy Travis in the Jerry Reed role), and accompanied by two company men in a souped up sports car (sound familiar?). Jack thinks he's carrying toilets, but in reality he's transporting illegal firearms. What's supposed to be a simple jaunt up the coast turns into a heavy metal nightmare when Red tries to hijack the cargo. When his henchmen engage Jack and his road crew, it leads to one spectacular action scene after another.
Unlike in "Smokey and the Bandit," which was played for laughs, "Black Dog" gets down and dirty. Jack ends up killing several of Red's men, and decides that enough is enough. When he calls his boss to quit, he learns that his wife and daughter are being held hostage until Jack finishes the run. Oh boy, more high speed thrills and spills. The functionary script fills in the gaps between the explosive action, while the cast seems to believe in their cause. "Black Dog" didn't make any waves at the box office, despite solid directing by Kevin Hooks ("Passenger 57") and likeable characters. Perhaps the timing was wrong, or audience's thought they had already seen the film. Who knows.
Oh yeah, for you information, "Black Dog" is a term truckers use when they're so dogged tired they can hardly stay awake. You won't have that problem if you decide to give "Black Dog" a spin.
COMPLETE CHECK-UP
VISION: [ X ] EXCELLENT [ ] GOOD [ ] RESUSCITATE [ ] D.O.A.
Superior digital transfer in the film's original 2.35:1 widescreen ratio, enhanced at 16:9 for widescreen televisions. The images are sharp and vivid, some of the best I've seen on a DVD. Striking blues, hot reds, earthy browns and tropical greens mix with pleasing flesh tones and rock solid blacks to create one awesome picture. No visible signs of any compression artifacts. The picture looks so real it jumps off the television screen.
HEARING: [ X ] EXCELLENT [ ] GOOD [ ] RESUSCITATE [ ] D.O.A.
Explosive Dolby Digital 5.1 Surround track kicks butt and then comes back for more. Booming basses, screeching high ends and a sound mix that pinpoints each and every distinct noise. The dialogue mix is strong and impressive, while the front to back separation is excellent. The ambient noise is especially well mixed, making you feel like you're in the middle of the action. The stereo effects fill the room with the sound of twisted metal and burning rubber. The "Black Dog" DVD also features Dolby Surround language tracks in Spanish and French, but you can't toggle between them while the DVD is playing.
ORAL: [ ] EXCELLENT [ X ] GOOD [ ] RESUSCITATE [ ] D.O.A.
Closed captions in English, subtitles in Spanish.
COORDINATION: [ ] EXCELLENT [ X ] GOOD [ ] RESUSCITATE [ ] D.O.A.
The DVD features the customary main and scene access menus, production notes, cast and crew bios and theatrical trailer, but there's also a film soundtrack presentation that's not listed on the outer sleeve. This bonus features the full-length music video of country star Rhett Akin singing Eddie Rabbit's "Driving My Life Away" and then a plug for the CD. There's also DVD-ROM web links.
PROGNOSIS: [ ] EXCELLENT [ X ] GOOD [ ] RESUSCITATE [ ] D.O.A.
"Black Dog" is proof you can teach an old dog new tricks. Whether you rent or buy "Black Dog" depends on how much you're willing to pay for that doggy in the window.
VITALS: $24.98/Rated PG-13/89 Min./Color/26 Chapter Stops/Keepcase/#20391
ATTENDING RESIDENT: John Larsen
PATIENT: BLACK DOG
BIRTH DATE: 1998
HMO: Universal Studios Home Video