The Best of Times
It was the best of times, it was the worst of times, especially for high school football player Jack Dundee, who dropped the game-winning pass. That was over ten years ago, and yet Jack is still known around town as the man who dropped the ball. Instead of leaving the small oil town of Taft, California, Jack decided to tough it out. Now he's the manager of one of his father-in-law's banks, and is just trying to get on with his life. He still takes a ribbing, especially from his best friend Reno Hightower, the star quarterback who threw that fateful pass.
Reno won't even toss Jack a beer. A man can only take so much, and when he reaches his breaking point, Jack decides to do the impossible. H wants to reassemble both high school teams and play the game again.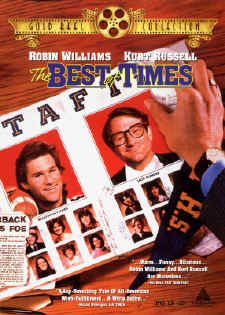 Not just for him, but to lift the town out of it's state of lethargy. It's an insane idea, one the residents of Taft frown upon (they don't want to be embarrassed again), but one that Jack's father-in-law, a supporter of the rival team, relishes. He would love to humiliate his son-in-law one more time.
Now all Jack has to do is convince the Taft teammates to reunite and get in shape for one last shot at glory. They're reluctant at first, especially Hightower. When Jack dons the rival team's mascot uniform and trashes the town, the act brings the town together. Now all jack and Reno have to do is get a bunch of out-of-shape, overweight and lazy men into the best shape of their lives before the big game. While not very substantial, "The Best of Times" is exceedingly enjoyable. Thanks to a functional and intermittently funny screenplay by Ron Shelton ("White Men Don't Jump," "Bull Durham") and an engaging cast, "The Best of Times" plays much better than it should.
It has all of the elements of a made-for-television movie, yet avoids the melodramatic pitfalls. Robin Williams is wonderful as the guilt ridden Jack, hiding behind a nerdy pair of thick-rimmed glasses and a greasy head of hair. This guy is so whipped that he's almost afraid of his own shadow. Kurt Russell couldn't be better as Reno Hightower, former athlete and full-time hero. Russell has always had that chiseled All-American look, and it works to his advantage here. He's a romantic at heart, and when he sings "Close to You" to his wife through a hotel door, it's not only funny, but sweet.
I'll watch Pamela Reed in anything, she's that good. She's adorable as Reno's long-suffering wife Gigi who wants to leave the small town of Taft for a big city singing career. Kirk Cameron, in his first feature film, plays their cool and understanding son. Holly Palance, daughter of Jack whose first leap onto the big screen was playing the nanny at the beginning of "The Omen" who hangs herself in tribute to Damien, co-stars as Jack's wife Elly. She's delightful as the wife who doesn't understand her husband's obsession with the past. "The Best of Times" is set in the real town of Taft, which isn't far from where I live. Director Roger Spottiswoode captures that small town ambience with little flourishes that help ground the film's comedy.
He keeps the characters honest. You actually believe that Jack and Reno live in this small town. Like all good sports movies, the film ends with the football rematch, and played out in the pouring rain, it's a kinetic experience. While there's no doubt who will triumph, it's still a pleasure to root for the underdogs. Filled with colorful characters and enjoyable situations, "The Best of Times" isn't a bad way to spend two hours of your time.
COMPLETE CHECK-UP
VISION: [ ] 20/20 [ X ] Good [ ] Cataracts [ ] Blind
At first the film looked a little thin, with unflattering colors and no depth. Either the transfer got noticeably better, or I gradually warmed up to it, but by chapter three everything looked fine. There are some noticeable compression artifacts early in the film, but they also take leave. What's left is a remarkably clear 1.85:1 widescreen transfer that features warm, natural colors and honest flesh tones. The blacks and shadows are exceptional throughout.
HEARING: [ ] Excellent [ X ] Minor Hearing Loss [ ] Needs Hearing Aid [ ] Deaf
Decent 2-channel Hi-Fi Mono soundtrack gets the job done, although it's far from definitive. I noticed some distortion early in the film, but on the whole the sound is clear. The dialogue track is strong. "The Best of Times" is one film that would have benefited from a surround soundtrack. Sports movies always come alive when you have the crowd cheering from all four speakers. If you're not a purist, you might as well turn off the sound system and just enjoy the film through your television's speakers.
ORAL: [ X ] Excellent [ ] Good [ ] Poor
Closed Captions in English for the hard of hearing, subtitles in French and Spanish.
COORDINATION: [ ] Excellent [ X ] Good [ ] Clumsy [ ] Weak
Functional main and scene access menus, production notes and cast & crew bios, plus three theatrical trailers, including "The Best of Times," "Chairman of the Board" and "Crossworlds."
PROGNOSIS: [ ] Excellent [ X ] Fit [ ] Will Live [ ] Resuscitate [ ] Terminal
While it won't win any Super Bowls, this delightfully little underdog comedy will score a touchdown with most fans of Robin Williams and Kurt Russell.
VITALS: $24.99/Rated PG-13/104 Minutes/Color/30 Chapter Stops/Keepcase/#7000D
ATTENDING RESIDENT: John Larsen
PATIENT: THE BEST OF TIMES
BIRTH DATE: 1986
HMO: Trimark Home Video