XXX
If imitation is indeed the sincerest form of flattery, then the makers of "XXX" are full of it. Their shameless attempt to duplicate the James Bond films as a franchise for action star Vin Diesel proves that money speaks louder than logic. "XXX" (triple X) has obviously been manufactured for an audience who only remember original James Bond Sean Connery from his work in "Highlander."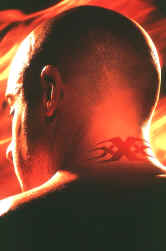 Several years ago, singer-comedienne Julie Brown recorded a song called "I Like 'Em Big and Stupid." Brown could have a love affair with "XXX," a film so pumped up on cinematic steroids it literally bulges off the screen. "XXX" is a big dumb action film that requires nothing more from its star than to look formidable in front of all of the explosions and blue screen effects.
I like Diesel, who has been magnetic in films like "Pitch Black" and "Boiler Room." "The Fast and Furious" was a waste of time, but it was impossible to take your eyes off Diesel. With his gravely voice, determined stare and beefy frame, Diesel is a presence to deal with. He's the perfect choice to play extreme sports daredevil Xander Cage, recruited by NSA agent Augustus Gibbons (Samuel L. Jackson) to become an undercover spy.
Diesel jumps into the role with both feet, but immediately stumbles over the clumsy, erratic, and silly script by Rich Wilkes, which doesn't just pay homage to the Bond films, it rips them off without apology. It's impossible to take any of "XXX" seriously, but try telling that to the cast and Wilkes. What makes the Bond films so popular is their unique blend of action, romance and humor.
"XXX" resembles nothing more than a live-action cartoon, so the lack of tongue-in-cheek humor is troubling. The film works on a very superficial action level, and once the characters have to engage in a conversation, you wish something would blow up. If ever an action film needed a sense of humor, it's "XXX."
Director Rob Cohen ("The Fast and the Furious") knows how to pump up the action, and indeed the action scenes are impressive. Cage's hard core extreme sports attitude allow the filmmakers to put the character in one breathtaking close call after another, but it's only a matter of time before the constant barrage begins to take its toll.
Thanks to flimsy development and counterfeit emotions, it's futile to care about the characters, especially Cage. He's been recruited to infiltrate and stop the latest in a long line of Eastern Euro trash from engaging the world in a deadly game of bio-terrorism. His superiors doubt his ability, but Gibbons knows Cage has the right attitude and attributes to get the job done.
When Cage isn't outrunning bad guys, explosions and avalanches, he's flirting with Yelena (Asia Argento), a former KGB agent now shacking up with the lead terrorist. She suspects Cage is a spy, but it doesn't take long for him to win her over.
Cage is aided in operation by NSA gadget guy Toby Shavers (Michael Roof), who arms him with every imaginable weapon and defensive known to man. If the character sounds familiar, think "Q" from the James Bond films (although most teenagers will think "Tomb Raider" and "Blade").
The "Q" factor isn't the only similarity between the two franchises. Bond answers to "M," who constantly regrets working with a rogue agent. "XXX" answers to Gibbons, who constantly regrets hiring the rogue agent. Both end with cliffhangers signaling the end of the world, and a teaser that promises more to come.
With a better screenplay, I might have enjoyed "XXX." Instead, I felt insulted by the lack of suspense and genuine fun. Any film that has the hero ride and then parachute from a plunging car should be fun. Any film that houses the villains inside a mountain fortress should be fun. Any film that has the hero initiate and then out surfboard an avalanche should be fun. "XXX" is not that film.
Except for Diesel, everyone in the cast just seem to be going through the motions. Samuel L. Jackson, hidden behind a large facial scar, looks like he's paying off a debt. Asia Argento, the daughter of infamous Italian director Dario Argento, inherits the Bond babe role, and aside from looking the part, contributes very little.
I doubt any of this matters to the intended audience, teenage to mid-twenty males who spend half the day playing "Grand Theft Auto" on their Game Cube, and the other half goofing off on their skateboard, refining tricks that will surely get them into any local community college. There's enough of them to make "XXX" a big enough hit to warrant a sequel, which is already in the works.
Despite excellent technical credits, "XXX" feels like an expensive, glorified "B" movie. It doesn't come on the same silver platter that the Bond films do, an obvious indication that this is nothing more than celluloid fast food. Eat slowly, because "XXX" will go right through you.
XXX
Vin Diesel, Samuel L. Jackson, Asia Argento, Marton Csokas, Michael Roof. Directed by Rob Cohen. 114 Minutes. Rated PG-13.
LARSEN RATING: $2