The Spanish Prisoner DVD
"The Spanish Prisoner" is an anomaly, a small, independent, intelligent film that completely defies the rules. It's an exception and a alternate to the big-budget fair that is currently playing. Those looking for something intelligent will be pleasantly surprised by director-writer David Mamet's tricky tale of con men and one poor sap who falls into their game.
Mamet has never been one to reduce his characters, situations or dialogue to the lowest common denominator.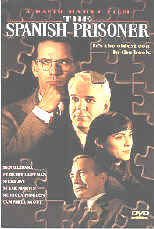 As a writer ("Wag the Dog") and director ("Homicide"), Mamet has shown strength not only as a storyteller, but as someone who understands the human condition. His characters not only have something to say, they say it with honesty and conviction.
Those traits are very evident in "The Spanish Prisoner," a film that presents Mamet at his very best. Defying conventional wisdom, Mamet has created an adult entertainment that not only challenges the audience, but does so within the confines of a PG- rating. Talk about taking a risk. That's exactly what young and enthusiastic Joe Ross (Campbell Scott) takes when he begins to feel unappreciated by his boss. As the creator of "the process," Ross is treated to an island retreat by his boss, Mr. Klein (Ben Gazzara), but would rather discuss his financial involvement in the sale of his creation. His worries about being excluded from his fair share of the profits leads him to mysterious mogul Jimmy Bell (Steve Martin), who takes the concerned Ross under his wing and agrees to help him. Ross agrees to hand over "the process" to Bell, who will help him secure his piece of the pie.
What seems like a normal series of events actually turns out to bean elaborate con game, perpetuated by Bell to steal away "the process." When a slip up reveals the con, Ross turns to the FBI, who in turn set-up Bell. Or have they? Mamet's script is filled with intelligent twists and turns that will keep you on the edge of your seat. Nothing is what it seems in this intricate thriller that slowly creeps up on you. It starts off leisurely, and before you know it, you're hooked. I love watching a film that dares me to pay attention. Mamet has filled "The Spanish Prisoner" with a first-rate cast.
Campbell Scott is excellent as Ross, a man caught between a rock and a hard place for trying to do the right thing. It's a pleasure watching Scott react to the seemingly uncontrollable events in his life. Steve Martin does a superb job as Jimmy Bell, a character he was born to play. Slicker than whale excrement, Martin does a convincing job playing someone who doesn't have a punch-line waiting on the sideline. Several of Mamet's stock players come along for the ride, especially an effective Rebecca Pidgeon as the seemingly infatuated assistant, Ricky Jay, and Felicity Huffman as a pivotal FBI agent. Like Mamet's "House of Games," "The Spanish Prisoner" is as elaborate and convincing as the con game being dished up.
COMPLETE CHECK-UP
VISION: [ X ] EXCELLENT [ ] GOOD [ ] RESUSCITATE [ ] D.O.A.
Extremely well defined digital transfer features good color saturation and vivid, strong blacks. Flesh tones even under the harshest of conditions look honest and natural. Side A features the film's original 1.85:1 widescreen transfer, while Side B presents the Full Screen Version. "The Spanish Prisoner" looks great in both. There are some minute traces of compression artifacts, but nothing major.
HEARING: [ ] EXCELLENT [ X ] GOOD [ ] RESUSCITATE [ ] D.O.A.
The Dolby Digital 2.0 Stereo Surround is effective without being overbearing. Heavy on dialogue, "The Spanish Prisoner" features an underlying, exotic musical score by Carter Burwell that just creeps up on you. The dialogue is distinct and clear. There's little activity in the rear speakers, but the separation is concise when it does kick in.
ORAL: [ X ] EXCELLENT [ ] GOOD [ ] RESUSCITATE [ ] D.O.A.
Closed captions in English, subtitles in French and Spanish.
COORDINATION: [ ] EXCELLENT [ X ] GOOD [ ] RESUSCITATE [ ] D.O.A.
Handsome but not spectacular interactive menus and scene access, plus the original theatrical trailer.
PROGNOSIS: [ X ] EXCELLENT [ ] GOOD [ ] RESUSCITATE [ ] D.O.A.
"The Spanish Prisoner" remains as one of 1998's best films. By year's end, that will be reaffirmed by most of critics when it comes time to post their Top Ten Lists. Don't wait and add Mamet's crafty con game to your collection now.
VITALS: $29.99/Rated PG/110 Min./Color/28 Chapter Stops/Keepcase/#02608
ATTENDING RESIDENT: John Larsen
PATIENT: THE SPANISH PRISONER
BIRTH DATE: 1998
HMO: Columbia-TriStar Home Video