Wrongfully Accused
Some would argue that the "obvious humor" movie spoof began with "Airplane" in 1980, but the real culprit is 1977's "Kentucky Fried Movie." If the irreverent humor of both films seems familiar, it's because both films were written by the same team, Jerry and David Zucker, and Jim Abrahams.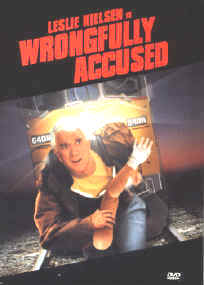 Beginning with "Airplane," (they didn't direct "Kentucky Fried Movie," John Landis did), the Zucker-Abrahams team created a cottage industry with their outrageous movie spoofs, both collectively (disaster movies with "Airplane," spy films with "Top Secret") and individually (fly boy movies with "Hot Shots!," television cop shows with "The Naked Gun"). While each member of the team branched out and directed other projects (Jerry Zucker directed "Ghost," Abrahams directed "Welcome Home, Roxy Carmichael"), their legacy has not gone unnoticed.
Movie spoofs were big business, so other directors and writers jumped on the bandwagon. One was writer Pat Proft, who had a hand in creating the "Police Squad" television series and "The Naked Gun" theatrical films, and writing credits on several of the Zucker-Abrahams films.
Proft wanted to direct a film, and created "Wrongfully Accused," a wild car spoof of "The Fugitive" and approximately 35 other films. Proft needed a star to play the concert violinist framed for murder and on the run to prove his innocence, and turned to Leslie Nielsen. Nielsen, whose durable career has carried him through more than four decades, had also made a cottage career starring in several of the movie spoofs by the Zucker- Abrahams team. He was so at ease in the genre that he continued to make the spoofs long after his association with Zucker-Abrahams.
Nielsen proved to be a master of obvious comedy, keeping a straight face even in the most outrageous situations. Whether he was spoofing "The Exorcist" in "Repossessed," or Bram Stoker in Mel Brooks' "Dracula: Dead and Loving It," or James Bond in "Spy Hard," Nielsen was always the best thing about the films he starred in.
Nielsen is the best thing about "Wrongfully Accused," a scattershot comedy of ideas. Some work, others don't, but the jokes come so fast and frequent that there's little time to groan. Nielsen stars as Ryan Harrison, whose sold out concerts are billed as "Lord of the Violin." He's a virtuoso all right, able to impale numerous members of the orchestra without missing a note. Harrison is seduced by a mysterious woman (Melinda McGraw, Scully's sister on television's "The X-Files"), and winds up being framed for the murder of a prominent businessman (Michael York, who after "Austin Powers" seems at home in this type of romp).
Sentenced to life in prison for a crime he didn't commit (it was a one-armed, one-legged, one-eyed man), Harrison manages to escape after the prison bus he's on is involved in an accident. Hot on his trail is U.S. Marshal Fergus Falls (Richard Crenna, doing his best Tommy Lee Jones), and the real killer. The fun comes watching Harrison jump from one movie spoof to another, all carefully concealed in a plot that actually works on its own level. "Wrongfully Accused" is a no brainer, and it might be wise to leave yours on a plate in the fridge when you watch it.
As someone who sees a lot of movies, I got all of the references and in-jokes. Some are obvious ("Titanic," "Anaconda," "The Usual Suspects") while others are obscure but nonetheless funny. The cast is on the mark, including Kelly LeBrock as the dangerous femme fatale who can lick an ear like no one else. I believe there's a place in the world for mindless entertainment like "Wrongfully Accused." Sure, I like my fair share of high-brow entertainment as well, but for cheap, easy laughs, films like "Wrongfully Accused" come in handy.
Check out the supplemental material of the DVD to see just how hard it is to make these "cheap, easy" laughs come to life. Proft does just fine as a first time director. He follows the formula and delivers the goods. Some of the pacing is a little off, but that's to be expected when you have jokes coming at you every frame. It's nice not to have to take anything seriously, eve if it is just for an hour-and-a-half.
COMPLETE CHECK-UP
VISION: [ ] 20/20 [ X ] Good [ ] Cataracts [ ] Blind
Here's a paradox. The digital transfer of "Wrongfully Accused" is excellent, with superior color saturation, gorgeous flesh tones and impenetrable blacks. Not a trace of compression artifacts or pixelation. Just a beautifully rendered DVD, with sharp, vivid images. So what's the problem? The DVD is only available in a full frame version. No widescreen transfer, just a standard 1.33:1 image. I doubt that this decision affects the overall look of the film, but it is a bit disconcerting that a new theatrical release being released on DVD would arrive in this format. That's what video is for.
HEARING: [ ] Excellent [ X ] Minor Hearing Loss [ ] Needs Hearing Aid [ ] Deaf
Even though the DVD features 5.1 Dolby Digital Surround (both in English and French), it's not as expressive as it should be. It sounds more like Dolby Digital 2.0, with Bill Conti's and the occasional ambient sound effect emanating from the rear speakers. The stereo separation is simplistic and obvious, but not totally abhorrent. The dialogue mix is strong, while the DVD is free of any hiss or distortion. While comedies like "Wrongfully Accused" aren't noted for their intricate sound design, I expected more that what was delivered.
ORAL: [ X ] Excellent [ ] Good [ ] Poor
Closed captions in English and subtitles in French and Spanish.
COORDINATION: [ ] Excellent [ X ] Good [ ] Clumsy [ ] Weak
For a standard issue DVD, Warner Home Video has piled on enough extras to make "Wrongfully Accused" more than just a movie:

A mini-documentary on the production and delivery of the film's many special and visual effects, including some hilarious insights into the famous "Fugitive" train chase.

A wonderful audio/visual production note presentation that takes a close look at three of the film's major set pieces.

Cast interviews that prove working on a film like "Wrongfully Accused" is a lot of fun.

A slides show of scenes from the film and behind-the-camera.

More theatrical trailers than my local cineplex shows before a movie: You get the film's original theatrical trailer and a television spot, and six more Morgan Creek trailers, including both "Ace Ventura" films, "Wild America," "True Romance," "Incognito" and "Robin Hood."

Extremely impressive main and screen access menus that feature full motion animation. The scene access menus feature clips from each scene, while the theatrical trailer's menu also features clips from each of the films. Nicely done and very exciting.
PROGNOSIS: [ ] Excellent [ X ] Fit [ ] Will Live [ ] Resuscitate [ ] Terminal
Movies like "Wrongfully Accused" won't win any awards, but they do provide enough laughs to make the DVD worth a spin.
VITALS: $19.98/Rated PG-13/86 Minutes/Color/20 Chapter Stops/Snapcase/#16129
ATTENDING RESIDENT: John Larsen
PATIENT: WRONGFULLY ACCUSED
BIRTH DATE: 1998
HMO: Warner Home Video