Too Much Sleep
In the new Shooting Gallery dramedy "Too Much Sleep," Marc Palmieri plays a night security guard named Jack Crawford whose gun is stolen on the bus ride home. The gun means a lot to Jack. It was a revolver his father left him. Normally the theft would be a case for the police, but since the gun is unregistered, Jack must find the gun himself.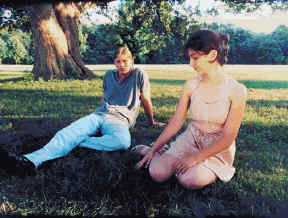 His search leads him on a journey of self discovery, or at least that's what writer-director David Maquiling wants us to believe. Good intentions aside, "Too Much Sleep" is too thin and inconsequential to matter. It might have passed muster as a short film, but constantly drags its feet as a feature.
Shot on a low budget in 1997 and just now making it's theatrical debut, "Too Much Sleep" takes its cue from several other, much better films. Jack's journey through his small town's underbelly reminded me of Martin Scorsese's "After Hours." In that film, Griffin Dunne plays a man caught in an all-night nightmare in SoHo.
On the surface, Matawan, New Jersey doesn't have that much in common with SoHo. What Maquiling is trying to tell us is that every town, no matter how small or quaint, has a dark side. David Lynch did it much better in "Blue Velvet." Both films feature Normal Rockwell-like towns where everything is not what it seems.
I liked "Blue Velvet" because Lynch isn't afraid to take chances. He doesn't just push the envelope, he redefines it. He creates characters and situations that are so out there you have to take them on their own terms. "Too Much Sleep" shows promise, but it is the work of an apprentice.
Maquiling's effort isn't a total wash. "Too Much Sleep" is competently made, and does feature an occasionally engaging performance by Palmieri as the sleepy-eyed Jack. The supporting cast, including Pasquale Gaeta as the local deli owner with ties to everyone in town, are too theatrical to be taken seriously. They're delivering speeches, not reciting dialogue.
I understand the filmmaker's motives, but I wish he had a better cast and script to work with. What are supposed to be colorful characters are flat and dull. We really don't care if Jack finds the gun, which is a shame because the gun is a metaphor for Jack's life. It's loss forces him to take charge of his existence, yet by the end of the film, we aren't left with the impression that he has matured at all.
Technically, the film exposes it's thin budget. Some exterior dialogue is lost to ambient noise, while the lighting and sets are serviceable. Surprisingly, the film's soundtrack features several popular songs. I say surprisingly because music rights are expensive. Either the filmmaker cut a deal for their inclusion, or most of his budget went to the soundtrack.
If more money had gone into the script and casting, "Too Much Sleep" might have been as impressive as the score. I'd buy the CD, but I would be hard pressed to recommend "Too Much Sleep."
SLEEPLESS IN JERSEYNew director gets restless with Too Much Sleep
TOO MUCH SLEEP
Marc Palmieri, Pasquale Gaeta, Nicol Zanzarella, Phil Galinsky, Judy Sabo Podinker. Directed by David Maquiling. Not rated. 80 Minutes.
LARSEN RATING: $3