Taxi Driver
"Taxi Driver" is one of those film that stays with you. Once you have seen it, it never goes away. Perhaps that is why the American Film Institute chose it as one of the 100 Top Films of all time. "Taxi Driver" has become so ingrained in our modern pop psyche that it is hard to avoid it.
I know people who still use the "You Talking to Me" bit in their everyday lives.
My own personal memories are a little more vivid.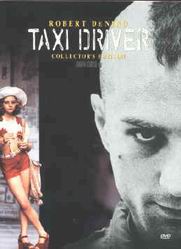 For some reason or another, I found myself invited to an advance screening of "Taxi Driver" at a small screening room in Hollywood. I didn't know who Martin Scorsese was at the time (even though "Mean Streets" and "Alice Doesn't Live Here Anymore" had already become critical darlings), but after watching "Taxi Driver," I knew I would never forget the man. Judging from the age group of the audience, I presumed they were college students (I was only 18 at the time). I had been reviewing movies for two years, but this was the first screening that wasn't held in a theater or at the Academy building. There were only 60 or so people there, including, I learned after the film, Scorsese and producer Julia Phillips. The print we saw was the one Scorsese was forced to tone down in order to obtain an "R" rating. I remember the ending being so vivid it hurt. The blood was really red, and there was lots of it. I remember this moment so well because on the trip home (Highway 1 through Malibu) we came across a massive paint spill in the middle of the road. The color of the paint was red, and it looked like a nasty accident has occurred just moments before. It kind of cemented the "Taxi Driver" experience to my brain for life. Of course it wasn't just the crimson tide that stayed with me. Like anyone who has seen "Taxi Driver" will tell you, the film connects in so many ways. Even though the themes in the film are taken to extremes, there isn't one person who can't identify with the loneliness cab driver Travis Bickle suffers. Even is just for a fleeting moment, all of us have been in that dark, lonely place where the only thing that stops us from going mad is our inner strength. Unfortunately for Bickle (Robert De Niro at his most magnetic), he's already crossed that line. He can't sleep so he drives a cab during the graveyard shift, allowing him to see first hand how desperate and filthy the city has become. Bickle isn't really a bad guy but a victim of indifference. He becomes desensitized to the pain and suffering that enters his cab, but believes he can be redeemed when he encounters 12 year-old prostitute Iris (Jodie Foster, so potent she earned an Oscar-nomination). Bickle also tries to warm up to campaign worker Betsy (Cybill Shepherd), who is intrigued and later frightened by his extreme ideas. When Bickle is rejected by both women, he decides to become their knight in shining armor by riding to their rescue. Paul Schrader's screenplay is filled with complex characters and situations, all perfectly realized by Scorsese. Thanks to Michael Chapman's fluid cinematography and Bernard Herrmann's moody, ominous musical score, Scorsese manages to keep us on edge. It's not long before you sense that Bickle is a time bomb waiting to go off, and Scorsese and Schrader carefully light the fuse so by the time he finally explodes, it is almost unbearable. There isn't a bad performance in the film. De Niro is ultimately frightening as a man who has lost touch with reality. When Bickle stands in front of a mirror and begins questioning himself (You talking to me?), you are convinced that something bad is going to happen. I've always been a Cybill Shepherd fan (okay, so I hated "At Long Last Love," but that is another story), and she literally shines as Betsy. Jodie Foster is a stand-out as the streetwise Iris, who would rather whore herself on the streets than return to her square home. Harvey Keitel, hiding behind a long wig, is the kind of actor who can take a pimp role and make it more than the written page. As Sport, Keitel is a real creep. When he slow dances with Iris and whispers sweet nothings in her ear, you almost feel the need to take a shower he makes you feel so dirty. Scorsese always does an excellent job of fleshing out the background with memorable characters, and "Taxi Driver" is no different. Comedian Albert Brooks is wonderful as Betsy's campaign co-worker who doesn't trust Bickle's motives, while Peter Boyle spouts words of wisdom as Bickle's cab driving buddy Wizard. Shot on the streets of New York, "Taxi Driver" feels like the real thing. Even when Chapman's photography becomes an abstract billboard, you always feel like you inhabit the same space as the characters. After the screening, Scorsese stood in front of the auditorium with a microphone and took questions from the audience. The first guy to stand up opened his mouth and said "This is the biggest piece of crap I have ever seen." Yeah, right. When the film ended, you could feel the electricity in the room, and then this ass has to stick his tongue in a wall plug. Things got better after that, as everyone in the room knew they had witnessed genius, and weren't afraid to admit it. I got the opportunity to talk with Scorsese in the parking lot afterwards, and he said he didn't let the remark affect him. He expected the film to affect people. He was right. After 23 years, "Taxi Driver" still has that power, even though the finale has been tampered with. In order to secure an "R" rating, Scorsese agreed to mute the colors during the finale so that the reds weren't so red. Now they're a dark brown. It's not the same. In the DVD documentary, Chapman discusses how he wanted to include the original ending on the disc, but that the negative was so deteriorated that it made making a clean transfer impossible. I feel fortunate to have at least seen the film as Scorsese intended. What remains is still a potent film.
COMPLETE CHECK-UP
VISION: [ X ] 20/20 [ ] Good [ ] Cataracts [ ] Blind
Beautifully rendered 1.85:1 widescreen transfer. It's amazing that Columbia-TriStar Home Video was able to cram the film and all of the extras on an RSDL disc without any noticeable flaws. The image is absolutely stunning. There are the occasional speckle, and some brief wear and tear on the negative, but for the most part, the presentation is top notch. The colors are exceptional and warm, while the flesh tones are breathtaking. Strong blacks and clean whites and shadows add to the excitement. Attention to detail is excellent, with vivid depth of field. Even when the film wanders into questionable territory (garish neon lights, darkly lit interiors) the transfer never wavers.
HEARING: [ X ] Excellent [ ] Minor Hearing Loss [ ] Needs Hearing Aid [ ] Deaf
Outstanding 2.0 Stereo soundtrack pumps out the haunting Bernard Herrmann score with such moody intensity it literally touches your soul. The dialogue mix is crystal clear, while the ambient noise is so stunning you would swear you were in the movie. Pure high and low ends are absent of hiss or distortion.
ORAL: [ X ] Excellent [ ] Good [ ] Poor
Closed captions in English for the hard of hearing, subtitles in Spanish, Portuguese, Chinese, Korean and Thai.
COORDINATION: [ X ] Excellent [ ] Good [ ] Clumsy [ ] Weak
Kudos to Columbia-TriStar Home Video for delivering such a stunning collection of extras. The only thing missing from this Collector's Edition is an audio commentary with director Martin Scorsese. Still, the feature-length documentary more than addresses every conceivable question you might have about the making of the film. Here's what you get:

A comprehensive, in-depth 70-minute documentary featuring all of the major players. The documentary takes you behind-the-scenes of this remarkable film, starting from its inception all the way through to its inclusion on the American Film Institute's 100 Best Films of All Time. This is one of the best documentaries of this type I have had the pleasure of sitting through. No stone is left unturned, and each and very one of the major players show up to reminisce about the experience. All sorts of fascinating facts and secrets are divulged here, and it's kind of neat to catch up with the cast and crew.

An extensive photo montage/portrait gallery with stills from the film and behind-the-scenes photographs. This segment also includes narration by the documentary director, who relates some of the stories from the cast that didn't make it into the documentary.

An interactive storyboard sequence that shows how closely Scorsese's storyboards matched the final work.

The DVD also features the film's original shooting script, through which you can access each scene. Usually this feature is only available as a DVD-ROM extra, so bravo tp Columbia-TriStar for making this unique feature available to everyone.

A complete inventory of the film's advertising materials, including all of the theatrical posters.

The film's original theatrical trailer (check it out, it's a hoot), plus trailers for "Age of Innocence," "Awakenings" and "The Fan."

Extensive filmographies and liner notes.

Handsome main and scene access menus.
PROGNOSIS: [ X ] Excellent [ ] Fit [ ] Will Live [ ] Resuscitate [ ] Terminal
The meter is running, and it would be fare to say that this is one DVD you can ride around the block more than once.
VITALS: $24.99/Rated R/114 Minutes/Color/28 Chapter Stops/Snapcase/#03481
ATTENDING RESIDENT: John Larsen
PATIENT: TAXI DRIVER-COLLECTOR'S EDITION
BIRTH DATE: 1976
HMO: Columbia-TriStar Home Video