Real Women Have Curves
When it's not wallowing in hormonal melodrama, "Real Women Have Curves" is a sweet, honest, and enjoyable comedy-drama about a young woman who wants many things in life, but fears she'll become her mother before she gets to fulfill her dreams.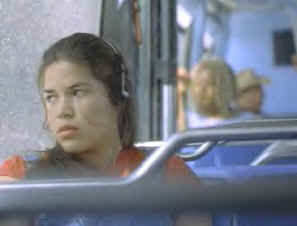 America Ferrera, making her debut, is heartfelt as Ana Garcia, a recent high school graduate who has the talent but lacks the ambition to attend college. Trapped between a father who doesn't want his daughter to leave the nest, and a mother who wants her to lose weight, get married and have children, it's no wonder Ana is indecisive.
Like the recent, and extremely popular "My Big Fat Greek Wedding," "Real Women Have Curves" is based on a stage play, this one by Josefina Lopez, who co-wrote the screenplay with George LaVoo. Both films, and the plays they are based on, deal with the personal experiences of the writer, and it's this familiarity that make both films true to their roots.
"Real Women Have Curves" isn't a great film, but it is a great experience. The feature-length debut of Patricia Cardoso, "Real Women Have Curves" benefits from engaging performances that leap off the screen and into our hearts. The performances are so strong and vivid that we forgive the writers when they occasionally get sidetracked.
Ferrera doesn't just play Ana, she becomes Ana, creating a credible plateau for all of the actors around her to exist. She's spunky, assured, wishful, her every expression a window into the world of a complex character. We feel the tug of war going on inside her, the battle between respecting tradition and discovering life.
"Real Women Have Curves" takes place over the summer after Ana's graduation from Beverly Hills High School, a coming of age tale filled with sharp, sometimes witty observations about Latino women. I like the fact that Ana feels comfortable in her own skin, totally aware of the irony that she is the one allowing herself to become more like her mother.
Every great mother-daughter story needs an equally strong mother, and "Real Women Have Curves" has one in Carmen, played with spirit by Lupe Ontiveros, an actress who imbues the character with strong morals, tradition and common sense. Ontiveros makes it easy for us to believe that Carmen does what she does out of love, and perhaps fear. She wants what is best for her daughter, but she also fears change.
Which is why Carmen insists that Ana go to work at her older sister's dress factory/sweatshop, a decision she at first regrets. Estela (Ingrid Oliu) isn't the sister from hell, but Ana knows that she has already retired her dreams. Like Carmen, Estela is somewhat resentful of the fact that Ana could still make something of herself. Ana eventually befriends the other workers, creating a bond that enhances all of their lives. When she isn't passing the time thinking about college, Ana is secretly dating Jimmy (Brian Sites), a white classmate who doesn't care about her weight.
The script occasionally wanders into soap opera territory, but director Cardoso never allows the characters to lose their convictions. Even when the script doesn't ring true, the characters still do. The cast is so pleasant to be around that we have no problem following them where ever they go.
Where they end up isn't as important as what they learned on the journey, and like all coming of age films, "Real Women Have Curves" is filled with life lessons. The trick is getting the message across without sounding like you're preaching, and not once do we feel like the director or the characters are standing on a soapbox.
I appreciate the way the writers open up the play, giving the characters room to breathe and the actors more options. Surprisingly, the male characters are more than wallpaper, a common condition that plagues female-driven films. There's great nobility in Felipe De Alba's understanding grandfather, sympathetic to Ana's plight, but able to see both sides of the picture. Jorge Cevera Jr. lends support as Ana's father, who also wants the best for his daughter.
The heart and soul of the film belongs to Ferrera and Ontiveros, who connect as daughter-mother on so many levels. They may be at odds with each other, but we never sense hostility between Ana and Carmen. They are simply experiencing the growing pains that all mothers and daughters go through.
Director Cardoso, working in both Spanish and English language, creates a tapestry of human emotions that comes to life with memorable characters and excellent performances. The independent film, a darling at the Sundance Film Festival, is proof that good writing, direction and acting are more important than money.
LEARNING CURVES These Latino "Women" are the real thing
REAL WOMEN HAVE CURVES
America Ferrera, Lupe Ontiveros, Ingrid Oliu, George Lopez, Brian Sites, Soledad St. Hilaire. Directed by Patricia Cardoso. Rated PG-13. 89 Minutes.
LARSEN RATING: $6.00