The Sum of All Fears
In 1977, I attended a press screening of John Frankenheimer's "Black Sunday" at the Village Theater in Westwood. Fifteen minutes after we were let into the theater, we were asked to immediately exit. While standing out in the cold, we were told that the theater had received a bomb threat. Seems the terrorist organization depicted in the film didn't like the final cut.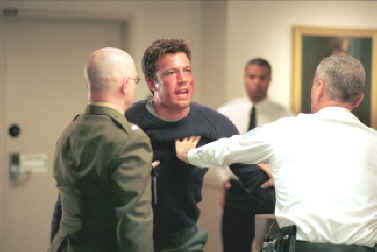 An hour later, after numerous searches, we were let back in the theater. "Black Sunday" is a terrorist thriller about Arab terrorists trying to kill the President of the United States by detonating a scatter bomb attached to a Goodyear blimp during a Super Bowl game in Miami. I had never heard of the group Black Sunday, but found the thin line between watching a movie and being blown up a little disturbing.
"The Sum of All Fears," the latest film in the Tom Clancy-Jack Ryan franchise, is also a little disturbing. In the film, a neo-fascist Austrian terrorist plans to kill the President of the United States (James Cromwell) by detonating a nuclear bomb during the Super Bowl in Baltimore. In Clancy's book, the terrorists were Arabs, but fearing yet another backlash against negative stereotypes, have been conveniently changed to a rich, white industrialist intent on triggering World War III between the United States and Russia.
When "Black Sunday" was made, terrorists only hijacked planes, they didn't fly them into buildings. The thought of using a Goodyear blimp to deliver mass destruction was more fanciful than real. While dirigibles were used frequently during wartime to deliver bombs, the thought of using one to transport a terrorist threat seemed unfathomable.
So does the thought of watching an American city disappear under the deadly glow of a mushroom cloud. Since September 11, that threat has become more real. Every day we are told what terrorists are capable of, forcing us to live in some degree of fear. The question is, can a big- budget Hollywood film about that very threat still entertain? The answer is yes.
Writers Paul Attanasio (Quiz Show) and Daniel Pyne (Any Given Sunday) have tweaked Clancy's novel to accommodate star Ben Affleck's age, and to address any political correctness issues. While Affleck lacks the presence of former the two previous Ryan's (Alec Baldwin in "The Hunt for Red October," Harrison Ford in "Patriot Games" and "A Clear and Present Danger"), he holds his own quite nicely. If the film's time frame were not set in the present, "The Sum of All Fears" could pass as a prequel to the three previous entries. Affleck plays Ryan as a young buck whose 14 months with the CIA have gotten him no further than as a member of a think tank. All that changes when Ryan is recruited by CIA Director Bill Cabot (Morgan Freeman, always stately) to serve as a human database on new Russian leader Alexander Nemerov (Ciaran Hinds), who has taken over after the sudden death of the president.
While visiting a nuclear research facility in Russia, Ryan notices that three of the scientists are missing. That's because they have been kidnapped by evil Austrian tycoon Richard Dressler (Alan Bates, appropriately smug), who has purchased a black market nuclear warhead (a leftover souvenir from a 1973 Israeli-Arab conflict) and needs the scientists to activate it.
Ryan spends the rest of the film trying to track down Dressler, stop him from detonating the bomb and igniting a nuclear war, all the while taking time out to save his relationship with disbelieving girlfriend Cathy Muller ( a bright, smart Bridget Moynahan). Sure beats sitting around in a CIA basement.
In order to fully appreciate "The Sum of All Fears," you have to dismiss all that came before it. When Alec Baldwin left the Jack Ryan franchise after only one film, no one thought Harrison Ford would be able to fill his shoes. Ford proved them wrong, and I believe with a little time, Affleck make the role his own. While he lacks the depth of Baldwin and Ford (that comes with maturity), it will be interesting to see where Affleck takes the character.
When we last saw Jack Ryan in "A Clear and Present Danger," he was married and had a family. He was well respected in the intelligence community, and parlayed his training as a Marine and an analyst to work his way up the ladder. In "The Sum of All Fears," Ryan is back to the first rung, but that allows us to grow along with the character. Like Affleck, Ryan is forced to prove himself, which he does with absolute conviction. Affleck is especially good trying to persuade both sides that they're being deceived.
The screenplay does stretch credibility a bit, but it's all done for dramatic effect and is almost instantly forgiven. Director Phil Alden Robinson, noted for his feel-good movies ("Field of Dreams") does an admirable job of creating unbearable tension. We have a good idea where the film is headed, but Robinson makes the journey exciting.
With reliable director of photography John Lindley ("Pleasantville") behind the camera, Robinson puts us right in the middle of the chaos, filling the screen with explosive performances and action. Robinson never allows the pyrotechnics to burn brighter than the actors.
"The Sum of All Fears" punches current hot buttons, and scenes of mass destruction might frighten or disturb some audience members. Those willing to take all of this as entertainment rather than a cautionary tale will like what they see.
FACING MODERN "FEARS"Affleck is Jack of all trades in new Clancy thriller
THE SUM OF ALL FEARS
Ben Affleck, Morgan Freeman, James Cromwell, Liev Schreiber, Alan Bates, Philip Baker Hall. Directed by Phil Alden Robinson. Rated PG-13. 125 Minutes.
LARSEN RATING: $6.00