The Talented Mr. Ripley DVD
In movies, as in life, there's nothing worse than overstaying your welcome. Think back on how you felt when your relatives came to visit and wouldn't leave. That is how I felt about "The Talented Mr. Ripley," an engaging thriller that is also a little long in the tooth.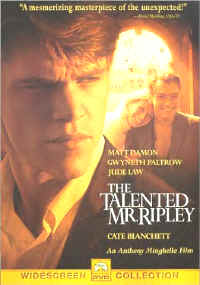 Set against the beautiful backdrop of Italy's sun-drenched golden beaches, "The Talented Mr. Ripley" is just as gorgeous, and unfortunately, just as leisure. Writer-director Anthony Minghella takes his time unraveling author Patricia Highsmith's novel, and fails to understand that sometimes less is more.
Minghella's film has the look and tone of an Alfred Hitchcock film. It's a glossy thriller set in Europe. It takes place in the late 1950s. The protagonist plays second fiddle to the villain. The difference is Hitchcock would have known when enough was enough. Hitchcock trusted us to get the point.
"The Talented Mr. Ripley" clocks in at 2 hours and 20 minutes, and could use a shave.
The epic length of Minghella's last film, "The English Patient," worked because the story was larger than life. Time wasn't a factor because we were being taken on an epic journey. "The Talented Mr. Ripley" should be taut and tight, and it's neither.
That said, the rest of the film is a real delight, a twisted little thriller that benefits from excellent performances.
Matt Damon is extremely disarming as Tom Ripley, a jack of all trades who dreams of escaping his empty life by becoming someone else. Tom gets his chance when he fills in for a musician friend at a private party. Wearing his friend's Princeton jacket, Tom is mistaken by a wealthy industrialist as one of his son's classmates.
Seeing opportunity knocking at his door, Tom goes along with the charade. Tom learns that the industrialist's son, Dickie (Jude Law) is squandering his life and savings on the beaches of Italy. He hires Tom to go to Italy and talk some sense into son. Tom immediately jumps at the chance, and finds himself seeking out Dickie in Italy.
Tom finds Dickie and his girlfriend Marge Sherwood (Gwyneth Paltrow) on the beach, and immediately insinuates himself into their lives. Tom is touched when Dickie warms up to him and allows him to stay at their house, and in return divulges his true intentions. Dickie finds Tom's honesty refreshing, and together they conspire to scam Dickie's father.
As Tom and Dickie become closer, Marge and their mutual friend Freddie (Philip Seymour Hoffman) begin to suspect that Tom isn't who he says he is. Marge begins noticing little changes in Tom, and when Dickie mysteriously walks out on them, she knows that something evil at work.
There is a fair amount of suspense in "The Talented Mr. Ripley," most of it generated by Damon, whose performance is chilling. There are many layers to his performance, which he slowly peels back to reveal something new about his character. Damon's performance stays with you long after the film is over.
Damon forces us to sit there, helpless, as he goes about taking over Dickie's life. Tom doesn't want Dickie's wealth or clothes. He wants to be Dickie. Of course that means Dickie has to go, and as written, you really can't blame him. Law plays Dickie as a spoiled snob who uses and then discards people with little thought to their feelings.
Law is so good as Dickie that you wonder why someone else never got the idea to knock him off. Minghella's screenplay is at its best when Tom tries to live both lives without anyone getting suspicious. It's an amazing juggling act, one that should end the picture.
Paltrow is appropriately suspicious, while Cate Blanchett has some delicious moments as another woman who stumbles into Tom Ripley's web.
Thanks to a top notch technical crew, Minghella captures the time and place with remarkable accuracy. If it weren't for the overt homoerotic overtones (something Hitchcock had to tone down when he filmed Highsmith's "Strangers on a Train") and nudity, you'd swear "The Talented Mr. Ripley" was filmed in the late 1950s.
"The Talented Mr. Ripley" has all of the qualities of a classic film. With a little trimming, it could be one.
COMPLETE CHECK-UP
VISION: 20/20

1.85:1 Widescreen

16:9 Enhanced

RSDL
Hardly a trace of compression artifacts in this dazzling transfer, which includes nicely rendered flesh tones, solid blacks and pristine whites and shadows. Pristine negative allows for a virtually flawless transfer, which shows extreme depth of field and attention to fine detail. The colors are warm and inviting without any saturation issues. Nice, clean, crisp images.
HEARING: Minor Hearing Loss

English Dolby Digital 5.1 & 2.0 Surround

French Dolby Digital 2.0 Surround
Expressive soundtrack gives the system a workout, with exceptional basses that erupt with explosive power. The sound fields are well defined but not always utilized. The front stage presents an excellent mix of dialogue and stereo effects, while the front-to-rear stereo separation is effective but not overused. High and low ends sound pure without any distortion, including some fabulously inventive surround effects that keep you in the middle of the action. Rear speakers presents a nice range of musical and sound cues. Nice package.
ORAL: Good

Closed Captions in English for the Hard of Hearing

Subtitles in French
COORDINATION: Good

Full-length running commentary with director Anthony Minghella as he outlines the difficulties of making a period film in the present. Minghella obviously relishes the challenges of filmmaking, and provides enough information and insight to make listening to his comments worth it.

Three production featurettes, each one dealing with a different aspect of the film. There's the usual behind-the-scenes featurette "Inside The Talented Mr. Ripley" that looks like it was made for the film and not the video. The cast and crew discuss the film in another featurette, sharing their feelings on making the film. Finally, there is a featurette on the music from the film, explaining the choices made and their importance to the story. Nice little extras that neither hurt nor help the film's cause.

Two music videos, "My Funny Valentine" and "Tu Vuo Fa L'Americano, featuring clips from the film (including additional footage).

Two theatrical trailers.

Handsome, theme menus.
PROGNOSIS: Fit
You couldn't ask for a better presentation of "The Talented Mr. Ripley." Too bad the DVD doesn't offer an edit menu so you can trim out the fat and leave the lean.
VITALS: $29.98/Rated R/138m/Color/25 Chapter Stops/Keepcase
ATTENDING RESIDENT: John Larsen
PATIENT: THE TALENTED MR. RIPLEY
BIRTH DATE: 1999
HMO: Paramount Home Video