The Station Agent
One of the pleasures of reviewing movies is stumbling across a small film with a big heart like "The Station Agent," a festival favorite that is slowly but surely finding favor in limited release. It's doubtful "The Station Agent" will be a breakout hit, but its celebration of the simple things in life will surely affect anyone who sees it.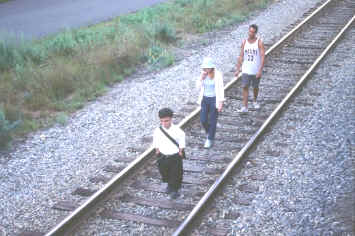 Written and directed by Thomas McCarthy, an occasional actor making his debut behind the camera, "The Station Agent" defies convention, a freshman film that feels as honest and real as its characters. McCarthy doesn't feel the need to show off, just tell a story with strong dialogue and engaging characters. He accomplishes both with a winning cast who make each and every word sing like poetry.
Peter Dinklage, a ruggedly handsome four-foot-six-inch dwarf, stars as Finbar McBride, a quiet, unassuming man who follows the same routine every day. Fin, as he's known to his few friends, finds solitude repairing toy trains in a store owned by his elderly boss Henry (Paul Benjamin). When Henry unexpectedly dies, Fin receives good news and bad news. The bad news is that the store has been sold for its property. The good news is that Henry left Fin an old railroad station and car on a small patch of property in New Jersey.
A train aficionado, Fin is intrigued by the idea of retiring in an train station, and makes the long trek. Accustomed to being left alone, Fin is at first perturbed by the arrival of Joe (Bobby Cannavale), a handsome young man who has parked his father's roach coach just on the outskirts of Fin's property. Just as Fin begins to accept Bobby as a friend, they are joined by Olivia (Patricia Clarkson), an aloof artist hiding a painful past.
Instead of sending these three unlikely allies on some madcap adventure or banding them together to solve a small town mystery, McCarthy is content to let them just become friends, offer some emotional support, and share their feelings. Sometimes the best drama comes from everyday situations and conversations. McCarthy and the cast revel in the film's quiet moments, where the trio just sit around and take in each other's company.
Dinklage has been around, you've seen him here and there (most recently in "Elf"), but he towers as "The Station Agent's" guiding light. Clarkson is extremely fragile as an artist who paints her emotions, while Cannavale comes across as someone who could easily become your best friend. Together, the actors create the color, allowing McCarthy the artist to paint a perfect picture of friendship.
THE STATION AGENT
Peter Dinklage, Patricia Clarkson, Bobby Cannavale, Paul Benjamin, Michelle Williams, Raven Goodwin. Directed by Thomas McCarthy. Not Rated. 88 Minutes.
LARSEN RATING: $8.00