West Side Story
"How do you solve a problem like Maria?" Oops, wrong musical. Still, the question still applies for "West Side Story." Maria (Natalie Wood) is the demure PR (that's Puerto Rican in 1950's slang) who falls for former bad boy from across the tracks Tony (Richard Beymer). Actually, it's Tony who falls head over heels for Maria, but like Shakespeare's Romeo & Juliet, fate will keep them apart. You see, Tony is a member (actually a retired member) of the Jets, the local street gang.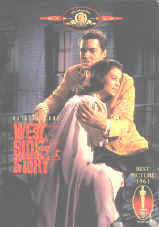 Maria's brother, Bernardo (George Chakiris), is the leader of the Sharks, the Puerto Rican street gang who are tired of being treated like lower class citizens. Still, true love knows no boundaries, so Tony and Maria find a way to be together, even though they know their union will cause much heartache. It's a tale as old as time, and when "West Side Story" made it's theatrical debut in 1961, it went on to become a huge success. The modern day telling of Romeo and Juliet earned ten Academy Awards, including Best Picture. At the time, audiences had never seen anything like "West Side Story" on the big screen.
Directors Robert Wise and Jerome Robbins recreated the stylized stage experience on real streets in New York, giving the film a current that was electrifying. Street gang members dancing on their way to a rumble? American was curious how Hollywood would treat a beloved stage musical, and for the most part, they embraced the film. I consider "West Side Story" one of the top ten musicals of all time on film. Even though her musical numbers have been dubbed by Marni Nixon, Natalie Wood is a charming Maria. She's sweet, innocent, and has just enough spirit to want to grow up fast, much to the dismay of her brother Bernardo, and his wife Anita (Rita Moreno). Tony isn't like the other guys in the gang.
He has a job, and prides himself in having a future. He's level headed, ambitious, and hopelessly in love with Maria, whom he met at a dance. In true Shakespeare fashion, Maria and Tony get together for a night of passion, and then find themselves locked in fate's cross hairs when an important message fails to get through. It's wonderful storytelling that remains as vital and heartwarming today as it was in 1961. When "West Side Story" first came out, the LP was the biggest grossing soundtrack of its time. No wonder, considering that it includes such memorable Leonard Bernstein-Stephen Sondheim songs as "Maria," "America," "Tonight," "One Hand, One Heart," and "Somewhere." Oh, by the way, there is no problem with Maria. She's doing just fine on DVD.
COMPLETE CHECK-UP
VISION: EXCELLENT
I was pleasantly surprised at how well the original negative has held up through all of these years. The DVD features the film's original 2.20:1 widescreen ratio, enhanced at 16:9 for widescreen televisions. The transfer features some compression artifacts, and the original negative shows some signs of aging. Still, the transfer is golden, with electrifying colors, gorgeous flesh tones and dependable blacks. The experience was so pure that I felt like I was watching "West Side Story" for the first time back in 1961.
HEARING: EXCELLENT
If you've never seen "West Side Story" live, the sound on the DVD is as close as you're going to get without going to the theater. The new 5.1 Dolby Digital Soundtrack is awesome, a collection of vibrant music, solid dialogue, and natural ambient noise. The songs sound sensational. The stereo separation isn't pinpoint, but it more than gets the job done. Strong basses, crystal clear high ends and all of the points in-between sound sensational. No audible hiss, distortions or dropouts. The musical score embraces the room.
ORAL: GOOD
Closed captions in English for the hard of hearing, and subtitles in French.
COORDINATION: GOOD
The DVD comes with the original theatrical trailer (which hasn't help up over time), an eight-page booklet with background information on the film, and colorful main and scene access menus.
PROGNOSIS: EXCELLENT
"Tonight, Tonight, won't be just any night," because I'll be playing my DVD of "West Side Story" over and over.
ATTENDING RESIDENT: John Larsen
PATIENT: WEST SIDE STORY
BIRTH DATE: 1961
HMO: MGM Home Entertainment