Silverado
The western was all but dead when writer-director Lawrence Kasdan approached Columbia Pictures with the idea of reviving it with "Silverado." After having written the screenplays for "The Empire Strikes Back" and "Raiders of the Lost Ark," plus directing two extremely popular films, "The Big Chill" and "Body Heat," Kasdan had the clout to walk into Columbia Pictures with a straight face and make such a request.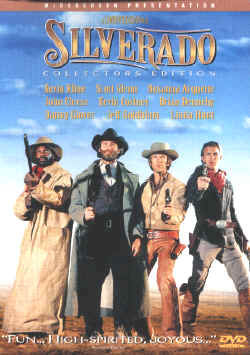 With much reluctance, Columbia finally relented, giving Kasdan and his brother Mark (who co- wrote the screenplay and served as associated producer) $22 million to make their grand gesture to a genre both men loved and cherished as children. Lawrence Kasdan's ability to write both epic ("Raiders") and personal ("Big Chill") served "Silverado" well.
The Kasdan brothers delivered a screenplay that was epic in scale but dealt with the characters on a more intimate level. That combination and a star-studded cast made "Silverado" a grand piece of entertainment, a western that respected all that came before it. To be sure, Lawrence and Mark stocked "Silverado" with every conceivable western moment. Shoot-outs (not one, but several), bar room fights, stampedes, jail breaks, and not one but four heroes. The film finds four men on their way to the town of Silverado.
There's Paden (Kevin Kline), left for dead in the middle of the desert by the men who robbed and beat him; Emmett (Scott Glenn), the man who found Paden and nursed him back to health, and his younger, wilder brother Jake (Kevin Costner), on their way to California after a brief stop to say goodbye to their sister; and Mal (Danny Glover), returning home after a long absence. The men begin their journeys individually, but through chance and circumstance, team up for the final leg of the trip. Along the way they encounter all sorts of typical western situations (both Paden and Jake end up in jail for one reason or another, a wagon train in trouble, outlaws), but none more troubling than their run in with the Silverado Sheriff (Brian Dennehy at his most evil without clown make-up). Not only does Cobb (Dennehy) rule Silverado with an iron fist, he also has a history with Paden, whom he used to ride with.
Tensions mount as each of the men tend to the business that they came to Silverado for. Emmett and Jake visit their sister, while Mal attempts to locate his sister Ray (Lynn Whitfield), who has become a hostess at the local saloon. That's where Paden finds work as house manager, befriending diminutive but strong-willed manager Stella (Linda Hunt). It doesn't take long before Cobb and his men start rubbing the four heroes the wrong way, thus setting the stage for an extended face-off that is more than worth the wait.
Usually when you blend together so many stars in a film, it becomes distracting, yet Kasdan has the unique ability to take away the shine so that only the characters show through. This was especially true in "The Big Chill," where you actually felt like you were eavesdropping on real people as opposed to watching stars deliver lines. The same holds true in "Silverado." There isn't a bad performance in the film, even in the supporting roles. Kasdan regulars Kline ("The Big Chill," "Grand Canyon," "I Love You To Death" and "French Kiss"), Kevin Costner ("Wyatt Earp"), Danny Glover ("Grand Canyon") and Jeff Goldblum ("The Big Chill") prove why the director keeps using them, while newcomers Scott Glenn, Rosanna Arquette, John Cleese, Brian Dennehy and Linda Hunt stand tall.
Cinematographer John Bailey does a brilliant job of capturing the larger-than- life action, framing it like a classic John Ford film, while Bruce Broughton's music sounds like those great Elmer Bernstein scores. There's a lot to admire in "Silverado," but it is the film's sense of fun and adventure that makes so inviting. Even though it is rated PG-13, there is not an awful lot here to offend. It is the kind of film that John Wayne would have made.
COMPLETE CHECK-UP
VISION: [ X ] 20/20 [ ] Good [ ] Cataracts [ ] Blind
Even though the cover art states that the film is in 2.35:1, it is actually 1.78:1. Except for some minute compression artifacts and a small line on the negative at the beginning, the transfer looks sensational. The colors are nice and warm, which is a plus considering that the color scheme relies heavily on earth tones. Flesh tones are attractive, with good saturation. I was amazed at how strong the blacks are. The opening scene with Scott Glenn in a shack is filled with tricky lighting, and the blacks were so industrial strength the scene just leapt off the screen. Overall depth of field is excellent, with outstanding attention to detail. The digital transfer makes it easy to appreciate the grand vistas, the gorgeous sunsets, and the breathtaking close-ups. *(Columbia-TriStar Home Video is aware that the film was transferred in the wrong aspect ratio, and will re-release a remastered version later in June).
HEARING: [ X ] Excellent [ ] Minor Hearing Loss [ ] Needs Hearing Aid [ ] Deaf
Rousing 5.1 Dolby Digital Surround soundtrack lassos you with its vibrant range of sounds, from thundering basses to crystal clear high ends. The stereo effects are effective and precise, especially the left-to-right split. The front to rear separation is good, while the rear speakers are constantly alive with surround effects and music. Ambient noise is so realistic that you have to stop every now and then for a reality check (ricocheting bullets are especially impressive), while Bruce Broughton's score flows from the speakers with authority. Amazingly, the DVD comes with a 2.0 Dolby Stereo soundtrack in English and Spanish, and a mono soundtrack in Portuguese.
ORAL: [ X ] Excellent [ ] Good [ ] Poor
Closed captions in English for the hard of hearing, subtitles in Spanish, Portuguese, Chinese, Korean and Thai.
COORDINATION: [ ] Excellent [ X ] Good [ ] Clumsy [ ] Weak
This Collector's Edition DVD comes with a comprehensive behind-the-scenes documentary about the making of the film, with recollections from director Kasdan and his brother Mark, plus several cast and crew members. The documentary is a fascinating bit of business, complete with outtakes and observations from the cast members during the shoot. Nicely packaged together are fond remembrances and images that are best left for those who have already seen the film. The documentary runs down the plot, so if you haven't seen the film by all means check it out first and then watch the documentary. One thing that really caught my attention was the filmmaker's decision not to have Kevin Costner's character fake his death by hanging because they feared young people may imitate what they see. Talk about understanding your audience and your responsibility to them. The extras also include the original theatrical trailer and some sketchy yet appreciated filmographies of the top talent, plus handsome main and scene access menus.
PROGNOSIS: [ X ] Excellent [ ] Fit [ ] Will Live [ ] Resuscitate [ ] Terminal
Lawrence Kasdan rides to the rescue of the western and saves the day with this playful romp. Saddle up and go get yourself a copy.
VITALS: $24.95/Rated PG-13/132 Minutes/Color/28 Chapter Stops/Keepcase/#03670
ATTENDING RESIDENT: John Larsen
PATIENT: SILVERADO-COLLECTOR'S EDITION
BIRTH DATE: 1985
HMO: Columbia-TriStar Home Video