The Eiger Sanction
It's amazing how much of a difference 24 years can make. In Disney years, that's four generations. I was a senior in high school in 1975, and I remember seeing "The Eiger Sanction" on the big screen. I don't have a review to reference, but I believe that I liked the film.
Watching it on DVD in 1998 is like digging up a time capsule of everything that was wrong with 1975.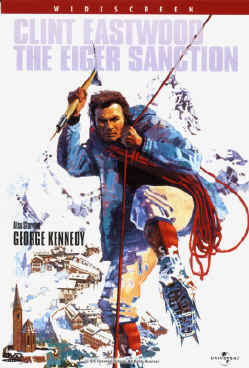 Unfortunately, "The Eiger Sanction" doesn't hold up well in the politically correct late 1990's. It's misogynist, homophobic and just plain silly. I'm not sure how much of an impact it made 24 years ago, but it sure made an impact on me in 1998. Based on the best-selling novel by Trevanian, "The Eiger Sanction" was actor Clint Eastwood's fourth bat at directing. Eastwood proved he could deftly direct suspense with "Play Misty for Me," and handle human emotions in "Breezy." His work on "The Eiger Sanction" is neanderthal at best. It's a clunky thriller that takes way too long to get to the heart of the story, and when it finally does, wraps up way to conveniently.
Eastwood plays Jonathan Hemlock, a professional assassin who collects stolen art masterpieces and spends his off hours teaching art appreciation. He's supposed to be retired, but that doesn't stop the leader of his organization, an albino named Dragon (Thayer David), from recruiting him for one last assignment. He's to avenge the death of a fellow agent. The only information he has is that the assassin limps and will be among a team of mountain climbers attempting to scale the Eiger.
To prepare for the treacherous climb, Hemlock visits climbing instructor and close friend Ben Bowman (George Kennedy) at his desert resort and climbing school. When he's not keeping up with Native American instructor George (Brenda Venus), Hemlock is fighting off the advances of fellow spy Jemima Brown (Vonetta McGee) and former spy Miles Mellough (Jack Cassidy). There are several attempts on his life, red herrings thrown into the bland Hal Dresner, Warren B. Murphy and Ron Whitaker screenplay. When Hemlock and Bowman finally make it to the Swiss Alps, they tag up with several other climbers, each of whom could be the assassin. As if climbing a treacherous mountain weren't enough of an endurance test, Hemlock must also be on his guard to ferret out the assassin.
"The Eiger Sanction" really comes alive during these final few moments, largely thanks to Eastwood's insistence that the scenes be shot on the actual mountain rather than in a sound stage. This realism pumps up the action and suspense in an otherwise dull film. Eastwood's direction is so flat that the film never reaches the heights of the mountain climbers. Instead, it's grounded by cliched characters and dreadful dialogue. Eastwood's character treats all women like objects, and makes fun of albinos, gays and Native Americans. Most of the women are required to take off their clothes at one point or another, while Jack Cassidy's flamboyant portrayal of Miles Mellough invites criticism.
Saddled with a swishy accent and a pert little pooch, Cassidy more than eats the scenery, he swallows, craps it out, and then eats it again. It's embarrassing to watch. Eastwood even has the audacity to rip-off "The Sound of Music" opening, with a helicopter shot closing in on Eastwood as he stands on top of a grassy hill. Not that's embarrassing. I kept waiting for him to break out into song. George Kennedy is the best thing about the film, delivering a nicely shaded character who stands out from the pack. In time, Eastwood would become an Oscar-winning director.
COMPLETE CHECK-UP
VISION: [ ] 20/20 [ ] Good [ X ] Cataracts [ ] Blind
The original negative of "The Eiger Sanction" has seen better days, resulting in a less than satisfactory digital transfer. Compression artifacts seem to dot every frame, even those in decent condition. The colors are adequate, but not flattering, while the blacks run the gamut from solid to embarrassing. Some scenes look sensational, while others look flat and blase. The 2.35:1 widescreen transfer gets all of the action up on the screen, but it's not nearly as vivid and the images not nearly as sharp as they should be. Some of the blacks look washed out and fade into a speckled gray. The negative and compression flaws really stand out when the film ends up in endless blankets of snow. There's also a nagging problem with horizontal patterns (the aluminum siding of a trailer, etc.) that create havoc with the transfer.
HEARING: [ ] Excellent [ X ] Minor Hearing Loss [ ] Needs Hearing Aid [ ] Deaf
The Dolby Digital 2.0 Channel Mono won't excite your sound system, but it does get the job done.
ORAL: [ X ] Excellent [ ] Good [ ] Poor
Closed captions for the hard of hearing in English, subtitles in French and Spanish.
COORDINATION: [ ] Excellent [ X ] Good [ ] Clumsy [ ] Weak
Theatrical trailer, cast & crew biographies and filmographies, and production notes.
PROGNOSIS: [ ] Excellent [ ] Fit [ X ] Will Live [ ] Resuscitate [ ] Terminal
Once upon a time this politically incorrect and misogynist spy thriller was considered acceptable. Time has definitely taken its toll on Eastwood's frigid thriller. Rent rather than buy, and only then if you want to laugh at the extremes.
VITALS: $24.95/Rated R/129 Minutes/Color/16 Chapter Stops/Keepcase/#20442
ATTENDING RESIDENT: John Larsen
PATIENT: THE EIGER SANCTION
BIRTH DATE: 1975
HMO: Universal Studios Home Video