Scream DVD
I wasn't exactly overwhelmed the first time that I saw Wes Craven's "Scream." Perhaps it was the weirdo sitting across the aisle from me who seemed to be literally "getting off" when Drew Barrymore's character was getting slaughtered. Honest too goodness.
At first I thought he was brushing popcorn off his lap, but that steady motion kept going on long after the popcorn would have been brushed off. So I was more afraid of the guy sitting next to me than the make-believe action on the screen.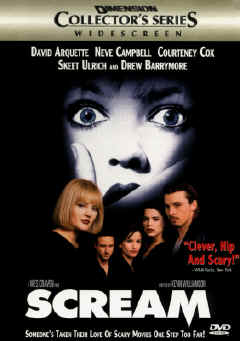 It was pretty unnerving. So I wasn't actually "stimulated" the first time I saw "Scream." A few months later, when I received a screening cassette of the film from Dimension, I was hesitant to pop it in the VCR. It must have been a dark, stormy night, or maybe I was just bored, but I did pop the "Scream" tape in the VCR. Guess what? Without worrying about some stranger getting his DNA all over you, I found "Scream" to be a genuinely entertaining thriller with a hip sensibility.
I finally understood why the other critics were fawning all over the movie. "Scream" was the film that launched the Kevin Williamson juggernaut. Williamson parlayed his ability to write young, hip characters and put a twist on traditional themes into several franchises, including "Scream," "I Know What You Did Last Summer," "The Faculty," and television's "Dawson's Creek." I have never met Williamson, but if he's as hip as his characters, he must be one fun guy. I liked "Scream" because it turned the teen horror movie on it's ear. I hated "Scream" because it launched a fleet of imitators that weren't nearly as clever nor as fun. Craven, best known for his "Nightmare on Elm Street" series of films, pokes fun at his own career with this tongue-definitely-in-cheek thriller about a young woman who is being stalked by a mask-wearing psycho.
Her name is Sydney (Neve Campbell, very effective), and she's just celebrating the one-year anniversary of her mother's brutal slaying. Sydney's father is out of town, and she is a wreck. It doesn't help matters that two of her high school friends (including Drew Barrymore, always a delight) has just been savagely slaughtered, or that television reporter Gale Storm (Courteney Cox), who made a career out of covering Sydney's mother's death, is back in town to cover the new murders.
Then there are Sydney's friends, who seem transfixed on horror films, and use their knowledge to help Sydney uncover the killer. What makes "Scream" so much fun is that the character's are aware of the mechanics of a horror film. They know the rules, and this knowledge makes them more hip than their previous screen counterparts. They know you never walk in a dark room without turning on the lights, or saying things like "I'll be right back." Williamson's script pokes fun at these traditions, and then turns around and rehashes them with a vengeance.
His characters don't live in a vacuum where horror films don't exist. Even the killer uses horror film trivia to torment Casey (Barrymore) before killing her. "Scream" features an impressive cast, tight direction, some genuine scares, and lots of laughs.
COMPLETE CHECK-UP
VISION: [ X ] 20/20 [ ] Good [ ] Cataracts [ ] Blind
Extremely crisp 2.35:1 widescreen transfer shows little compression artifacts and no pixelation. The color saturation is excellent, while the blacks are as solid as they come. The flesh tones are vivid and natural. You won't find a P&S version on the RSDL, but you will find sharp images that never betray their pristine negative origins.
HEARING: [ X ] Excellent [ ] Minor Hearing Loss [ ] Needs Hearing Aid [ ] Deaf
Pin drop perfection distinguishes the 5.1 Dolby Digital Surround track. Expressive stereo effects and ambient noise fill the room with a sense of foreboding, while the dialog mix is superior in every way. Marco Beltrami's eerie musical score sounds terrific, especially the high ends that make the hair on the back of your neck stand up. The basses are gripping.
ORAL: [ ] Excellent [ X ] Good [ ] Poor
Closed captions in English for the hard of hearing.
COORDINATION: [ X] Excellent [ ] Good [ ] Clumsy [ ] Weak
The first title in the Dimension Collector's Series contains everything the "Scream" fan could possibly want, except the "director's cut" of the film.
§ The audio commentary with director Wes Craven and writer Kevin Williamson is interesting and fun, with the two men chatting about how much fun it was to make the film. There's lots of a fawning over the actors (especially Drew Barrymore, whom Williamson was thrilled to land for the "Marion Crane" role), and complaining about how the high school they picked wouldn't let them shoot there because of the film's content. There's also lengthy discussions about how Craven had to trim the film to meet MPAA guidelines for an "R" rating.
§ There's a behind-the-scenes production featurette that manages to sneak in the trimmed footage (including a very gutted Drew Barrymore), plus interviews with the cast and crew.
§ Included are some relevant Q & A's with the cast and crew about their favorite horror films.
§ A special effects gallery that also shows off the gory effects trimmed from the film.
§ The original red and green band theatrical trailers (to be honest, I couldn't distinguish between the two trailers), plus television spots.
§ Cast and crew bios and filmographies.
§ Creative themes main and scene access menus.
PROGNOSIS: [ ] Excellent [ X ] Fit [ ] Will Live [ ] Resuscitate [ ] Terminal
Nice collection of extras, but not nearly enough here to justify the price tag. Rent instead of buy.
VITALS: $39.99/Rated R/111 Minutes/Color/16 Chapter Stops/Keepcase/#15638
ATTENDING RESIDENT: John Larsen
PATIENT: SCREAM: DIMENSION COLLECTOR'S SERIES
BIRTH DATE: 1996
HMO: Dimension Home Video