Shanghai Noon
I had such a good time sitting through the East meets West action-comedy "Shanghai Noon" that I immediately wanted more. Well, it's taken three years for "Shanghai Knights" to reach the screen, and the wait has been worth it.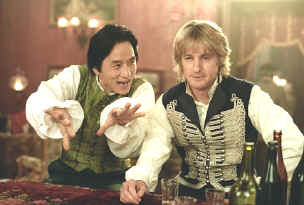 It's always difficult catching lightning in a bottle, but that doesn't seem to be the case with "Knights," which not only follows the same formula, but actually improves upon it.
"Shanghai Knights" isn't a great film, but it's a tremendous amount of fun, grounded by original stars Jackie Chan and Owen Wilson doing what they do best. Chan's breathtaking displays of martial arts and Wilson's surfer dude brain trust are perfect compliments to "Knights," a rollicking sequel that takes the fish-out-of-water story to new heights.
In "Noon," Chinese palace guard Chon Wang (Chan) ventured west to rescue the kidnaped daughter of the Emperor. Reluctantly forced to team up with larger-than-life (at least in his mind) gunfighter Roy O'Bannon (Wilson), Wang makes the best of a bad situation In true "Odd Couple" movie form, the adversaries eventually become friends, relying on each other's specific skills to get the job done.
The only thing I didn't like about "Noon" was Lucy Liu's princess, who acted like someone shoved a board up her rear end. Liu is missing in action in "Knights," and in her place we get the marvelous Singapore actress Fann Wong, who plays Wang's sister Chon Lin with just as much visceral punch as her brother. Wong, like the rest of the supporting players who filter through this raucous ride, manages to hold her own. She's very animated and very deadly in her own right.
When their father is killed and his Imperial Seal is stolen, Chon Lin follows the culprit to London. When word of the murder reaches Wang, he immediately leaves his position as sheriff of Carson City, Nevada, and heads to New York. It's there where O'Bannon has been plying his trade, and is supposedly holding on to Wang's half of the money they wound up with at the end of "Noon."
Having lost the money and relegated to writing dime store novels about his exploits, O'Bannon agrees to accompany Wang to London, where both men get to share in the fish-out-of-water experience. Set in the 1880s, "Shanghai Knights" effectively recalls Victorian England in all of its glory, and provides the perfect playground for Chan and Wilson to strut their stuff.
Like "Noon," "Knights" pays homage to numerous films, especially the great silent films of Harold Lloyd and Charlie Chaplin. There are many Keystone Cop-like moments that showcase Chan's slick fight choreography, including a hilarious bit involving a hotel revolving door. One of the things I liked about "Noon" was the writer's ability to incorporate familiar movie moments into the plot, and returning writers Alfred Gough and Miles Millar have outdone themselves.
Anyone with a minimal appreciation of old movies will find much to like here. The villain of the piece is Lord Rathbone (Aidan Gillen), appropriately named after famous screen villain Basil Rathbone. The writers revel in this brand of cheeky humor (the bad guy in "Noon" was named Van Cleef, after Lee Van Cleef). In London, Wang and O'Bannon are assisted by a Dickensian orphan named, hold on to your shorts, Charlie Chaplin.
The men are also aided by Scotland Yard detective Artie Doyle (Thomas Fisher), a fan of O'Bannon's dime store novel adventures. Jack the Ripper even manages to put in an appearance, but the real menace is Rathbone, who gives evil a bad name. Gillen is downright creepy as the English nobleman anxious to weed out the heirs to the throne in front of him.
Director David Dobkin ("Clay Pigeons") gives Chan the freedom to make the character, and the sets for that matter, his own. If there is any doubt that Chan is paying homage to the great silent film stars, one has to look no further than the film's climax that finds Wang dangling from the hands of Big Ben (Harold Lloyd did the same stunt in "Safety Last").
Wilson is always enjoyable to watch, and he excels in this kind of wise-ass romp. Watching him rub the American Revolution into the Brit's faces is always good for a laugh, and so is the romance that blossoms between him and Chon Lin.
Director Dobkin even uses musical cues for laughs, incorporating pop songs into scenes to make a statement. The musical jokes could have been distracting, but "Shanghai Knights" is such a big, fun goof to begin with they become part of the milieu. Even though the film was shot in Prague and Alberta, Calgary, the filmmakers have managed to recreate the period and time with loving detail.
BOOGIE KNIGHTS Jackie Chan and Owen Wilson "Shanghai" England
SHANGHAI KNIGHTS
Jackie Chan, Owen Wilson, Aaron Johnson, Thomas Fisher, Aidan Gillen, Fann Wong, Donnie Yen. Directed by David Dobkin. Rated PG-13. 114 Minutes.
LARSEN RATING: $7.00