Scream 3 DVD
By the time "Scream" arrived in 1996, the teen-slasher genre had all but worn itself out. Started in the seventies by John Carpenter with "Halloween" and revived in the eighties by Wes Craven with "A Nightmare on Elm Street," the genre had long been the staple of drive-in double bills.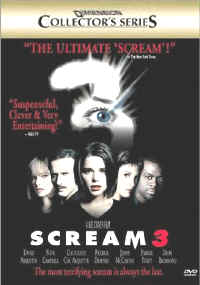 When the nineties rolled around, the core audience had abandoned the genre, as well as drive-ins. Because each new generation feels the need to reinvent themselves, it was only a matter of time before modern teens tired of their parent's formulaic horror films. They wanted to watch characters as hip as they were.
Thanks to a referential script by Kevin Williamson, "Scream" changed all of that. Suddenly characters in horror films were smart, and hip. Instead of living in a celluloid vacuum, the characters in scream knew all of the horror movie do's and don'ts. Gone were the days of dumb blondes entering a house even though the lights don't work.
"Scream" was a huge hit, and like all huge hits, gave birth to an equally successful sequel. Success begets success, which brings us to "Scream 3." Except for a couple of films, the third film in any series is usually made just to capitalize on the success of the previous entries. By then, the filmmaker's have exhausted most original avenues and take the straight and narrow by delivering just more of the same.
No stranger to sequels, director Wes Craven does two things to make "Scream 3" a better film than the sequel, and almost as much fun as the first film. First, Craven replaces Williamson with scribe Ehren Kruger, who breathes new life into the series. Then he incorporates the plot device from "A Nightmare on Elm Street" into the proceedings, creating alternating plot lines that help place the audience off guard.
What Craven gets is a fun house attraction that is guaranteed to take fans of the series on a wild ride. The characters are still smart and hip, and now they're in Hollywood for the filming of "Stab 3," a film based on the events from the first two films. So what we have is a film within a film, with one group of actors playing characters in the real film, and another group playing their characters in the make-believe film.
It's a nifty device that allows Craven to milk as much suspense from the formula as possible. When the killer can't find Sydney (Neve Campbell), who is in hiding, he begins hacking up her friends and cast members of the film to drive her out. The ploy works, and it's not long before Sidney and her friends face off one final time against the evil that has haunted their lives.
The plot device also provides Craven and Kruger with the opportunity to spoof themselves, which they obviously have fun doing. There's more humor in this film than the first two, yet because of the parallel storylines, there is also more mayhem and murder.
Performances are inconsequential. Kruger sets them up and Craven knocks them down. Campbell, Courteney Cox-Arquette, David Arquette and Liev Schreiber look comfortable, having been down this road twice before. The rest of the cast is relegated to reaction shots, but they seem to be in tune with the spirit of the film. No one embarrasses themselves in "Scream 3."
Is this really the end of the "Scream" series? It could be, and that wouldn't be a bad thing. Craven and his gang justify the film's existence with smart dialogue, genuine chills and some camp appeal.
COMPLETE CHECK-UP
VISION: Good

2.35:1 Widescreen

16:9 Enhanced

RSDL
Decent digital transfer suffers from some noticeable compression artifacts. Atmospheric films like horror movies are always a challenge, and the digital transfer isn't always up to it. Some of the dark scenes lack definition, while scenes involving haze or fog don't hold up well. They're not bad, but they are noticeable. Overall the images are impressive, with sharp, vivid colors that look sensational, including lifelike flesh and earth tones. Depth of field and attention to detail are okay but lack the sort of definition one normally expects from a major studio release. A pristine negative allows for a clean transfer.
HEARING: Excellent

English 5.1 Dolby Digital Surround

French 5.1 Dolby Digital Surround
Highly expressive 5.1 Dolby Digital soundtrack (available in both English and French) really puts you in the middle of the action. The entire sound field gets a workout, from a strong and extremely effective front stage, to rear speaker action that delivers more than the customary after effects. The dialogue mix is excellent, always front and center. The front stage stereo split is tricky, while the front-to-rear spatial split is very accurate. Basses are generous, while treble is sharp. Rear speakers pump out all sorts of information, from dialogue to musical cues, but it is the ambient noise that sneaks up on you. The sound mix is just as devious as the film, and the digital transfer puts every cue where it belongs.
ORAL: Good

Closed Captions in English for the Hard of Hearing

Subtitles in Spanish
COORDINATION: Good

A lively, full-length, scene-specific audio commentary with director Wes Craven, producer Marianne Maddalena and editor Patrick Lussier. These three come prepared with all of the info fans of the series so eagerly want to hear. Not only do they discuss the film as it plays, they fill in the gaps with the sort of information that can only come from those involved behind the scenes. The flow of information is constant and always entertaining.

Deleted scenes with commentary, including an alternate, extended ending, and two different versions of the opening scene. The commentary is courtesy of Craven, Maddalena and Lussier.

Abbreviated featurette on the "Scream" series, basically a sales tool that is nothing more than a montage of images from all three films.

The film's original theatrical and International trailer

14 Television Spots (I guess in case you don't get it)

"Is This The End" music video by Creed.

Cast & crew bios.

Animated main and scene access menus.
PROGNOSIS: Good

The series may be dead, the DVD is alive and well.
VITALS: $29.99/Rated R/117 Minutes/Color/29 Chapter Stops/Keepcase
ATTENDING RESIDENT: John Larsen
PATIENT: SCREAM 3-COLLECTOR'S EDITION
BIRTH DATE: 1999
HMO: Miramax Home Video