Phantasm
Flying silver spheres that punch a hole in your head and suck out your brains. Severed fingers that turn into carnivorous flying creatures. A tall, scary dude who can lift a coffin and its contents with ease and haunts your dreams.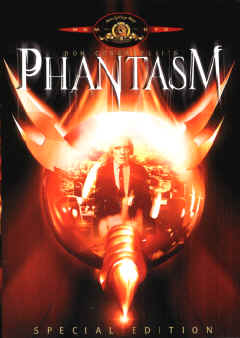 Hey, this is my kind of movie. Little did I realize that Don Coscarelli's little horror gem "Phantasm" would become a film franchise. I remember seeing "Phantasm" at a local theater where one of my friends was the assistant manager. We had seen the film the day before, and after the show walked down the mall to a craft supply store and purchased a dozen foam balls.
We wrapped them in silver foil and took them with us the next day to the theater. We sat down front, and when the flying sphere makes its first appearance in the film, we chucked them backwards into the audience. William Castle would have been proud of us. That is why I laughed when I heard that the filmmakers had orchestrated the exact same stunt at midnight shows. Brilliant minds think alike. Made for $300,000, "Phantasm" is one of those films that defies it production costs. Using a great deal of ingenuity and lots of imagination, writer-director Don Coscarelli has created a classic horror movie. Granted the acting isn't Oscar caliber, and some of the dialogue is so pedestrian it hurts.
Coscarelli has created a visceral experience that glosses over the rough spots and makes it impossible for you not to be taken away by his story and characters. Bill Thornbury and Michael Baldwin play brothers Jody and Mike, taking care of each other since their parent's death. Mike is afraid that his older brother will abandon him for a life of his own, and follows Jody every where. When Jody isn't busy assuring Mike, he's hanging out with his friend Reggie (Reggie Bannister), an ice cream salesman. The three are brought together when a friend of theirs is killed.
While attending the funeral, Mike witnesses one of the caretakers singlehandedly remove a casket from the ground and place it in the back of a hearse. When his curiosity gets the best of him, Mike investigates and learns that the caretaker is actually the guardian of an evil plot to turn humans into pint-sized slaves. Of course Jody doesn't believe Mike, but after a close call with the Tall Guy (Angus Scrimm) and one of his deadly appendages, the brothers group with Reggie to stop him and his evil plan. Most of the film takes place inside a mortuary, and even though it is a limited set, Coscarelli manages to make it more than it is.
It helps that the action going on in front of it is so enthralling and exciting that you hardly notice. Coscarelli has filled "Phantasm" with some fantastic conceits, including a deadly silver sphere that has become a horror icon. Even at its most outrageous, "Phantasm" is a lot of fun. The sequels never managed to capture the giddiness of the original. The original remains a true cinematic experience.
COMPLETE CHECK-UP
VISION: [ X ] 20/20 [ ] Good [ ] Cataracts [ ] Blind
The "Phantasm" DVD is like one of those old family members you haven't seen in a while that you dread meeting again because you're afraid how they will look. When you finally do bump in to them, you're pleasantly surprised to find out that they look sensational. I was afraid the DVD transfer for "Phantasm" would be iffy at best. You know what? It looks marvelous. Even though the actual film lacks the glossy Hollywood look, the transfer holds up better than one could ever hope for. The original negative is clean, allowing for a transfer free from glitches and weak whites and shadows. The colors are actually impressive, with decent saturation and solidity. Flesh tones look lively, while blacks are strong. Depth of field is also impressive, as is attention to detail that keeps the images vivid and sharp. No real compression issues of note.
HEARING: [ X ] Excellent [ ] Minor Hearing Loss [ ] Needs Hearing Aid [ ] Deaf
The DVD offers you the choice of a newly remastered 5.1 Dolby Digital Surround soundtrack or the film's original mono soundtrack, and quite frankly, I was hard pressed to leave the 5.1 Dolby Digital soundtrack. A lot of care and effort has gone into the new soundtrack, and it sounds sensational. Even though their faux, the stereo effects are actually effective, while rear speakers come alive with enough information to catch you off guard. I thought for sure the soundtrack would come with enough hiss or distortion to annoy, yet it sounds remarkably clean. Dialogue mix is superior, so you never have to crank up the volume. The new soundtrack isn't definitive by any means, but in my opinion "Phantasm" has never sounded better.
ORAL: [ ] Excellent [ X ] Good [ ] Poor
Closed captions in English for the hard of hearing, subtitles in French.
COORDINATION: [ X ] Excellent [ ] Good [ ] Clumsy [ ] Weak
MGM Home Entertainment goes that extra mile with the "Phantasm" DVD. They have piled on enough extras to justify calling this a "Special Edition." Here's the line-up:

First and foremost is the enjoyable audio commentary featuring director Coscarelli and actors Angus Scrimm, Michael Baldwin and Reggie Bannister. The guys wallow in nostalgia as they watch the film. One interesting note. Scrimm sounds so scripted you wonder if his comments were recorded and then added in during the actual session. Fans will learn everything they have always wanted to know about the film by listening to the commentary.

I thoroughly enjoyed the twenty minutes worth of home movies narrated by Coscarelli and Scrimm that provide an unscripted look at the making of the film.

The DVD features numerous scenes trimmed out of the film.

Coscarelli and Scrimm turn up on a Florida cable interview show, and just check out those crazy clothes. By the time you get to this extra, you begin to realize that Scrimm had one spiel and ran with it.

Scrimm also turns up in a Fangoria Weekend of Horror interview in which he recalls his character and the film, and then runs through his entire dialogue from each film. It only takes a couple of minutes. This segment was shot by a fan on home video and the quality is so-so.

There are numerous theatrical trailers, teasers and television spots, plus some radio ads.

The DVD features a stills gallery with samples of the film's various posters and lobby cards.

There is also a full-length version of Bill Thornbury's song on the DVD, and personally I would buy a copy if it weren't included here.

An 8-page booklet with fascinating tidbits about the film.

Finally, totally outrageous main and scene access menus that are genuinely creepy. The main menu also includes a hidden feature. Click to the top and you will be able to access four pieces of eerie music to accompany the main menu. What a unique feature.
PROGNOSIS: [ X ] Excellent [ ] Fit [ ] Will Live [ ] Resuscitate [ ] Terminal
Flying silver balls that punch holes in your forehead and suck out your brains? Sign me up!
VITALS: $24.98/Rated R/88 Minutes/Color/32 Chapter Stops/Keepcase/#907793
ATTENDING RESIDENT: John Larsen
PATIENT: PHANTASM-SPECIAL EDITION
BIRTH DATE: 1979
HMO: MGM Home Entertainment