Rambo III
By the time "Rambo III" arrived in 1988, the character of John Rambo had reached mythic proportions. Sylvester Stallone became one of a handful of actors who have starred in two successful big screen franchises.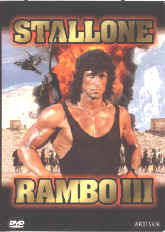 Harrison Ford holds the record with "Indiana Jones," "Hans Solo" and "Jack Ryan." Unfortunately, America wasn't as interested in the war in Afghanistan as they were in Vietnam, and "Rambo III" became the least successful film in the series.
Too bad, because today it's more relevant than ever. "Rambo III" holds up well ten years later, and Stallone is better than ever. As the film begins, John Rambo is living in a monastery, stick fighting with the locals in order to earn money for the minks. His peaceful existence is interrupted when Colonel Trautman (Richard Crenna) tracks him down and asks for his assistance on a job in Afghanistan. Rambo turns Trautman down, telling him that his war is finally over.
When Trautman goes ahead with the mission and is captured by the Russians, Rambo agrees to go in and save his friend. He teams up with Afghanistan freedom fighters (including a kid who tries to warm up to Rambo and surprisingly lives) to infiltrate the Russian fort where Trautman is being held captive. Once inside the fort, the film turns into one explosive situation after another.
Like all Rambo films, this one features a crazed Russian commander who takes it all very personally and makes it his mission to kill Rambo. Rambo, in return, wipes out his entire platoon of soldiers and then makes one final point with a tank. "Rambo III" was directed by Peter MacDonald, who was the 2nd Unit Director of "Rambo: First Blood II." A superior 2nd Unit action director, MacDonald was recruited to helm the film when Russell Mulcahy, the original director, left the film. Since most of the film consists of action, MacDonald more than gets the job done.
Stallone and Sheldon Lettich wrote the tight-knit screenplay that gets a little preachy, but pays off with larger-than-life action and adventure. The film looks sensational, and the physical special effects and pyrotechnics are outstanding. Not the definitive "Rambo" film, "Rambo III" still play an important role in the trilogy.
COMPLETE CHECK-UP
VISION: [ X ] EXCELLENT [ ] GOOD [ ] RESUSCITATE [ ] D.O.A.
Except for the occasional compression artifact speckle, the digital transfer is awesome. Delivered in the film's original 2.35:1 widescreen ration, the images are sharp and vivid, with spectacular colors, honest flesh tones and brick wall blacks. An excellent presentation enhanced at 16:9 for widescreen televisions. Fiery reds, penetrating blues, and soothing earth tones combine to create a crisp, visually exciting picture.
HEARING: [ X ] EXCELLENT [ ] GOOD [ ] RESUSCITATE [ ] D.O.A.
Expressive 2.0 Dolby Surround sound features dynamic basses, piercing highs, excellent stereo separation and strong, distinctive dialogue. No audible hiss or distortion. Natural ambient noise, and great front-to-rear coverage. The cave sequences are especially haunting thanks to the great echo effects.
ORAL: [ ] EXCELLENT [ X ] GOOD [ ] RESUSCITATE [ ] D.O.A.
Closed captions and Spanish subtitles.
COORDINATION: [ ] EXCELLENT [ X ] GOOD [ ] RESUSCITATE [ ] D.O.A.
"Rambo III" features an alternate running audio commentary from director Peter MacDonald, who provides the usual background info, plus a little insight into the film's "cheats." For instance, most of the desert scenes were shot in Israel, except for the final battle, which was shot in Arizona. MacDonald also discusses the difficulties of taking over the shoot with just one day's preparation, and how Stallone demanded that he be allowed to do most of his own stunts. Interestingly, MacDonald must know that if you don't have anything interesting to day, don't say anything, because he takes occasional breaks during his commentary. I don't mind this. They pump up the volume of the film, and when MacDonald has something worth saying, they lower the volume and let him speak. I see no need for him to ramble on for two hours if he only has an hour's worth of material. There's a featurette called "Rambo III: Full Circle" which is nothing more than a glorified music video, the original theatrical trailer, a trivia game based on the film (you lose, you get whacked a couple of times and the crowd boos; when you win, you're supposed to hear the crowd cheer, but this didn't happen on my copy), vocally- enhanced motion menus, production notes and cast and crew biographies, and great scene access menus.
PROGNOSIS: [ X ] EXCELLENT [ ] GOOD [ ] RESUSCITATE [ ] D.O.A.
Okay. If you buy the first two, you have to buy the third one. If you rent the first two, you have to rent the third one. They're a set.
VITALS: $29.98/Rated R/102 Min./Color/30 Chapter Stops/Keepcase/#60467
ATTENDING RESIDENT: John Larsen
PATIENT: RAMBO III : RAMBO III
BIRTH DATE: 1988
HMO: Artisan Entertainment