The Night Strangler
First and foremost, it has to be said that "The Night Stalker" was and still is one of my dad's favorite shows of all time. The series was one of the reasons he got a satellite dish so he could watch the re-runs on the Sci-Fi Network.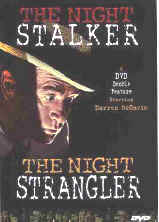 While I don't remember the series as vividly as he does, I do remember watching the pilot film and being totally mesmerized. Who could resist Darren McGavin as intrepid Las Vegas reporter Karl Kolchak, constantly butting heads with his editor (played by Simon Oakland) and things that go bump in the night. "The Night Stalker" pitted Kolchak against a modern day vampire (Barry Atwater) draining Las Vegas tourists of more than their money. The fun came watching Kolchak trying to convince authorities and occasionally himself that the vampire existed.
Carol Lynley co-starred in the first pilot film as the damsel-in-distress that Kolchak tries to save. "The Night Stalker" set a ratings record when it first aired, which led to "The Night Strangler" a year later. McGavin returned, this time in Seattle, where he does battle against a 100-year-old killer who periodically rises from under the city to renew his strength. Richard Anderson, who would later go on to manage "The Six Million Dollar Man," played the Jekyll and Hyde creature who would charm women before killing them.
Creator Dan Curtis took over the directorial chores for the sequel, and then created a popular yet short-lived television series that pitted Kolchak against a new supernatural enemy every week. The lovely Jo Ann Pflug co-starred in "The Night Strangler" as the heroine, with Simon Oakland returning as Kolchak's former editor. The films and the series have been credited by writer-director Chris Carter as his influence for "The X-Files." The DVD features both films, and even after nearly thirty years, they're still a kick in the pants.
COMPLETE CHECK-UP
VISION: [ ] EXCELLENT [ x ] GOOD [ ] RESUSCITATE [ ] D.O.A.
Due to the fact that "The Night Stalker" and "Strangler" were filmed as television pilots, they are presented in the standard 1.33:1 aspect ratio. The transfer is superb, with warm flesh tones and vibrant neon's. No trace of artifacts or noise. I haven't seen Kolchak look this good since the early seventies. They should master new television prints from this two-sided DVD.
HEARING: [ ] EXCELLENT [ x ] GOOD [ ] RESUSCITATE [ ] D.O.A.
Even though it's not presented in true stereo, the sound on both films is adequate. It gets the job done.
ORAL: [ ] EXCELLENT [ ] GOOD [ ] RESUSCITATE [ x ] D.O.A.
No subtitles or closed-captioning.
COORDINATION: [ ] EXCELLENT [ ] GOOD [ x ] RESUSCITATE [ ] D.O.A.
Enough already. Isn't it enough that these two popular made-for-television films are available on DVD? So what if there is no extras? Don't worry, be happy!
PROGNOSIS: [ ] EXCELLENT [ x ] GOOD [ ] RESUSCITATE [ ] D.O.A.
If you've worn out your original copy of the tape because you've played it a hundred times, then you probably already have your mitts on a copy. If you're not a fan, but are looking for something charming and nostalgic, rent it.
VITALS: $29.98/NR/89 Min.-74 Min./Color/10 Chapter Stops-12 Chapter Stops/Keepcase/#DV10501
ATTENDING RESIDENT: John Larsen
PATIENT: THE NIGHT STALKER/THE NIGHT STRANGLER
BIRTH DATE: 1971/1972
HMO: Anchor Bay