Miracle
You don't have to be a fan of ice hockey to appreciate "Miracle," an old-fashioned underdog tale about America's unexpected defeat over the Russians during the 1980 Winter Olympics. Written by Eric Guggenheim and directed by Gavin O'Connor, "Miracle" is more about the man who made it happen than the actual event.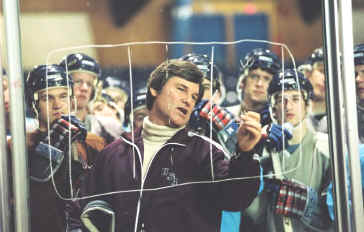 The actual event was captured in the 1981 television mini-series "Miracle on Ice," in which Karl Malden played Herb Brooks, a Minnesota hockey coach who was assigned to select and coach a team despite the fact that America hasn't won since 1960, and the Russians are among the most feared players on ice.
Kurt Russell plays Brooks in "Miracle," and it's a different Russell than we're used to. He's heavier in the face, a little thick in the middle. He's still handsome, but in a more mature, fatherly sort of way. The kind of man you would trust with your life. From "Follow Me Boys" to "The Computer Wore Tennis Shoes," Russell has been playing underdogs for the Mouse Factory, but his performance in "Miracle" tops them all.
Guggenheim wisely sidesteps the horse and pony show and focuses on the ringmaster. It's always difficult to catch lightning in a bottle, and since anyone old enough to want to see this movie should know the outcome, the trick is recreating the story so that it seems fresh and exciting.
The writer and director do that by making "Miracle" a film about someone instead of something. Except for passing references, we barely get to know the players. The players in "Miracle" are like the arms on the Octopus ride at the fair. They're useless without the motor, and with Russell at the wheel, "Miracle" purrs roars like a lion.
While it's impossible to deliver the goods in a sports movie without resorting to cliche, Guggenheim and O'Connor manage to skate over these thin ice moments. They're unavoidable, but they don't stop the film dead in its tracks.
Patricia Clarkson wrestles with the conventional role of the lonely coach's wife who supports her husband every time he goes off into battle, always wondering when he's coming home to stay. It is usually a thankless role, but Clarkson, like Cloris Leachman in "The Last Picture Show" and Rachel Griffiths in "The Rookie," makes it her own.
The players are all freshly scrubbed, good looking young men, and they all do a good job of playing freshly scrubbed, good looking young men.
Skating on Thin Ice "Miracle" hockey movie more about coach than team
MIRACLE
Kurt Russell, Patricia Clarkson, Eddie Cahill, Noah Emmerich, Sean McCann, Kenneth Welsh, Patrick O'Brien Demsey, Nathan West. Directed by Gavin O'Connor. Rated PG. 136 Minutes.
LARSEN RATING: $6.00