Kelly's Heroes
As I was watching David O. Russell's "Three Kings," I said to myself: "Oh my God, someone has remade Kelly's Heroes." Indeed, "Three Kings" and "Kelly's Heroes" are the same movie. They just take place during different wars.
That's not a bad thing, because I absolutely love both movies. Granted "Three Kings" is ripe with political and social satire, but both films offer a good time.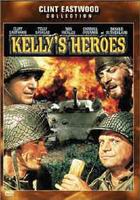 Written by Troy Kennedy Martin, "Kelly's Heroes" stars Clint Eastwood as Kelly, an Army Lieutenant looking for a little something extra to tide him over after the war. When Kelly learns that the Nazi's have hidden a cache of gold bullion behind enemy lines, he recruits a team of treasure hunters to retrieve it.
The ensemble cast is terrific, including the tough but lovable Telly Savalas as Big Joe, Dog Rickles as the appropriately nicknamed Crapgame, and Donald Sutherland as the perpetually stoned tank commander Oddball. Sutherland, who joined after the cast after playing Trapper John in Robert Altman's "M*A*S*H," excels in the role, bringing plenty of levity to the action and adventure.
Eastwood stands tall as Kelly, a man of conviction who sees opportunity and seizes it. Eastwood makes it easy for us to understand why any of these men would accompany him on such a dangerous mission. Greed is also a motivating factor, but not as much as the respect Eastwood commands in the role.
Director Brian G. Hutton does an excellent job of mixing action and comedy, never allowing the humor to destroy the suspense or urgency of the situation. The action scenes are impressive and exciting, while there isn't a bad performance in the line-up. These guys are extremely likeable, and you want to see them succeed. Their journey is filled with all sorts of roadblocks and pitfalls, but that's half the fun.
Martin's script is more than serviceable. He creates characters are situations that are engaging. Hutton's direction takes full advantage of those strengths, and allows him to deliver a film that holds up 30 years later.
I wasn't into war movies when "Kelly's Heroes" came out in 1970, but it was playing on a double-bill with "Easy Rider" at a small theater near where I lived. Of course "Easy Rider" was the second film, so I "had" to sit through "Kelly's Heroes." I'm glad I did. Like "Three Kings," it's more of a caper film than a war movie, even though it uses war as it's backdrop. I wish there were more films like this.
"Kelley's Heroes" is being released as part of The Clint Eastwood Collection, a four-studio promotion that offers consumers 27 of Eastwood's best films at a special price. The collection also includes a special edition, six-title DVD & VHS gift pack that includes "Dirty Harry," "Bronco Billy," "The Outlaw Josie Wales Special Edition," "Unforgiven," (Warner Home Video), "In The Line of Fire," (Columbia-TriStar Home Video) and "The Beguiled" (Universal Home Video).
The DVD Gift Pack retails for $99.92, while the VHS gift pack retails for $59.92. The collection also includes the following titles on DVD and VHS: "Absolute Power," "The Gauntlet," "Pale Rider,"and "True Crime." Additional titles in the collection available only on VHS are "Any Which Way You Can," "City Heat," "Every Which Way But Loose," "Firefox," "Heartbreak Ridge," "Honkytonk Man," "A Perfect World," "Pink Cadillac," "The Rookie," "Tightrope," "Where Eagles Dare" and "White Hunter, Black Heart." Video titles retail for $14.95 each.
COMPLETE CHECK-UP
VISION: 20/20
2.35:1 Widescreen
Outstanding presentation. MGM is to be congratulated for taking such good care of the original master, which provides a pristine image and superior attention to detail and depth of field. Almost flawless digital transfer looks so real you feel as if you could crawl into the frame. Flesh tones are flattering, with excellent saturation. Colors are most impressive, with bold reds, grassy greens and bright blues. Blacks are strong and impenetrable, while whites and grays are clean. No noticeable digital artifacts. The print is so clean you could eat off it.
HEARING: Good
Dolby Digital 5.1
Surround Playful but not overly enthusiastic remastered soundtrack that gets the job done without showing off. Basses are good, while high and middle ranges sound clean. No hiss or distortion here. Surround effects are minimal but there, while rear speakers come alive with artificial cues. Front sound stage is strong, with decent faux stereo separation and powerful dialogue mix that keeps everything front and center.
ORAL: Good
Closed Captions in English for the Hard of Hearing
Subtitles in French Language
COORDINATION: Clumsy
The film's original theatrical trailer, presented in 1.85:1 widescreen.
Weak cast info, with only a link to Eastwood's filmography, which is extensive.
Standard issue main and scene access menus.
PROGNOSIS: Fit
I liked the film much that the lack of extras was hardly a deterrent. Nice presentation.
ATTENDING RESIDENT: John Larsen
PATIENT: KELLY'S HEROES
BIRTH DATE: 1970
HMO: Warner Home Video