I Saw What You Did
Pinch me, I must be dreaming. DVD seems to be having a William Castle revival, and I'm just tickled pink. Enough cliches. Actually, I really am in cinema heaven when I get a chance to watch some of the films that were major influences on me during my formative years.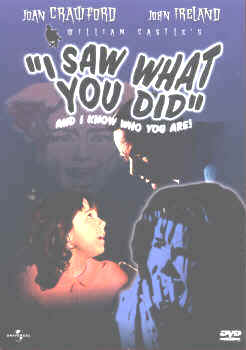 I was one of those people who went to a horror movie because the ads said that a nurse would be on duty at all times to insure the health of patrons, and that every audience member was insured in case they were frightened to death. Director William Castle was the master of these gimmicks, a showman who supplemented his cinematic efforts with showmanship of the highest caliber. Audience members watching "The House on Haunted Hill" were treated to a skeleton flying over their heads during a key moment in the film.
"The Tingler" shocked audiences, literally, with little electrical impulses built into their seats. I just reviewed "The House on Haunted Hill," while I'm looking forward to the release of "The Tingler" on DVD next month. This month the focus is on Castle's "I Saw What You Did," a catchy melodramatic thriller from 1965. The tale of two teenage girls who get into serious trouble when they make prank phone calls isn't a great film by any means, but it is effective, and memorable. Castle recruited veteran actress Joan Crawford, hot off her performance in "What Ever Happened to Baby Jane?" to star in the film, but the real focus is on teenagers Andi Garrett and Sarah Lane.
They play Libby and Kit, two high school friends spending the night at Libby's house while her parents are away on business. When the scheduled babysitter calls in sick, Libby is burdened with the task of keeping an eye on her little sister Tess (Sharyl Locke). Libby and Kit pass the evening away by making prank phone calls, most of which are innocent fun. It's only when they start telling people "I saw what you did, and I know who you are" that things start heating up. The first few connections are just annoyed people, but when they dial up the phone number of Steve Marak (John Ireland), all hell breaks loose. Why? Because Steve has just murdered his wife, and believes that someone has actually witnessed the deed.
Steve also has to content with amorous neighbor Amy Nelson (Crawford,), who blackmails Steve when she learns of his recent loss. The real suspense comes when Libby and Kit just have to meet the excited man on the other end of the line, and sneak off to his house to get a look. From that moment on the film becomes an extended cat and mouse game, with unpleasant results. The screenplay by William McGivern, based on a novel by Ursula Curtiss, is filled with engaging characters and great motivation. I like the fact that Libby and her family live in an isolated farm on the outskirts of town, the perfect place for a killer to stalk his prey.
There are a couple of clumsy moments in the film, but the cast manages to rise above them. Garrett and Lane are fine as the teenage culprits, while Ireland shows real menace as the killer. Locke manages to deliver a child performance that isn't precocious, and Crawford seems to enjoy her melodramatic moments. The film looks sensational, shot in black and white with lots of creepy shadows and fog banks.
Castle does an excellent job of creating time and place, and manages to raise the level of suspense little by little until it's almost unbearable. Theaters were installed with "Shock Sections," where the seats were outfitted with seatbelts for those who were afraid they would be scared out of their seats.
COMPLETE CHECK-UP
VISION: [ X ] 20/20 [ ] Good [ ] Cataracts [ ] Blind
Time has been very kind to the original negative, which is absolutely stunning. Delivered in the film's original 1.78:1 widescreen ratio, the black and white images are truly startling. I was expecting a plethora of nasty scratches and drop outs, but the film looks as good as it did in 1965. Strong, bold blacks, clean whites and shadows are just the beginning. Depth of field is superior, and so is attention to detail that even manages to hold on to stubborn patterns. No noticeable compression artifacts or noise, but there is a minute trace of flecking. Otherwise, the picture is awesome.
HEARING: [ X ] Excellent [ ] Minor Hearing Loss [ ] Needs Hearing Aid [ ] Deaf
Effective, distortion free Dolby Digital mono soundtrack. Extremely clear dialogue mix.
ORAL: [ ] Excellent [ ] Good [ X ] Poor
No Closed captions or subtitles.
COORDINATION: [ ] Excellent [ X ] Good [ ] Clumsy [ ] Weak
The DVD features the World Premiere special announcement featuring director Williams Castle, plus the film's original theatrical trailer and bios on Joan Crawford and Castle. Watch the film past the credits and you also get one of the original "When in Hollywood, Visit Universal Studios" promos from 1965. What a nostalgic treat. The big attraction then were the "War Lord" sets.
PROGNOSIS: [ X ] Excellent [ ] Fit [ ] Will Live [ ] Resuscitate [ ] Terminal
A must have for William Castle fans.
VITALS: $24.98/Not Rated/82 Minutes/B&W/20 Chapter Stops/Keepcase/#DV10867
ATTENDING RESIDENT: John Larsen
PATIENT: I SAW WHAT YOU DID
BIRTH DATE: 1968
HMO: Anchor Bay Entertainment