The Score
"The Score" plays like a classic heist film with modern sensibilities, a high-tech thriller with a great cast and genuinely engaging direction. It brings together Robert De Niro and Marlon Brando, two actors who won Oscars for playing the same character but have never appeared together in the same film.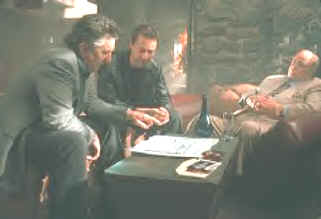 Smartly directed with an eye for detail by Frank Oz, "The Score" opens with an estate heist that sets the tone for the rest of the film. Hard at work cracking a wall safe is professional thief Nick Wells (De Niro). Just as Nick pops open the safe, he's interrupted by a couple who have strayed from the party.
As the couple make out on the couch, Nick cowers in the dark, keeping his cool. The waiting game is filled with suspense. One slip on Nick's behalf and the game is over. What happens when Nick is found out says a lot about his character. He's not just a thief, Nick is a noble thief. It's a job, nothing more, nothing personal.
Nick also knows the rules of the game. Never work in your own backyard. It's a rule he lives by, but when he's approached to participate in a heist of the Montreal Customs House, the payoff is too good to turn down.
Except for a superfluous romantic subplot, the script by Kario Salem, Lem Dobbs and Scott Marshall Smith is smart and efficient. Instead of delivering speeches, they deliver action. The writers cleverly work in story exposition without insulting us. There's a lot of technical jargon being bantered about, yet by the time we get to the heist, we feel like insiders.
De Niro is excellent as a man who is ready to call it quits so he can enjoy the fruits of his efforts. Despite the fact that Nick is a thief, he's honorable. He doesn't hurt people, he's straightforward, and he always gets the job done. He's the best at what he does, and we admire him for his values and work ethics.
The owner of a popular jazz club in Montreal, Nick wants a future that doesn't involve looking over his shoulder. It's a future that includes flight attendant girlfriend Diane (Angela Bassett), who wants to settle down. It's a future that doesn't include old friend Max (Brando), Nick's middle man and over-stuffed fence.
Max wants Nick for one more job. It involves a priceless scepter that is securely locked in the basement of the Custom House. It also involves the participation of Jack Teller (Edward Norton), a dubious partner in crime who has set up the heist. Posing as a janitor named Brian with cerebral palsy, Jack has gained the trust of the Custom House workers and even mapped out the premises.
Oz and the cast do a splendid job of creating mistrust between all the participants. That edge constantly keeps us guessing, wondering who is on the level and who isn't. The payoff is a nail- biting finale that is extremely fulfilling.
Brando commands the screen as Max, wheezing his way through every word like someone at the end of their line. Watching De Niro and Brando interact is invigorating, while the writers give them dialogue that sounds like two old pros comparing notes. It's hard to believe that these two have never shared the screen together until now. Their union in "The Score" is historic and entertaining..
Edward Norton is so effective as both Jack and Brian that they seem like two totally different characters. It's a tribute to Norton's talent that he makes Brian valiant rather than sympathetic. Brian may have cerebral palsy, but he's far from handicapped.
Angela Bassett has some fine moments with De Niro, but her character is thinly written and used only as a plot device. Bassett bravely tackles every cliché thrown at her, but in the end, she has no choice but to concede the film belongs to the men.
"The Score" comes as a pleasant surprise from director Oz, who is primarily known for his comedy films. Oz perfectly shades every scene and character, creating a moody, suspenseful film. Except for a small pit stop in the middle, "The Score" benefits from razor sharp editing by Richard Pearson, and stylish production design by Jackson De Govia.
I really liked Howard Shore's snappy score and Ron Hahn's dreamy photography that bathes Montreal in a glistening gleam.
"The Score" arrives in the middle of summer, usually a time when Hollywood is dumping their leftover duds or big-budget holdovers. While dinosaurs and apes fill the local screens, it's refreshing to discover a film that is not only aimed at adults, but doesn't insult them.
Heist films and crime capers are always welcome, and "The Score" arrives with both arms open wide. Embrace the film if you're looking for something sleek and diverting.
SCORE ONE FOR CRIMEHeist film features terrific cast, writing and direction
THE SCORE
Robert De Niro, Edward Norton, Marlon Brando, Angela Bassett, Gary Farmer. Directed by Frank Oz. Rated R. 124 Minutes.
LARSEN RATING: $6.00