Interceptor
Captain Christopher Winfield (Andrew Divoff) is miffed. Since his latest test drive of a top secret virtual reality Stealth fighter went wrong, he's been pulled off the mission. To add insult to injury, he's been reassigned, and is forced to babysit two of the fighters en route from Europe to America in a large cargo plane.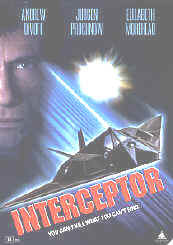 Heck, he doesn't even get to fly the cargo plane. That's up to Major Janet Morgan (Elizabeth Morehead, which sounds like a President Clinton intern), a no-nonsense pilot who doesn't take crap from anyone. Good thing, because what was supposed to be a routine flight turns into a nightmare at 30,000 feet when terrorists board the plane and conspire to steal the planes.
"Interceptor" plays like a cross between "Air Force One" and "Executive Decision," except for the fact that it came out in 1992. Keep this in mind when you watch "Interceptor," because comparisons will be obvious. Then remember that this tidy little Cold War thriller beat them all to the punch. Not that it's exceptional entertainment, but as directed by Michael Cohn from a breezy script by John Brancato and Michael Ferris (the duo went on to write "The Game" starring Michael Douglas), it more than gets the blood pumping. While the model work is obvious, the rest of the film flies high and mighty. Things really get jumping when the terrorists (led by Jurgen Prochnow) board the cargo plane through a mid-air gasoline transfer tube (hey, it worked for me) and take over the plane. Unbeknownst to the terrorists, Cpt. Winfield is holed up in a passenger cubby hole in the back of the plane, allowing him to move about the plane and kill the terrorists. (Did someone mention "Under Siege"?) Some are killed in spectacular fashion (one guy gets toasted and then tossed from a hole in the side of the plane), others are just pummeled by Winfield in his quest to save the crew and the cargo.
It's all pretty pedestrian stuff, given just enough kick by the cast and crew to make it all matter. Divoff and Morehead handle the hero duties with aplomb, while Prochnow is extremely vile as the lead terrorist. His little riff with a hostage and a snake is especially evil. Even when the film gets silly (the cargo plane develops in-flight problems, and Divoff and Prochnow are forced to dump the fighters out the back of the plane and then kick-start them as they plummet) it's still inviting.
Sure, it's filled with cliches (the freshly scrubbed co-pilot played by Rick Marzan is on his last flight, so you just know something horrible is going to happen to him), but the director tackles these obstacles with tight editing. "Interceptor" won't win any awards for being a great film, but it does fill a need for B-level thrills.
COMPLETE CHECK-UP
VISION: [ ] EXCELLENT [ X ] GOOD [ ] RESUSCITATE [ ] D.O.A.
For what is basically a programmer, the film looks really good on DVD. The digital transfer captures the film's original 1.85:1 aspect ratio (enhanced at 16:9 for widescreen televisions, no less) in spectacular color. While the blacks aren't as solid as I would like, they suffice. No noticeable compression artifacts, although some of the stock aerial footage looks less than stellar. It's not a transfer glitch. Genuine flesh tones and vivid colors.
HEARING: [ X ] EXCELLENT [ ] GOOD [ ] RESUSCITATE [ ] D.O.A.
Very impressive Dolby Digital 2.0 Surround sound. There are moments when people are walking around the cavernous interior of the cargo plane, and their footsteps echo in all the right places. Strong dialogue mix. Powerful basses fill the room, while the high end frequencies sound crisp and clear. Nice presentation of the musical score.
ORAL: [ ] EXCELLENT [ X ] GOOD [ ] RESUSCITATE [ ] D.O.A.
Subtitles in French and Spanish.
COORDINATION: [ ] EXCELLENT [ X ] GOOD [ ] RESUSCITATE [ ] D.O.A.
Interactive menus, scene access, some cast vitals, and three theatrical trailers, including "Interceptor," "Mean Guns," and "The Cube."
PROGNOSIS: [ ] EXCELLENT [ X ] GOOD [ ] RESUSCITATE [ ] D.O.A.
Movies like "Interceptor" used to make the rounds at the local drive-in, but since all the local drive-ins are now storage yards, they have been regulated to video and cable. "Interceptor" doesn't betray it's meager origins, but it doesn't let them hold it back from becoming engaging entertainment.
VITALS: $24.99/Rated R/92 Min./Color/24 Chapter Stops/Keepcase/#VM6883D
ATTENDING RESIDENT: John Larsen
PATIENT: INTERCEPTOR
BIRTH DATE: 1992
HMO: Trimark Home Video