Cousin Bette
Revenge is sweet, and "Cousin Bette" is a real treat. Like the equally stunning "Dangerous Beauty," which seems to have gotten lost in the box office shuffle, "Cousin Bette" is an undiscovered gem that is just now finding an audience on video and DVD.
If you're a fan of films like "Dangerous Liaisons" you will simply swoon over director Des McAnuff's sumptuous production featuring a dastardly Jessica Lange as "Cousin Bette," who is about to get even with her uncaring family.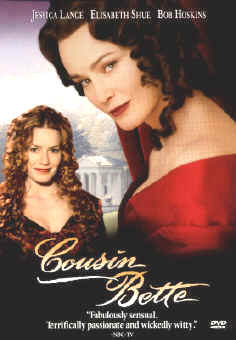 Based on the novel by Honore De Balzac, Lynn Siefert and Susan Tarr's screenplay is both witty and devious. Set in France during the mid 19th Century, "Cousin Bette" is a darkly comic morality play about how greed drives ordinary people to do the most extraordinary things. Bette is a spinster, having sacrificed her life and forced to tend to the garden so that her cousin Adelaide (Geraldine Chaplin) could have the life of a lady.
When Adelaide dies, Bette believes that widower Baron Hulot (Hugh Laurie) will ask her to marry him. She has already prepared her "I'll never replace your mother" speech for Hulot's two children, Hortense (Kelly MacDonald) and Victorin (Toby Stephens). Instead, he offers her a job as housekeeper. Totally humiliated, Bette returns to her rat-trap Paris apartment, and her job as a seamstress at the local theater. There's nothing worse than a woman scorned, and Bette immediately sets into motion a plan that will ruin the Baron and his children.
She recruits the starving artist who lives above her, a handsome chap named Wencelas (Aden Young), and the bawdy leading lady of the theater, Jenny Cadine (Elisabeth Shue), who just happens to be the Baron's rented mistress. So intrigued by Wencelas, Bette agrees to finance his work in exchange for his company. When Wencelas meets and falls in love with Hortense (and her father's money), Bette adds his name to her list. The more Bette weaves her web, the more intricate her plan becomes, engulfing everyone who gets in her way. She finds ways to either humiliate or dispense with those who have treated her less than a lady.
For instance, she sets up Crevel, the lord mayor of Paris (Bob Hoskins) with Jenny, just so the Baron will find them together and challenge him to a duel. The results of that challenge are hysterical. Then Bette sics Jenny on Wencelas, causing the tormented artist to fall in love with the actress, much to Bette's, the Baron's and Hortense's dismay. The couple's tryst causes the Baron to have a stroke, Hortense to grab a gun to defend her honor, and Bette the opportunity to watch the lives of those around her fall gloriously apart. It's all wicked, devilish fun, told with a sense of humor and lots of period wit. The film's detailed production and costume design makes it easy to slip back in time with these characters.
Lange is sensational as Bette, who dresses down for the role and looks smashing. Even as a Plain Jane, Lange is stunning. Her eyes are so expressive. Elisabeth Shue is a delight as the bawdy showgirl who isn't afraid to show a little behind for her art. She isn't the greatest singer, but she is a lot of fun. Hoskins is at his rapscallion best as the lord mayor, who isn't ashamed to be caught under Jenny's petticoat. Aden Young is both beautiful and a bastard as the troubled artist whose biggest accomplishment is talking about his biggest accomplishment.
Finally, Kelly MacDonald is delightful as Hortense, who thinks she has Bette's blessing when she steals Wencelas away from her. Poor, delusional Hortense. I was having so much fun watching "Cousin Bette" that I didn't want it to end. Luckily it's on DVD, so the fun never has to end.
COMPLETE CHECK-UP
VISION: [ X ] 20/20 [ ] Good [ ] Cataracts [ ] Blind
Like the film's exquisite period detail and design, the digital transfer is equally refined and gorgeous. Delivered in the film's original 2.35:1 widescreen ratio (even though the box cover says 1.85:1), "Cousin Bette" is alive in rich color saturation and solid, industrial strength blacks that never waver. The hues are warm and delicate, perfectly reflecting Andrzej Sekula's breathtaking cinematography. Hardly a trace of compression artifacts, while the original negative delivers a clear and concise transfer. Memorable, vivid images show great depth of field and detail. The flesh tones are extremely vivid and lifelike, while the colors are strong and royal.
HEARING: [ X ] Excellent [ ] Minor Hearing Loss [ ] Needs Hearing Aid [ ] Deaf
A lively 2.0 Dolby Digital Stereo soundtrack that puts to shame some of the 5.1 soundtracks I have heard recently. While it's not definitive, the stereo split is impressive and dedicated, with a professionally polished dialogue mix that makes each and every line a pleasure on the ears. What a delight it was to hear my speakers come alive with a wide range of sound and music, including some natural ambient noises. The basses are subtle yet encouraging, while the high ends are as clear as fine crystal. No noticeable hiss or distortion.
ORAL: [ ] Excellent [ X ] Good [ ] Poor
Subtitles in English and Spanish.
COORDINATION: [ ] Excellent [ X ] Good [ ] Clumsy [ ] Weak
Gorgeous main and scene access menus, plus the film's original theatrical trailer.
PROGNOSIS: [ X ] Excellent [ ] Fit [ ] Will Live [ ] Resuscitate [ ] Terminal
Revenge is sweet, and this is one delicious DVD.
VITALS: $29.99/Rated R/110 Minutes/Color/25 Chapter Stops/Keepcase/#4110449
ATTENDING RESIDENT: John Larsen
PATIENT: COUSIN BETTE
BIRTH DATE: 1997
HMO: 20th Century Fox Home Entertainment