Flesh for Frankenstein
About a year ago I was rummaging through some boxes in the garage, and came across a box of movie memorabilia that I had collected over the years. Actually, it was one of many boxes, but this box in particular contained numerous cardboard and plastic 3-D glasses.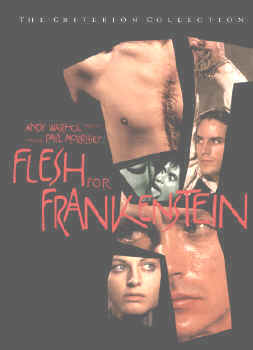 I had one for "Jaws 3-D," Friday the 13th Part 3-D," a revival showing of "House of Wax." There were even some scratch and sniff cards for John Water's "Polyester." Among the 3-D glasses were a pair for "Andy Warhol's Frankenstein." Except for some "Stewardess" movie we saw at the Pussycat Theater in Hollywood, "Andy Warhol's Frankenstein" was the only X-rated movie that I saw in 3-D.
The drive-in was playing the flat R-rated version, but sitting through that would be like watching "Citizen Kane" without the sled Rosebud. Like all 3-D movies, the degree of the effect depended on the individual. It also depended on a sharp, in-focus image and total darkness. Luckily, all of those elements were in place for this showing of "Frankenstein." I was only 16, so this was a big thrill for me. I had heard my parents talk about the 3-D movies that they saw when they were kids. I explained to them that those were real dinosaurs and not a movie. Anyway, nothing my parents had bragged about could prepare me for "Andy Warhol's Frankenstein." I didn't even know who Andy Warhol was. Someone said that he painted soup cans. I thought, hey, it's a dirty job, but someone had to let the consumer know what's inside the can. I didn't care.
What I did care about was that I was about to see blood and guts leap out of the screen and into my lap, and it wasn't even Serial Killer night at the Bijou. When all was said and done, I really liked the film. I admired the director's audacity to push the envelope and go for the extreme. 95 minutes of blood, sex, torture and naked people. Every 16 year-old high school male's dream date. It wasn't until college that I learned that "Frankenstein" was actually directed by a guy named Paul Morrissey, who was a friend of Andy Warhol. Like Morrissey's earlier work like "Trash," "Flesh" and "Heat," Warhol allowed his name to be used as a presenter.
The two felt that Warhol's name would be a draw, and I assume he was right. "Flesh for Frankenstein" was very successful, and even spawned a follow up "Blood for Dracula," featuring most of the same cast and behind-the-camera talent. As written and directed by Morrissey, "Flesh for Frankenstein" (the film's real name) is a well crafted horror story that turns the Mary Shelley legend on it's ear. Shot in Italy on a modest budget, Udo Kier plays the mad doctor who is trying to assemble a perfect Aryan couple in his castle's basement. His experiments, assisted by lab rat Otto (Arno Juerging), require a lot of spare parts, so that means borrowing what he can from the locals.
When Frankenstein's sister (and mother to their two monstrous children) hires a local stud (Joe Dallesandro) as the new nanny and housekeeper, she sets into motion a chain of events that will bring down the Frankenstein house. When Katrin Frankenstein (the wonderful Monique Van Vooren) isn't doing it with her brother, she's servicing new nanny Nicholas (Dallesandro, out of his clothes once again). Morrissey tells the story with as much depravity and gore as he can pile on. To prove a point to Otto, Frankenstein commits a deviant sexual act on his female zombie, and then spouts off one of the film's best and most remember lines.
There's lots of blood and guts on display, all presented up close and personal to take advantage of the 3-D process. The film looks okay without the 3-D, and it's still shocking 25 years after it's initial release. It's also a hoot and a half, filled with the sort of macabre humor Stephen King writes best.
COMPLETE CHECK-UP
VISION: [ ] 20/20 [ X ] Good [ ] Cataracts [ ] Blind
Impressive 2.35:1 widescreen digital transfer displays strong color saturation, nice detail, and pinch-able flesh tones. The blacks weren't nearly as solid as I like, while some scenes showed traces of compression artifacts. Overall, the original negative holds up well enough for a decent transfer. There are some scratches on the emulsion, but not enough to suggest neglect. The colors are vibrant, especially the splashy reds.
HEARING: [ ] Excellent [ X ] Minor Hearing Loss [ ] Needs Hearing Aid [ ] Deaf
Functional Dolby Digital mono soundtrack is crisp and clean, with strong, vibrant dialogue.
ORAL: [ ] Excellent [ ] Good [ X ] Poor
No closed captions or subtitles.
COORDINATION: [ ] Excellent [ X ] Good [ ] Clumsy [ ] Weak
"Flesh for Frankenstein" features audio commentary from director Paul Morrissey, star Udo Kier, and film historian Maurice Yacowar. It's a dicey affair at best, a collection of audio commentaries pasted together to form a somewhat cohesive narrative. It's obvious that Morrissey was watching the film when he delivered his comments. Morrissey's comments were then cut up and conveniently dropped into Yacowar's analysis of the film and Morrissey's career. It's very disconcerting, especially since Yacowar sounds like one of those pompous critics who like to hear themselves speak. Yacowar wrote the book "The Films of Paul Morrissey," and his obsession with Morrissey is creepier than the movie. Kier chimes in every now and then with some observation about filming the movie. On the whole, the dialogue that emerges is interesting but not overly enthralling. I sat through it because that's my job. Enjoy the movie and skip this feature unless you're a hardcore Morrissey fan. The DVD also features a stills gallery of publicity and production photos accompanied by a stereo presentation of Claudio Gizzi's musical score. A real bonus would have been an alternate musical track with just the score. There's also the customary main and scene access menus.
PROGNOSIS: [ ] Excellent [ X ] Fit [ ] Will Live [ ] Resuscitate [ ] Terminal
Paul Morrissey's sex and torture show is so extreme that it's actually a lot of fun. Definitely not for the feint of heart or minors.
VITALS: $29.99/Not Rated/95 Minutes/Color/31 Chapter Stops/Keepcase/#27
ATTENDING RESIDENT: John Larsen
PATIENT: FLESH FOR FRANKENSTEIN
BIRTH DATE: 1973
HMO: Criterion Collection