Notting Hill
You can imagine Julia Roberts reservations about starring in "Notting Hill." Would one of America's best loved and most popular actresses be able to play one of America's best loved and most popular actresses?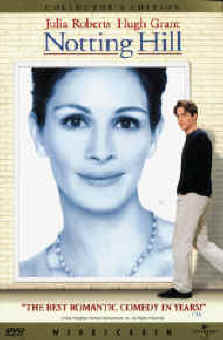 That's the conceit of "Notting Hill," a thoroughly charming romantic-comedy from the writer of "Four Weddings and a Funeral." Roberts stars as Anna Scott, a popular movie star on location in England. Hugh Grant stars as William Thacker, a nice guy who owns a travel bookstore in Notting Hill. When Scott enters his bookstore one afternoon, she changes his life forever.
Does a sweet, unassuming English bookstore owner stand a chance with one of film's biggest stars? Only in the movies, and "Notting Hill" is one sweet, unassuming movie. Roberts and Grant are a wonderful match. They both exude charm as they do the "meet cute" and then follow it up with a winning courtship that involves the usual pitfalls. He's a little bit country, she's a little bit rock and roll.
Grant shines as the common man who runs a travel bookstore but has probably never ventured further than the next city. William lives in a comfortable flat with a space cadet of a roommate named Spike (Rhys Ifans), and the closest he has ever come to a movie star is watching them on the big screen. Anna barely has time for herself much less William, but finds his quiet life attractive.
Against her better judgement, Anna starts seeing William. Their union leads to all sorts of awkward moments. When he brings her to dinner, his family can't believe their luck. When he attempts to see her at the hotel, he gets swept up in a press junket interview session. Through it all Anna and William attempt to iron over the rough spots of their affair.
Even though the film travels through familiar landscapes, the screenplay by Curtis makes everything look new and exciting. You know from the outset where the film is headed, yet the tip is so engaging you don't mind going through the motions. Roberts is a total delight as Anna Scott. She's sweet and honest. Grant pours on the charm as William. You really want to see his William connect with Anna. The chemistry between the two is real. The supporting cast is also a delight.
Director Roger Michell has done a splendid job of fleshing out the background with fascinating characters. On the surface, "Notting Hill" might seem like a trifle. It's not until the film is over that you realize what a high wire act the film really is. The actors, writer and director could have taken the easy way out, yet they all bring uncommon depth and emotion to the film. It's a winning effort that will make you smile and cry.
COMPLETE CHECK-UP
VISION: Excellent

2.35:1 Widescreen

16:9 Enhanced

Splendid anamorphic widescreen transfer benefits from a spotless negative. The images are extraordinarily sharp and vivid. Flesh tones are so realistic you feel you can reach out and touch them. Color and saturation are perfect. Blacks are strong and dependable, while whites and shadows are as clean as they come. Depth of field is respectable, while attention to detail is strong. No compression artifacts or flecking.
HEARING: Excellent

5.1 Dolby Digital Surround

2.0 Dolby Digital Surround French Language

Buoyant 5.1 Dolby Digital Surround soundtrack features outstanding high and low ends. The musical cues sound live, while dialogue mix is strong. Stereo effects and ambient noise are excellent. You constantly feel like you are in the middle of the film. Left to right stereo split is definitive, while front to rear spatial separation sounds exact. Rear speakers come alive with powerful musical cues and ambient noise. Basses are present but not overpowering. High ends are extremely clean, with no noticeable hiss or distortion.
ORAL: Good

Closed captions in English for the hard of hearing, subtitles in French.
COORDINATION: Good
The Collector's Edition features the following extras:

An enjoyable feature-length audio commentary with director Roger Michell, writer Richard Curtis and producer Duncan Kenworthy. Their exchanges are noteworthy and fun, plus they provide some behind- the-scenes gossip.

"Hugh Grant's Movie Tips," a funny little exercise by the star on how to make a movie. We get to meet Grant's parents, whom he kids endlessly, plus some of the behind-the-camera personnel. Sweet and funny stuff.

The DVD includes several deleted scenes. I know these are cut to improve the film's pacing, but most of them are keepers. This is the very reason I own a DVD player. I appreciate the opportunity to see what was left on the cutting room floor, and be able to listen to the director and writer discuss their techniques and understand the choices they make.

A Travel Book that allows you to explore the Notting Hill area. This feature allows you to shop for antiques, food, or find a nice place to eat. A neat little extra.

A menu that allows you to jump to your favorite song in the film. The selection is immense.

The film's original theatrical trailer, plus two Universal Showcase trailers: "The Story of Us" and "End of Days."

Production notes, plus cast & crew bios & filmographies.

Handsome main and scene access menus.

DVD-ROM features that take you behind-the-scenes, including links to Universal's web site.
PROGNOSIS: Excellent

Any movie that can put and then keep a smile on my face deserves a place in my DVD library.
VITALS:

$34.98/Rated PG-13/124 Minutes/Color/18 Chapter Stops/Keepcase/#20640
ATTENDING RESIDENT: John Larsen
PATIENT: NOTTING HILL-COLLECTOR'S EDITION
BIRTH DATE: 1999
HMO: Universal Studios Home Video