Finding Forrester
Filled with memorable performances and lots of heart, "Finding Forrester" is a perfect convergence of star and material. Sean Connery is absolutely splendid as the crusty Pulitzer-prize winning author William Forrester, who turned his back on society after publishing just one book.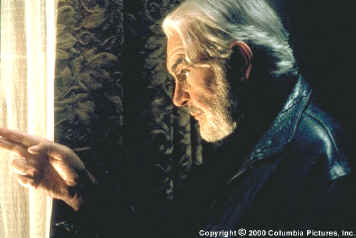 Written by Mike Rich, whose screenplay gained attention when it was submitted to a script contest, "Finding Forrester" is a solid, entertaining film about what happens when two very different people are brought together by the same passion: writing.
Rich's screenplay is filled with engaging characters and believable exposition, a story about a man who becomes a mentor to a young writer only to learn late in the relationship that he's actually the student. Connery wasn't in Rich's mind when he wrote the character, yet it's hard to picture anyone else playing Forrester.
Connery brings a lot of baggage to the role, and every line on his face is a medal for surviving life. Like so many brilliant authors before him (think J.D. Salinger), William Forrester wrote one classic first novel. His spirit broken by personal tragedy at the height of his success, Forrester became a recluse, observing the world below from his Bronx apartment.
All that changes when one of the kids who plays basketball on the courts across the street accepts a dare to sneak into Forrester's apartment. Jamal Wallace (Ron Brown in a stunning debut) isn't a bad kid. He just wants to prove that the figure that stares out the window isn't really a ghost. Caught in the act, Jamal comes face to face with Forrester, who quickly learns that Jamal possesses the same gift for writing.
I loved the way Rich and director Gus Van Sant treat the relationship between Forrester and Jamal. Rich's dialogue is always respectful, while Van Sant brings the same adult sensibility to the party that he did in "Good Will Hunting." Instead of wasting half the film with the two characters playing mind games on each other, the writer and director immediately go in for the kill. They force the characters to play their hands early, giving them plenty of breathing room to get to know each other.
It's here where both Connery and Brown shine. Their relationship becomes real, honest. The script is sturdy enough to hold up even when it slips into convention. Jamal becomes such a good writer under Forrester's tutelage that his work is questioned by his teacher. This conflict allows Jamal to question an oath he made to Forrester to keep their relationship secret. It's a plot device that works because of the conviction the actors bring to it.
With "Finding Forrester" and "Good Will Hunting" Van Sant has proven himself a master of story and character. He doesn't milk scenes. He allows them to flow naturally. He trusts his actors to deliver the goods. They do. Connery is wonderfully wry as Forrester, a man trapped in his past who sees his future in the eyes of his student. Brown is excellent as Jamal, a kid who knows the score and isn't afraid to challenge it.
"Finding Forrester" is a positive film about positive people. It will leave you feeling good inside. How often does that happen at the movies?
RETURN TO SENDER
This Gift better left unwrapped
THE GIFT
Cate Blanchett, Keanu Reeves, Giovanni Ribisi, Greg Kinnear, Hillary Swank, Katie Holmes in a film directed by Sam Raimi. Rated R. 116 Minutes.
LARSEN RATING: $3
"The Gift" is better left unwrapped. The gothic thriller comes with all of the trappings, but once you remove the outer layer, all that remains is a trinket of a film. This is especially upsetting when you consider that "The Gift" comes from director Sam Raimi and writers Billy Bob Thornton and Tom Epperson.
Raimi is the gifted director who redefined gothic horror with "The Evil Dead," and matured into a master filmmaker with his suspense-thriller "A Simple Plan." Thornton and Epperson wrote director Carl Franklin's gripping crime drama "One False Move." These guys know the territory, yet stumble blindly through a swamp melodrama filled with silly dialogue and preposterous plotting.
"The Gift" stars Cate Blanchett as Annie Wilson, as a single mother who has a gift for readings. Annie's gift is met with both praise and disbelief from the locals of her small Georgia town. Annie prefers using her gift for good, but agrees to help the local police locate a missing woman. Her visions lead them to the body and a suspect, Donnie Barksdale (Keanu Reeves), a local redneck who has threatened Annie and her family.
A quick trial puts Donnie behind bars, but Annie's visions don't stop. She believes that the real killer is still out there, waiting. It all sounds exciting and suspenseful, but it's not. Raimi plays everything out so matter-of-factly that the audience is always 30 minutes ahead of the characters. The third act revelations come way too late to be surprising.
The cast is okay, choking down the dumb dialogue without gagging too much. Blanchett rises above the material, bringing depth to a role that has none. Blanchett makes Annie interesting, even when her predicament isn't.
The rest of the cast play types. Reeves is menacing enough as the vicious Donnie, Hilary Swank appropriately jumpy as his battered wife, and Giovanni Ribisi on his usual space trip as a whacked-out abused son. I felt sorry for Katie Holmes, whose rack was bigger than her role. Does Dawson know about this?
The film looks authentic thanks to Jamie Anderson's haunting cinematography, and Christopher Young's score helps set the tone. Too bad the director and writer couldn't follow suit.
FORRESTER, WILLIAM FORRESTER
Connery and Brown bond in heartwarming drama
FINDING FORRESTER
Sean Connery, Rob Brown, F. Murray Abraham, Anna Paquin, Busta Rhymes, April Grace. Directed by Gus Van Sant. 136 Minutes. Rated PG-13.
LARSEN RATING: $6