From Dusk Till Dawn: The Hangman's Daughter
"From Dusk Till Dawn," the slam-bang action-horror from director Robert Rodriguez and writer Quentin Tarantino, is one of my favorite vampire films. The film's combination of cutthroat action and wicked humor made it much more than just your run-of-the-mill, fangs-for-the-memory film.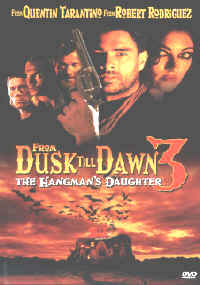 Which is why I was hesitant when I heard Dimension Home Video was prepping two direct-to-video additions to "From Dusk Till Dawn." The plan was for Tarantino to develop a sequel, while Rodriguez would concentrate on a prequel.
Direct-to-video used to be a dirty word. It was associated with cheap, Unrated sex thrillers with words like "fatal" and "deadly" in their title.
Times have changed, and so has the quality of direct-to-video offerings.
The first direct-to-video sequel of "From Dusk Till Dawn," "Texas Blood Money," arrived early in 1999, and even though it wasn't nearly as exciting as the first film, it did manage to capture its spirit.
"From Dusk Till Dawn: The Hangman's Daughter" is a major improvement over "Texas Blood Money." Everything about the prequel is superior in every way. From P.J. Pesce's stylish direction to an engaging international cast, the film emerges as a kinetic, giddy good time.
Even though Alvaro Rodriguez's (cousin of Robert) screenplay pretty much mirrors the first film, by setting it in the old west, he creates an experience that seems fresh and inviting. Thanks to Mike Bonvillain's sumptuous cinematography that recalls Sergio Leoni's spaghetti westerns and Lawrence Maddox's razor sharp editing, the prequel is also visually exciting.
Rodriguez's screenplay transports us back a hundred years before the events in "From Dusk Till Dawn", and explains the origins of Santanico Pandemonium, the seductive snake charming vampire (played by Salma Hayek) in the first film.
Here she is Esmeralda (Ara Celi), the tortured daughter of the local hangman (Temuera Morrison), a man who takes great pleasure in his appointment. Esmeralda has come to watch the execution of young and handsome outlaw Johnny Madrid (Marco Leonardi), whom she has fallen in love. When she disobeys her father, she is publically whipped to teach her a lesson.
Sitting in a nearby Cantina is Civil War veteran and writer Ambrose Bierce (Michael Parks), who is on his way to offer himself as a soldier in Pancho Villa's army. When another outlaw's bullet frees Madrid from certain death, he escapes and takes along Esmeralda as insurance.
There is great conceit in this scene as one of Bierce's most famous books, "An Occurrence at Owl Creek Bridge," involves a prisoner who escapes from certain death by hanging, only to realize that his momentary freedom was just a dream.
The filmmakers take a chance by making Bierce, who disappeared in Mexico in 1914, as one of the central characters, but it is a gamble that pays off. Since history lost track of Bierce, maybe he could have been involved with Aztec vampires.
It helps immensely that the filmmakers have chosen Michael Parks to play the tormented writer. Parks, who was so memorable as the Texas Ranger in "From Dusk Till Dawn," is excellent as the tired and weary Bierce. He delivers a performance that transcends the material. You hang on his every word and expression because they are priceless.
When he shares a stagecoach with a Bible-toting couple, you just know sparks are going to fly, and they do. Rebecca Gayheart, a real sweetheart, plays the prim and proper Mary Newlie, who with her new husband John (Lennie Lofton), is taking the Lord's word to the poor children of Mexico.
With the Hangman hot on their trail, Madrid and Esmeralda tag up with Madrid's old gang to rob Bierce's stagecoach. Working off a tip from the outlaw who saved his life, they believe that the stagecoach holds valuable treasure.
After being disappointed, Madrid and his gang storms off, leaving the passengers stranded in the desert. It's not long before all parties end up at the isolated La Tetilla del Diablo, which eventually becomes the Titty Twister bar in the first film.
It's here where Esmeralda discovers her true origins, and the weary travelers learn that when the sun sets, the blood lets.
Despite the familiar set-up and payoff, there are enough surprises and jolts to satisfy even the most die hard horror fans. I especially appreciated the look and feel of the film, which is European in every respect. Shot in South Africa, "Hangman's Daughter" benefits from sprawling landscapes that are almost impossible to capture in the United States or Mexico.
The small western town that opens the film looks authentic and barren, unlike the facades that are used in most westerns. When the camera pulls back, you know you're in the middle of nowhere.
This isolation helps put the emphasis on character, and there isn't a bad performance in the film.
Leonardi, the handsome star of "Like Water for Chocolate," does an exceptional job of playing a charismatic bad guy. You understand Esmeralda's attraction to him, even though he used her as a shield from her father's bullets when he escaped. He reminded me of George Clooney's character with chaps.
Director Pesce has found a great villain in Temuera Morrison, who was equally powerful in "Once Were Warriors." You instantly despise his hangman, and when he strikes his own daughter, you want to climb up on the screen and beat the crap out of him. It's a credit to the actor that he is able to create such feelings in an audience.
Sonia Braga proves that age has nothing to do with beauty, and is absolutely stunning as Esmeralda's mother. As Esmeralda, Ara Celi is equally stunning. Lennie Lofton and Rebecca Gayheart do just fine as the puritanical couple who can't believe their bad luck, while Jordano Spiro offers lots of surprises as the outlaw Reece.
After "Texas Blood Money," I wasn't sure what to expect from "The Hangman's Daughter."
Direct-to-video films usually lack the budget and production design of theatrical films, yet there is nothing in this film that suggests anything less than the best. Technically, "Hangman's Daughter" is sound, while the script and actors more than rise to the challenge.
The film is just as vicious as the first film, with numerous special effects set pieces that will absolutely thrill the film's intended audience. There's enough western action and horror thrills for two films, so you really get the bang for your buck. Vampire westerns are usually anemic. "The Hangman's Daughter" has real bite.
COMPLETE CHECK-UP
VISION: Okay

1.85:1 Widescreen

16×9 Enhanced
The digital transfer looks sharp, but the images aren't necessarily vivid. Most of the problems with the image are due to the film stock used on the master. The dark scenes (especially those that take place in a tunnel) lose a lot of their definition. The digital transfer perfectly duplicates the film stock's ineffectiveness to maintain detail. Is here anything worse than making a perfect copy of an inferior product? Overall the digital transfer is okay, with nice colors that aren't too warm or cold, and blacks that get the job done. The original master is clean, providing for pure whites and shadows. Depth of field is varied, as is attention to detail.
HEARING: Good

English 5.1 Dolby Digital Surround
The soundtrack is exciting but hardly definitive. The stereo effects are good, but the front-to-rear spatial separation is pretty thin. The front sound stage gets the job done, with a strong dialogue mix. Basses are decent, while middle and high ends are clean. The overall soundtrack is expressive, but the rear speakers sound like afterthoughts.
ORAL: Poor

No subtitles or closed captions.
COORDINATION: Clumsy

The only thing more anemic than the victims are the extras. Aside from a deleted scene and the standard issue main and scene access menus, there's not much here.
PROGNOSIS: Okay

The film is the main attraction here, and the DVD is for those with a thirst for more of the same.
VITALS: $29.99/Rated R/94m/Color/15 Chapter Stops/Keepcase
ATTENDING RESIDENT: John Larsen
PATIENT: FROM DUSK TILL DAWN 3: HANGMAN'S DAUGHTER
BIRTH DATE: 2000
HMO: Dimension Home Video