Chicago
Contrary to popular belief, the movie musical is not dead, but has been on life-support since the animated Disney musicals of the 90s, just waiting for the right team of artists to revive it. Director Baz Luhrmann managed to raise a pulse with "Moulin Rouge!," but that white elephant on acid was made directly for the screen.
Now comes "Chicago," the long-in-the-works big screen adaptation of the Fred Kander-John Ebb Broadway musical, and in many ways the film is much better than the stage version. Starring Renee Zellweger and Catherine Zeta-Jones as two 1920s dames looking for fame and fortune in murder, "Chicago" should have no problem finding an audience hungry for a great movie musical.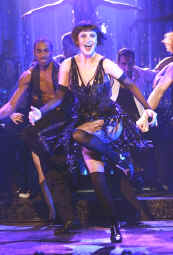 I've seen the stage version several times, and even though I was dazzled by Bob Fosse's sex-for- sale choreography and the dynamic performances of several leading ladies, the book always left me troubled. Screenwriter Bill Condon has restructured the book, delivering a streamlined story that not only makes more sense nut better serves the musical numbers.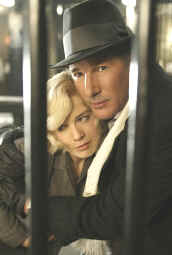 Behind the camera is stage director Rob Marshall, whose only previous film credit is the television remake of the musical "Annie." Doubling as the films choreographer, Marshall knows exactly where to put the camera for maximum effect. There isn't one frame in "Chicago" that seems out of place, a perfect showcase for three unexpected movie musical stars to shine.
Zellweger is absolutely breathtaking as Roxie Hart, a sweet, young, married aspiring singer who is duped by her handsome boyfriend into believing he holds the keys to her musical theater kingdom. Feeling betrayed, Roxie plugs the boyfriend and convinces her dim but loving husband Amos (John C. Reilly) into backing her story that he was nothing more than a common burglar.
When Amos gets wise and betrays Hart, she ends up on Chicago's infamous murderers row, where her presence ignites the jealousy of Velma Kelly (Zeta-Jones), the prison's grand dame of stage. Kelly, who killed her boyfriend and sister-partner after finding them in a sexual tryst, sees Hart as a threat, someone capable of stealing her newspaper headlines and the public's short attention span.
Representing Kelly is slick-as-oil attorney Billy Flynn (Richard Gere), who has never lost a case and relishes the spotlight and headlines as much as his clients. Following prison matron Mama Morton's (Queen Latifah, brassy and brash) advice, Hart also seeks out and secures Flynn's services, creating a drama queen showdown between the two women.
In no time Flynn has transformed Hart into a bleached-blonde victim of circumstance, changing a cold-blooded "jazz killer" into media darling. Hart has no problem pouring on the charm and naivety, turning the tables Kelly, once the flavor of the month, now a leftover dish of yesterday's news. Watching Hart and Kelly play a musical game of one upmanship makes "Chicago" a treat for both the eyes and ears.
Who knew Zellweger, Zeta-Jones and Gere could sing, but there they are, literally blowing the roof of the joint. Zellweger and Zeta-Jones are magical as they vamp, sing and dance their way to stardom. Zellweger is seamless in her transformation from a heartless, calculated, spurned woman to a mousey, almost virginal little girl who knits baby clothes while on the stand. When Zellweger kicks out of the jams, they stay kicked.
Zeta-Jones is nothing short of remarkable as the expressive and funny Kelly, who knows the ropes and would like to use one of them to hang Hart. Zeta-Jones is chameleon-like in her performance, almost to the point of being unrecognizable. The actress has such great musical comedy chops she could do it for a living. Zellweger and Zeta-Jones are so damn sexy they literally ignite the screen with smoldering sensuality.
Except when he's teamed with Julia Roberts (Pretty Woman, Runaway Bride), Richard Gere has had little opportunity to strut his lighter side, and he's sensational as the lawyer who knows how to tap dance around the facts. Gere's singing voice isn't as strong as he female co-stars, but he more than makes up for it with charm and razzle dazzle.
As a big fan of Kander-Ebb, what I most appreciated about Condon's adaptation was incorporating the musical numbers as fantasy sequences, a clever device that allows Marshall to effortlessly move the story forward. The musical numbers become part of the narrative instead of just showstoppers, and just the ticket for audiences with an aversion for musicals where characters stop dead in their tracks and sing.
"Chicago" is also a visual treat, thanks to the glitzy, glossy cinematography of Dion Beebe, his best work to date, and the exquisite production design by John Myhre (X-Men) that gives the film a gorgeous, almost artificial look.
I've been waiting years for Hollywood to wise up and rediscover the movie musical, and thanks to Rob Marshall and "Chicago," hopefully we'll soon see the likes of "Miss Saigon," "Phantom of the Opera" and "Les Miserables" on the big screen.
THE OLD RAZZLE DAZZLE
Musical Chicago features killer performances, direction
CHICAGO
Renee Zellweger, Catherine Zeta-Jones, Richard Gere, Queen Latifah, John C. Reilly, Christine Baranski, Taye Diggs, Colm Feore. Directed by Rob Marshall. Rated PG-13. 108 Minutes.
LARSEN RATING: $8.00