Mister Roberts
I wasn't even a twinkle in my parent's eyes in 1955 when "Mister Roberts" was released, so my frame of reference is a little skewed. I didn't see the film (at least that I remembered) until the late 1970's when we were doing the stage play.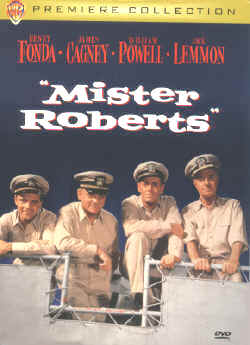 There's a scene at the end of "Mister Roberts" in which the ever scheming Ensign Pulver (Jack Lemmon) receives a telegram about his friend Doug Roberts (Henry Fonda). It was a sad moment, one that evoked an act of outrage from Pulver that ended the film on an upbeat note. "M*A*S*H" is and will always be one of my favorite television shows. I wasn't a big fan of the movie when it came out (I am now, but remember I was only 12 in 1969), but I worshiped the television show for it's ability to mix human comedy and tragedy without missing a beat.
That's why, when I saw the finale of "Mister Roberts," I thought of the episode where Henry Blake finally gets to go home. In what was supposed to be a jubilant moment turns tragic when Radar announces that Blake's plane went down. Like everyone else who watched "M*A*S*H," the moment affected me tremendously. Even though Blake was only a character on a television show, he was so perfectly realized that he became a part of my life.
So what does any of this have to do with "Mister Roberts?" After seeing the film five or six times, that is how I feel about the characters in the film. Thanks to a touching, sad and yet ultimately funny screenplay by Frank Nugent and Joshua Logan, plus the support of a cast at the top of their game, "Mister Roberts" is more than a movie. It's a mirror of life during war time, a perfectly etched reminder of another time and place that stays with you long after the lights have come up. The reason "Mister Roberts" arrives on the screen as well oiled as it does is because it played on Broadway for seven years prior to it's big screen adaptation.
Henry Fonda played the role of Doug Roberts on Broadway for over 1,000 performances, and won a Tony-award for Best Actor in the process. He almost didn't make the cut for the film. The producers wanted Marlon Brando. Ouch! Could you imagine? Luckily, Fonda returned to films after a seven year hiatus, and breathed new life into a character he had spent the last seven years playing. There's so much life and honesty in his performance you'd swear he was playing it for the first time. It's those endearing qualities that make Doug Roberts such a winning character. He manages to keep his morale up even though he's stuck on a cargo ship in the middle of the Pacific when he's rather be on a destroyer in the middle of action.
Trapped on the "U.S.S. Reluctant," Roberts wages his own personal battle with the ship's Captain (James Cagney at his very best). Roberts and the Captain don't see eye to eye, and the Captain uses his grudge against Roberts to punish the crew. With a little help from the ship's Doc (William Powell) and Pulver, Roberts manages to keep the crew happy while tending to menial tasks. There are so memorable moments in "Mister Roberts," from the opening shot of Roberts watching a fleet of destroyers in the horizon sailing off to war, to the confrontation between the Captain and Roberts over the men's liberty on a local island. "Mister Roberts" feels authentic, largely thanks to director John Ford's insistence on filming aboard a real cargo ship in the Pacific.
There are some studio cheat shots, but for the most part, "Mister Roberts" nails the time and place perfectly. When director Ford fell ill, director Mervyn LeRoy was brought in to complete the interior shots. It's one of the few times that two directors were allowed to share credit on a major studio film, and their efforts are seamless. Listen to Lemmon's audio commentary during the film to learn more about this incident during filming. Lemmon, who won a Best Supporting Actor Oscar, is sublime as Ensign Pulver. His energy is infectious.
Shot in gorgeous Cinema Scope, "Mister Roberts" fills the screen with engaging characters, human emotions and plenty of excitement. "Mister Roberts" holds up extremely well 44 years after its release.
COMPLETE CHECK-UP
VISION: [ ] 20/20 [ X ] Good [ ] Cataracts [ ] Blind
Beautifully rendered widescreen (2.35:1) transfer has a little problem holding definition in long shots, but overall, I was really impressed with the condition of the negative and the vibrant colors. Time has been very, very good to the original negative, which looks almost new. There are some minor compression artifacts, but not enough to matter. Instead, what you get are flesh tones so realistic you can almost reach out and touch them. Attention to detail (except in some long shots) is exemplary. You can actually see every bead of sweat on the actor's faces. The color saturation is excellent, especially the seaworthy blues. The blacks hold up well but are not definitive. To be honest, the film looked much better than I was expecting, so in my book it's a keeper. The DVD has been enhanced at 16:9 for widescreen televisions.
HEARING: [ X ] Excellent [ ] Minor Hearing Loss [ ] Needs Hearing Aid [ ] Deaf
The remastered 5.1 Dolby Digital Surround track isn't definitive, but it does lend a new dimension to the film. The dialogue is remarkably distortion free, while the musical score caresses the speakers with a virtually hiss free clarity. Nothing spectacular, but an admirable effort. There's also a French language mono track.
ORAL: [ ] Excellent [ X ] Good [ ] Poor
Closed captions in English for the hard of hearing, and subtitles in French.
COORDINATION: [ X ] Excellent [ ] Good [ ] Clumsy [ ] Weak
This "Premiere Collection" DVD features some invaluable extras that alone are worth the price of admission:

Jack Lemmon chimes in with a valuable audio commentary. Even though it's not a running audio commentary (which I actually prefer), Lemmon waxes so eloquently that you hang on his every word. Listening to the commentary is like hanging out with a great actor who has either worked with or knows all of the great actors, directors and writers in Hollywood. Lemmon tells several hilarious stories about the making of the film and the business in general. There are gaps in the commentary (and an annoying voice that tells you "to continue the audio commentary, please forward to chapter seven," or something like that), but I appreciate Lemmon's selective approach. There's no filler here, no mindless chatter trying to fill up two hours of commentary. What you get is pure gold.

An excerpt from Ed Sullivan's "Toast of the Town" show featuring Henry Fonda, James Cagney and Jack Lemmon re-creating two scenes from the film. The first scene involves Ensign Pulver's first meeting with the Captain, while the second scene is the wonderful exchange between Mister Roberts and the Captain involving shore leave for the men. While the sets are simplistic, the actors are on their mark. The scenes were so real and convincing that I almost forgot I was watching a live presentation. When you listen to Lemmon's audio commentary, you learn that the show also included the stage cast of "Mister Roberts," and that Cagney dropped a line and literally froze when he couldn't recover. Lemmon mentions that there was a long gap before Fonda rescued him. Unfortunately, this gap has been trimmed out of the supplemental material.

An excerpt from the documentary "Fonda on Fonda" with daughter Jane recalling her father's involvement on the film and in the play. The excerpt also includes behind-the-scenes footage making the film, and Fonda at the Kennedy Center Honors. Short but sweet, the clip makes you want to run out and rent "Fonda on Fonda."

Nine theatrical trailers, including the original "Mister Roberts" trailer, plus the film's sequel, "Ensign Pulver," "No Time for Sergeants," "Grumpy Old Men," "My Fellow Americans," "Amadeus," "Camelot," "My Fair Lady" and "One Flew Over the Cuckoo's Nest."

Motion active main menu plus handsome, easy to navigate scene access menus.

Cast and crew bios and filmographies.
PROGNOSIS: [ X ] Excellent [ ] Fit [ ] Will Live [ ] Resuscitate [ ] Terminal
I was so thrilled by "Mister Roberts" on DVD that I was tempted to join the Navy just so I could throw someone's palm tree overboard. You don't have to enlist to enjoy the benefits of this wonderful DVD.
VITALS: $24.95/Not Rated/122 Minutes/Color/33 Chapter Stops/Snapcase/#16692
ATTENDING RESIDENT: John Larsen
PATIENT: MISTER ROBERTS – PREMIERE COLLECTION
BIRTH DATE: 1955
HMO: Warner Home Video