Bye Bye Birdie
As the Millennium comes to a close, it seems that everyone with the desire to do so is compiling lists. The American Film Institute recently hauled out their picks for Best 100 Films and Performers of the Century. Every where you look, someone has a new this or that list. I'll probably get swept up in this trend as the year comes to an end, but for now I'm trying to avoid the inevitable.
However, if I were to compile a list of my top ten favorite musicals of all time, "Bye Bye Birdie" would certainly make the cut. I was watching the film on one of the classic movie channels in cable and the print was all washed out.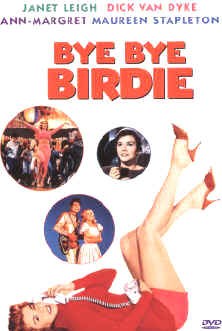 Even though I forced myself to watch it, I kept wishing that someday I would be able to see a widescreen print of the film that didn't look like someone left it out in the sun for the last ten years. Then Columbia-TriStar grants my wish by releasing a widescreen (it's also available in full-frame on the flip side) version of "Bye Bye Birdie" with colors so vivid you would swear the film was shot last week. Well, it's been 36 years since "Bye Bye Birdie" made the leap from stage to the big screen, and after sitting through the film once again, it has lost none of its magic or charm.
The film is just as big a delight today as it was then. By now almost everyone has either seen the film or a local production of the musical, where it has become a perennial favorite of high schools. Even though Irving Brechner's screenplay takes liberties with Michael Stewart's book, Charles Strouse's music and Lee Adams' lyrics, the changes are for the better. Director George Sidney has tightened up the book a bit, dropped a handful of musical numbers, and drafted a cast of heavyweight veterans and some fresh young faces to bring "Birdie" to life.
Sidney was in his element on "Birdie." The director of "Pal Joey," "Show Boat" and "Kiss Me Kate" knew how to bring a stage musical to the big screen without ignoring the production's origins. He was a big fan of musical numbers, especially dance numbers, and brought in Onna White to give the cast their signature moves. With a legendary director behind the camera, a terrific cast in front of the camera and some of musical comedy's most beloved songs, "Bye Bye Birdie" was destined for greatness. Is the film great? Yeah! It is! "Bye Bye Birdie" is inebriating in its effect to make you feel good. That's the goal of musical, which deals with the effects Elvis Presley had on America and young teenager girls in general.
When Elvis was drafted into the Army, his induction was met with wide spread hysteria from screaming young women who couldn't believe their idol was leaving them for Uncle Sam. That hysteria is perfectly captured in "Birdie" as hot rock and roll singing sensation Conrad Birdie (Jesse Pearson) finds himself drafted. Birdie's fans are not the only ones devastated. There's also songwriter Albert Peterson (Dick Van Dyke), who is deep in debt but knows that once Birdie sings one of his songs he'll hit the big time. His dream comes true when his patient girlfriend Rosie DeLeon (Janet Leigh), a promoter for the Birdie fan club, convinces Ed Sullivan to allow Birdie to sing one of Albert's songs on the air to a typical teenage female fan, who will represent all the young girls of America.
Upon completion of the song, Birdie will lay a symbolic kiss on her cheek and say goodbye as he joins the Army. Sullivan loves the idea, and while Albert begins penning the tune, "One Last Kiss," Rosie sets out to find a typical teenage girl in Ohio. A search of the Birdie fan club database turns up Kim McAfee (Ann-Margret), who has just been penned by her high school sweetheart Hugo Peabody (singer Bobby Rydell). While Kim is tickled pink by both events, her father Harry (Paul Lynde) and mother (Mary LaRoche) are less than thrilled by the prospect of a rock and roll singer kissing their daughter.
They are even less thrilled when they learn that Birdie will have to stay at their house until the taping of the Sullivan show. That living arrangement creates all sorts of complications for Kim and Hugo, and helps kick start the slow simmering relationship between Albert and Rosie. The only thing standing between them is Albert's domineering mother (Maureen Stapleton), which Albert hopes to leave after his success.
Brechner's screenplay has added some wonderful moments, including a sub-plot about Albert's chemical background and its effect on the touring Moscow Ballet, whose lengthy performance on the same Sullivan show may cancel out his song. Director Sidney also takes advantage of the film medium by creating musical numbers that could only be accomplished on film. The "Put On A Happy Face" number allows star Dick Van Dyke to actually draw happy faces in mid air, and then allows Janet Leigh to split into two.
One of the best things about "Bye Bye Birdie" are the great songs, and they all get the utmost respect here. Onna White's choreography is so exciting and kinetic you can actually feel the heat come off the screen. The cast couldn't be better. Dick Van Dyke, hot off the success of "Mary Poppins," is excellent as song man Albert Peterson. It's hard to picture any one else in the role (which made watching the recent television remake so difficult). Ann-Margret is the film's real star, and she's incredible. She's so natural you forget she's acting.
She's also very alluring and sexy, and takes full advantage of those attributes. She obviously impressed Sidney, who directed her next two films ("Viva Las Vegas," "The Swinger"). I never thought of Janet Leigh as a musical-comedy actress, but she's marvelous as Rosie DeLeon. She has just the right sensibility, and great comic timing. She really shines during "The Sultan's Ballet." Paul Lynde is always a delight, and doesn't disappoint here. Who better to sing the paternal anthem "Kids"? Enough already. Go get a copy of the movie on DVD. You won't be disappointed.
COMPLETE CHECK-UP
VISION: [ X ] 20/20 [ ] Good [ ] Cataracts [ ] Blind
Despite a little flecking and some minor strobe-ing, the 2.35:1 widescreen transfer (enhanced at 16:9) is absolutely stunning. I was extremely impressed with how great the film looked. I saw "Bye Bye Birdie" on cable a couple of months ago, and the print all washed out. The colors on the DVD are sharp and vivid, with flattering flesh tones and solid blacks. The original negative does show minute traces of aging, but overall the images deliver excellent depth of field and attention to detail, plus clean whites and shadows. The colors are extremely bright, with perfect saturation that never bleeds. The images were so gorgeous I was almost breathless. I had resigned myself to never seeing a decent widescreen version of the film ever again, and along comes DVD to the rescue.
HEARING: [ X ] Excellent [ ] Minor Hearing Loss [ ] Needs Hearing Aid [ ] Deaf
Audio enthusiasts will appreciate all of the effort that Columbia-TriStar Home Video has gone through to insure that everyone's tastes be satisfied with the DVD of "Bye Bye Birdie." Included are the film's original 3-Channel theatrical presentation soundtrack, plus a 2-channel Dolby Surround soundtrack, and then finally a 5.0 Dolby Digital soundtrack. I watched the film using the 5.0 Dolby Digital setting, and I was extremely impressed with the full bodied sound and clarity of the musical numbers. Even though the rear speakers were pumping out faux stereo, the mix sounded right. Dialogue mix is especially strong, while all ends of the spectrum sounded clean.
ORAL: [ X ] Excellent [ ] Good [ ] Poor
Closed captions in English for the hard of hearing, subtitles in Spanish, Portuguese, Chinese, Korean and Thai.
COORDINATION: [ ] Excellent [ X ] Good [ ] Clumsy [ ] Weak
Playful, colorful main and scene access menus, plus a handful of cast and crew bios and filmographies. You also get the film's original theatrical trailer, and production notes that take you behind the scenes of the filming.
PROGNOSIS: [ X ] Excellent [ ] Fit [ ] Will Live [ ] Resuscitate [ ] Terminal
This is one DVD that you shouldn't say "Bye Bye" to.
VITALS: $24.98/Rated G/112 Minutes/Color/28 Chapter Stops/Keepcase/#01509
ATTENDING RESIDENT: John Larsen
PATIENT: BYE BYE BIRDIE
BIRTH DATE: 1963
HMO: Columbia-TriStar Home Video