And then there were none
Agatha Christie's "Ten Little Indians" has been turned into a movie more than once, but nothing can touch Rene Clair "And Then There Were None." The infamous French director has assembled an all- star cast to tell Christie's gripping tale of ten strangers who have been summoned by a mysterious host. While the story may be familiar (I've seen at least ten variations, including Neil Simon's affectionate spoof "Murder by Death"), Clair and screenwriter Dudley Nichols manage to create suspense and tension nonetheless. I remember seeing "And Then There Were None" in a film class at college. That was over twenty years ago, and believe it or not, I actually forgot who the killer was.
That made watching the DVD a special treat as I got to experience the mystery all over again. The film begins as eight strangers find themselves on a small boat headed to the island retreat of their mysterious host. Like all great thrillers, the guests have diverse backgrounds, but they also hide a deep, dark secret. They are joined by a cook and a maid, becoming ten. When their hosts fails to materialize, the guests fend for themselves, constantly wondering aloud about the ten little Indian statues that serve as a dining table centerpiece. Then the cook, following the written instructions of the host, plays a record album that accuses each of the guests of a hideous crime. Of course each of them denies any involvement of the crime they have been accused of, but that doesn't stop someone from killing them off one by one as the evening progresses.
The film has all of the trappings of a great mystery, including a dark, foreboding estate, where the guests are trapped until the boat returns. The rain starts pouring out of the sky, the generator goes out, and bodies start popping up all over the place. The real fun comes in trying to solve the mystery. Good luck. Screenwriter Nichols is very loyal to Christie's theme, and manages to keep the audience guessing right up until the end. There are plenty of red herrings, but sorting through these is a delight. The cast couldn't be better. How can you deny a film with a line-up like Barry Fitzgerald, Walter Huston, Louis Hayward, Roland Young, June Duprez, Richard Haydn, Judith Anderson (before she became a Dame) and Harry Thurston? The list goes on, but you get the idea. Fitzgerald and Huston stand-out as the former Judge and Doctor who team up to solve the mystery, while Hayward and Duprez have fun with the couple who have to deal with flirtation and fear on the same evening. Even after 54 years, "And Then There Were None" manages to entertain and thrill.
Clair does an excellent job of mixing all of the elements together to come up with a film that transcends the ages. Except for some catch phrases of the era, the film plays just as smart today as it did back in 1945. Highly recommended, the DVD also comes with a comedy short starring Leon Errol called "Twin Husbands." It's a nice addition to an already acceptable package.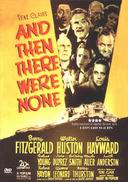 COMPLETE CHECK-UP
VISION: Good
I was pleasantly surprised by how clean the original negative was, allowing for a better than expected digital transfer. There are some blemishes on the negative, including some scratches, but they aren't as extreme as I was expecting them to be. I've seen this movie on tape and it looks notorious. The DVD images are sharp and vivid when they are allowed to be (occasionally the film looks a little fuzzy, but that is a negative issue, not a transfer one). The blacks are usually strong to the point of being pitch, while the whites and shadows look amazingly realistic considering the wear and tear. Depth of field is also strong, with good emphasis on details. Not a perfect product by any means, but the best this film is going to look.
HEARING: Minor Hearing Loss
Hey, it's only Dolby Digital mono, but it more than gets the job done. There is some inherent audible distortion, but that is to be expected for a film that is more than 50 years old. Otherwise, the dialogue is very strong, while the ambient noise sounds terrific (and believe me, there is lots of it in this moody thriller). Not a bad effort.
ORAL: Poor
No closed captions or subtitles.
COORDINATION: Good
Handsome main and scene access menus, a handful of cast and crew biographies, plus a bonus classic comedy short, "Twin Husbands," featuring Leon Errol.
PROGNOSIS: Excellent
One of the best Agatha Christie thrillers done right, and it even looks terrific on DVD. The only mystery here is how soon you can add a copy to your DVD library.
ATTENDING RESIDENT: John Larsen