Boat Trip
"Boat Trip" is like one of those "special" 90-minute episodes of "The Love Boat," with a guest list populated by the off-spring of Big Gay Al from "South Park." Awash in the most stupefying homosexual stereotypes Hollywood can concoct, "Boat Trip" marks another low point in the career of Cuba Gooding, Jr., whose post "Jerry Maguire" film roles have been one embarrassment after another.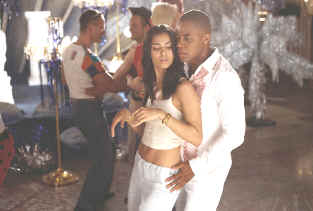 Granted that the "screaming queen" stereotype exists, it seems to only exist in "Boat Trip" to ridicule and debase a small portion of the homosexual community. It's like television coverage of the annual West Hollywood Halloween party, which always focuses on the most outlandish stereotypes. It's these images that always end up on extremist religious hate propaganda, a cliche' that "Boat Trip" enforces.
Even though "The Birdcage" featured similar stereotypes, it was a sharply written, witty farce with lots of heart and respect for its characters. Director/co-writer Mort Nathan, a television sitcom veteran, panders to the lowest common denominator, creating moments that are as shameful as they are offensive. Nathan and his writers (the script feels like it was written by committee) work overtime to come up with a smarmy script that might have played in the late sixties or early seventies, but feels dated and cheap by today's standards.
Smarting over his break-up with Felicia (Vivica A. Fox), Jerry (Gooding, Jr.) allows best friend Nick (Horatio Sanz) to talk him into taking a singles cruise, where they hope to meet a boatload of honeys. Thanks to a convoluted plot mix-up, Jerry and Nick end up on a gay cruise, something they discover too late to disembark. Trying to make the best of a bad situation, they end up preying on the few women on the cruise.
While Nick attempts to warm up to a Swedish sun tan team member, Jerry falls for dance instructor Gabriella (Roselyn Sanchez). Gabriella is fed up with straight men constantly hitting on her, so Jerry pretends he's gay in order to get close to her. Yeah right. Things really get out of hand when Felicia ends up on the cruise. Please.
Less fun than a rectal exam by Freddy Krueger, "Boat Trip" wades through shallow waters before grounding itself on a reef of stupidity. Cuba Gooding, Jr. should feed his agent to the sharks for anchoring him to this ship wreck.
DRY DOCK
"Boat" trips and can't get back up
BOAT TRIP
Cuba Gooding, Jr., Horatio Sanz, Roselyn Sanchez, Vivica A. Fox, Maurice Godin, Roger Moore. Directed by Mort Nathan. Rated R. 94 Minutes.