Best In Show
Someone once said that dying was easy, comedy was hard. If that's true, then satire is a bitch. A female dog to be exact. Like the canines on display in Christopher Guest's "Best In Show," satire can be just as finicky. It takes someone with keen observation and a sharp ear to get it right. One slip and the illusion is broken.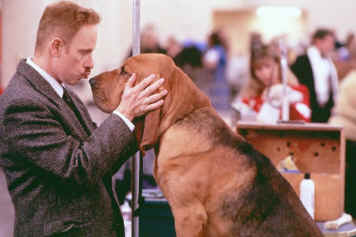 Guest has proven himself a master of satire, first with "Spinal Tap" (directed by Rob Reiner), then "Waiting For Guffman," and now the hilarious and biting "Best In Show." Guest, along with co- writer Eugene Levy and a talented troupe of players, creates false realities that are a pleasure to inhabit. Whether it's a small town pageant waiting for the arrival of a big stage producer, or a big city dog show, Guest finds plenty to poke fun at.
Guest and his performers aren't laughing at their subjects, but laughing with them. The humor doesn't come from making fun of these people. That's not satire. Guest and Levy love the characters way too much to reduce them to cheap gags. Instead, the humor derives from how these characters interact in this alternate reality.
That reality is the annual Mayflower Dog Show in Philadelphia, where anxious owners and equally anxious pets converge for fame and fortune. Pets and their owners are always amusing, and Guest and Levy mine the subject for every golden nugget they can find. By tossing all of these characters together into a stressful situation like a dog show, they hit pay dirt.
Like Orson Welles, Guest surrounds himself with a talented circle of players who are perfectly in tune with his vision. The cast seamlessly slips under the skin of their characters, vividly bringing them to life. You not only get to know these characters, you begin to care about them and eventually root them on. I found myself cheering my favorites on, hoping that they would win the show.
Guest is a master of playing offbeat characters, and is absolutely winning as Harlan Pepper, a fly- fishing shop owner from Pine Nut, North Carolina who has entered his trusty Bloodhound Hubert in the show. With his reddish hair and deliberately slow speech, Guest actually becomes Harlan. The relationship he shares with Hubert is so honest you wonder if the dog belongs to Guest.
The real stars of the film are Catherine O'Hara and Levy as Gerry and Cookie Fleck, a husband- and-wife team from Fern City, Florida. Gerry and Cookie are in Philadelphia with their Norwich Terrier Winky, a former winner looking to become "Best In Show." O'Hara and Levy, who worked together on "SCTV" and then in "Waiting For Guffman," are stand-outs as the singing duet who struggle through her promiscuous past. O'Hara is such a chameleon that I didn't realize it was her until about fifteen minutes into the film.
Watching Gerry and Cookie entertain friends and neighbors with ditties about their terrier are just as funny as the many encounters Cookie has with former boyfriends. Levy is a master of the slow burn., and makes Gerry's patience and discomfort an art form. He truly loves Cookie, so much so that he stays quiet when her ex-husband shoves his tongue down her throat when they visit.
Parker Posey and Michael Hitchcock are so neurotic as yuppie lawyers Meg and Hamilton Swan that you feel real empathy for their Weimaraner Beatrice. Their conceit is so consuming that they feel compelled to take Beatrice to a shrink after she sees them having sex "doggy style." It's a truly inspired moment, one played with total conviction by the performers. I couldn't keep a straight face.
As with "Waiting for Guffman," Guest and Levy have fun with gay characters, allowing them to be touching and funny without sacrificing their dignity. We're not laughing at these people, we're laughing at the situation they have gotten themselves into. John Michael Higgins and Michael McKean are absolutely adorable as professional handler Scott Donlan and hair salon owner Stefan Vanderhoof. They're a great gay couple, full of life and excitement, a little bitchy but always respectful of who they are and what they do.
That can't be said for lesbian couple Sherri Ann Cabot (a beautifully dense Jennifer Coolidge) and her handler Christy Cummings (Jane Lynch, who has sort of an Anne Heche thing going on). When we first meet Sherri, she's just gotten married to Leslie Ward Cabot (Patrick Cranshaw), extremely old but very wealthy. They've entered their Standard Poodle Rhapsody in White in the show, but it's more a ploy for Sherri to spend time with Christy.
All of these character converge on the City of Brotherly Love, but no love is lost between them. Sure, they may smile and even hug the winner of their division, but the eyes say it all. These folks have come to win, some more desperate than others. It's this desperation that gives "Best In Show" its comic edge. The characters are genuinely funny on their own, but making them walk on egg shells adds some unexpected complications.
Guest's confidence in front of the camera is also evident behind it. He's blessed with a crew that gets the joke. This allows Guest to get the best from everyone, especially actors who are so honest in their performance that it would be easy to mistake "Best In Show" for a real documentary.
I found myself liking most of the characters, caring about several of them, and eventually rooting my favorites on to win the Blue Ribbon. You really have to care about a film to evoke that response. Guest and company make that task easy. "Best In Show" is a lot of things, but it's not a dog.
BOW WOW WOW
Best In Show barks up the right tree
BEST IN SHOW
Christopher Guest, Catherine O'Hara, Eugene Levy, Parker Posey, Michael Hitchcock, Michael McKean, John Michael Higgins, Jennifer Coolidge, Jane Lynch, Fred Willard in a film directed by Christopher Guest. Rated PG-13. 93 Minutes.
LARSEN RATING: $7