Charade
"Charade" is such a smart, pleasant romp that it still holds up after 36 years. Written by Peter Stone and directed by Stanley Donen as an antidote to the then current super spy trend (James Bond), "Charade" plays like a combination between Alfred Hitchcock and Blake Edwards.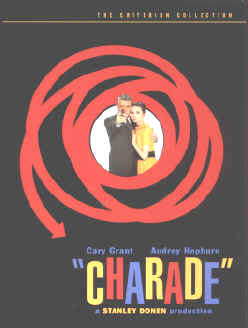 Finally, a spy caper that is light and entertaining, with the spotlight on the unsuspecting female lead. I've seen "Charade" several times, but never have I seen a print as clean and as gorgeous as the Criterion Collection DVD.
It's like watching a brand new version of the film. How delightful to enjoy director Stanley Donen's suspenseful black comedy in all of its splendor. "Charade" has that big, glossy studio feel. It's set in and around Paris, and stars Audrey Hepburn and Cary Grant, whose on screen chemistry is authentic.
The supporting-cast is top heavy with Oscar winners, including George Kennedy, Walter Matthau and James Coburn. The film features a lush, romantic score by Henry Mancini, and one of those great pop ballad theme songs by Mancini and Johnny Mercer.
Still, it's the crafty direction of Donen and clever screenplay by Peter Stone that makes the film repeatable. "Charade" is filled with numerous plot twists and turns, including moments that Hitchcock would have been proud of. There are also moments of giddy black comedy, including a police inspector who could have graduated from Blake Edward's "Pink Panther" series.
Even though the film is about deceit and murder, it is also a lot of fun. Hepburn is adorable as Regina, who at the beginning of the film finds a gun pointed in her direction. It turns out to be a squirt gun in the hands of child, but the scene sets up the deception that is to follow.
Regina is relaxing at a ski resort when she comes to the decision to divorce her husband. What Regina doesn't realize is that someone has taken care of the matter for her. Someone tossed him to his death from a speeding train. When Regina returns home, she learns that their luxurious apartment has been stripped clean. Gone is the furniture, her clothes, their memories.
Feeling lost and abandoned, Regina is happy to see Peter Joshua (Cary Grant), a man she met while on vacation. Joshua immediately takes her under his wing and sets her up in an adjoining hotel room. Without warning, Regina finds herself being stalked by several men who are after something her husband stole.
Her only allies are Joshua and a CIA agent (Walter Matthau) who informs Regina that her life is in danger. Stone's screenplay keeps both Regina and the audience guessing. While we know what the men are looking for ($250,000), we have no clue where it is.
So we become participants in Regina's search for the truth and the money. Her quest is filled with all sorts of red herrings and close calls, including encounters with various bad guys. George Kennedy is menacing with his steel claw hand, while James Coburn's slow drawl hides something more sinister.
Hepburn and Grant are very comfortable in the film. Grant worked with Donen on "Indiscreet," while Hepburn was enjoyable in the director's "Funny Face." It is also interesting to note that Grant worked with Hitchcock on "To Catch a Thief" and "North by Northwest," while Hepburn starred in Blake Edwards' "Breakfast at Tiffany's."
Perhaps that is why "Charade" seems like the best of all worlds. I love crime capers, and "Charade" is one of the best of its generation. You simply must listen to the audio commentary with director Donen and writer Stone. They provide so much insight and gossip.
For instance, there is a scene on a river boat where Regina and Joshua discuss their situation. Shot against a plate (a photographed image) inside a sound stage, every time the boat passes underneath a bridge the vocals take on an echo. I never realized this before, but it really adds depth to the scene.
The DVD is such a delightful pleasure, at first I thought it must have been a "Charade." I was wrong. It really is a delightful pleasure.
COMPLETE CHECK-UP
VISION: Excellent

1.85:1 Widescreen

Impressive digital transfer from a clean negative make the film a whole new experience. I've seen some truly sad prints of the film on television and video. The DVD is like watching a brand new film. Even though there is a little wear and tear, and some minor flecking, the overall images are superior in every way. Colors are truly stunning, with bright cheery reds and flattering flesh tones. Depth of field is perfect, with excellent attention to detail. There is one moment where the pattern on Cary Grant's coat started to lose it, but the digital transfer held up. Blacks are strong and impenetrable, while whites and grays are clean due to the new negative. No real compression artifacts or noise.
HEARING: Excellent

Dolby Digital Mono

Monaural soundtrack is very engaging. The sound is crisp and clear, while the dialogue mix strong. High and low ends are clean and pure. No audio hiss or distortion.
ORAL: Good

Closed captions in English for the hard of hearing.
COORDINATION: Good

Outstanding main and scene access menus. Class act all the way, incorporating Maurice Binder's animated opening. The scene access menu features clips from each scene.

Fun, enjoyable full-length audio commentary with director Stanley Donen and writer Peter Stone. Their comments were recorded for the laser disc version of the film, but each and every word is relevant to the DVD release. When Donen and Stone get together, you can't shut them up. These two love to talk, and I hung on their every word. Not only do they clue us in on the dynamics of making the film, they also provide enough gossip and backstage information to fill several commentaries. You learn so much by listening to these two. For instance, Cary Grant preferred his right profile, and when you watch the film you notice that 95% of his scenes feature that side. You also learn how Donen and Stone manipulated the studio research people when it came to keeping the film's body count. Very funny stuff. There is also a tidbit about a line towards the end of the film which included the word assassination. Released just after the assassination of President John F. Kennedy, the word was substituted with "eliminated." Both Donen and Stone are then surprised to learn that the print they are watching has been restored.

Director and writer career highlights and filmographies (although Donen's is a little light).

The films original theatrical trailer.
PROGNOSIS: Excellent

This is no charade, the DVD and its contents are a keeper.
VITALS:

$39.99/Not Rated/114 Minutes/Color/22 Chapter Stops/Keepcase/#57
ATTENDING RESIDENT: John Larsen
PATIENT: CHARADE-CRITERION COLLECTION
BIRTH DATE: 1963
HMO: Criterion Collection