54 DVD
Two movies opened recently with the 1970's as their backdrop. First there was Tamara Jenkins' darkly comic "Slums of Beverly Hills," and then Mark Christopher's "54," which despite it's glitz and glamour, is just in the dark.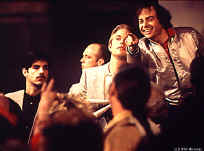 "54" is one of those movies that shoves nostalgia down your throat rather than use it as an environment in which the characters exist. "54" doesn't just try to punch all the right buttons, it hits them with a sledgehammer. Subtlety is not one of the film's strong points.
I was never hip enough (nor did I want to be) to hang outside of popular nightclubs and demean myself for the opportunity to get inside and mingle with the "in" people. Yet that was what thousands did every night when Studio 54 opened its doors in Manhattan. It was the place to be seen. Real and faux celebrities haunted the inside of the cavernous nightclub.
As a director, Christopher knows where to put the camera. As a writer, Christopher lacks focus. He totally apes "Saturday Night Fever" to tell the story of a Shane O'Shea (Ryan Phillippe), a good looking New Jersey youth who seeks fame across the bridge in Manhattan, just like his hero John Travolta did in you know what.
Set in 1979, "54" tries to capture the last great hurrah of the nightclub. The time frame takes place over the period of a year, and even at a thrifty 92 minutes, sometimes it feels like a lifetime. That's because Christopher's characters come off as annoying, or totally self-obsessed.
I went to see "54" because of Mike Myers. He plays Studio 54 entrepreneur Steve Rubell, who turns out to be a predatory, power hungry creep. Myers didn't look like Myers in the coming attraction. He looked like Steve Rubell. That intrigued me enough to see the film. He may look like Steve Rubell in the film, but he's doing Jon Lovitz's lying character.
I saw an "E" Channel documentary about the rise and fall of Studio 54, and yes, Rubell was annoying in real life as well, but he wasn't the caricature Myers makes him out to be. At sixty minutes, the documentary was far more interesting and informative than "54" the movie.
Wilt Stillman's "The Last Days of Disco" pegged the era much better than "54," although neither film really captures the electricity that gave disco it's spark. The characters all seem to be posing instead of acting, and that's ashamed considering the talent involved.
Ryan Phillippe ("I Know What You Did Last Summer," "Homegrown") is fine as young and naive Shane O'Shea, going from busboy to topless bartender based on his charm and good looks. It's easy to see how someone like O'Shea can skate by on nothing more than his body. When he tries to get in to the nightclub, Rubell turns O'Shea away until he's willing to remove his shirt.
As Anita, the coat check girl with dreams of being the next Donna Summer, Salma Hayek is the most sympathetic member of the cast. While she's woefully underused, Hayek still sizzles while everyone else around here acts like a damp rag.
Neve Campbell is miscast as a soap opera star O'Shea falls in love with, unaware that she's just as transparent and phony as the theme parties the nightclub hosts.
If Christopher were more concerned about creating colorful characters rather than colorful images, "54" might have been a better film. "54" should have been a fun movie. Instead, it's a downer. It's no more than a glossy soap opera that tries to validate a period in time the director and half the cast were too young to understand.
The 70's were about more than tacky clothes, drugs and disco music. Try telling that to Christopher, who thinks that by pumping up the volume on a soundtrack full of disco songs and dressing everyone in polyester and cocaine he has faithfully recreated the period.
I was really looking forward to seeing "54." Afterwards, I was really disappointed. I went home and popped in my copy of "Thank God It's Friday," a silly disco movie from 1978 that was ten times more entertaining and nostalgic than "54." Go figure.
54
Ryan Phillippe, Salma Hayek, Neve Campbell, Mike Myers, Sela Ward, Breckin Meyer in a film directed by Mark Christopher. Rated R. 92 Min.
LARSEN RATING: $2