The World Is Not Enough
The James Bond franchise has become so enormous and established (19 official entries and counting) that one no longer reviews them in comparison to other films. You review each new entry in context with those that came before it. Where does it fit into the James Bond scheme of things?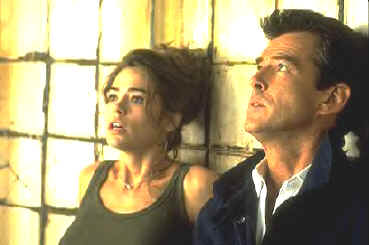 "The World Is Not Enough," the latest James Bond entry and the third starring Pierce Brosnan as the world's most popular secret agent, is more than enough Bond for two films. Filled with spectacular stunt work, dazzling visuals, gorgeous women and better-than-average writing and direction, "The World is Not Enough" is first-class Bond.
Writers Neal Purvis, Robert Wade and Bruce Feirstein have created a screenplay that plays like a "James Bond" greatest hits collection. They touch on all of the bases and incorporate these moments into a screenplay that is literate, exciting and respectful. Fans of the James Bond series will appreciate the effort. Those new to the franchise will get more than their money's worth.
After three at bats as James Bond, Brosnan hits a home run in"The World is Not Enough." Brosnan is so comfortable as Bond you begin to forget someone else played the role. Brosnan has matured as Bond since "Goldeneye," and here he looks like a world-weary secret agent. He's still handsome, but those lines on his face work to his advantage.
At first Michael Apted seems like an odd choice to direct a James Bond film. Apted is more noted for his personal character studies like "Nell" and "Gorillas in the Mist." After watching "The World is Not Enough" you realize that Apted is the perfect choice.
While his action sequences are spectacular, Apted and the writers bring the story in and make it more personal. That decision makes the action even more intense and powerful because the connection with the characters is real.
The plot is topical, dealing with a deranged madman's attempt to control the world's oil supply. Robert Carlyle is outstanding as Renard, a notorious international terrorist who has several scores to settle. One of those scores involves M (Judi Dench), Bond's boss and the woman who sent an assassination squad to kill him.
They missed, leaving a bullet lodged in Renard's brain that makes him impervious to pain. Now he's really pissed off, and plans to use his new found strength to collect on all debts.
That includes getting even for the failed kidnap attempt of oil heiress Elektra King (Sophie Marceau), whom Bond has been assigned to protect. Elektra's father is killed in the film's breathtaking pre-credit sequence. Now the only thing that stands between Elektra and Renard is Bond, who takes a personal interest in his latest assignment.
The writers have done an excellent job of taking the familiar and making it seem fresh and inviting. Even the references to the rest of the series come with their own personality. As a fan of the series I immediately noticed these nods and felt an overwhelming sense of nostalgia.
"The World is Not Enough" finds Bond on skis ("On Her Majesty's Secret Service," "The Spy Who Loved Me"), spiraling through a concrete pipeline ("Diamonds Are Forever"), escaping from a sunken submarine ("Thunderball," "The Spy Who Loved Me"), dodging an airborne slicing machine ("Goldfinger"), or chasing down a villain on a river ("Live and Let Die").
These hair-raising moments are tied together by a plot that makes sense and is delivered with conviction by the entire cast. "The World is Not Enough" is the most serious Bond film since "On Her Majesty's Secret Service."
Bond has a personal investment in this adventure. M is kidnaped, so there is little time for the usual horseplay. The filmmakers waste no time getting us into the story. The pre-credit sequence is longer than normal, a sign that the director and writers are more interested in advancing the plot rather than just showing off the latest Bond gadgets.
Indeed, by the time the opening credits begin to roll, we're fifteen minutes into the plot. Bond has already been involved in two attempts on his life, one hair raising escape and a frenzied boat chase down the Thames.
"The World is Not Enough" reminded me the earlier James Bond films with Sean Connery. The dialogue is sharp but economical. Bond loves women, but doesn't think twice when forced to kill one. The action is tough and unrelenting. Bond has a license to kill and isn't afraid to use it.
The best Bond films also have a fabulous leading lady. "The World is Not Enough" has two. Sophie Marceau is one of the strongest Bond babes in recent memory, an enticing combination of beauty and mystery. Dame Judi Dench is always a delight as Bond's superior M. The writers give her more to do, and Dench gives the film uncommon depth. She truly is superior.
"The World is Not Enough" is technically sound. The jaw-dropping cinematography by Adrian Biddle and razor sharp editing of Jim Clark benefit from David Arnold's rousing score. The theme song by Garbage perfectly compliments Daniel Kleinman's dazzling credit sequence. Production designer Peter Lamont creates environments that are pure Bond.
Most film franchises begin to show their age after the first three or four entries. Producers Michael G. Wilson and Barbara Broccoli are smart enough to reinvent Bond when he begins to show his age. "The World is Not Enough" proves that there is not only life left in the franchise, but that you can teach an old dog new tricks.
LATEST BOND IS MORE THAN "ENOUGH"
THE WORLD IS NOT ENOUGH
Pierce Brosnan, Sophie Marceau, Robert Carlyle, Judi Dench, Denise Richards, Robbie Coltrane, Desmond Llewelyn, Samantha Bond in a film directed by Michael Apted. Rated PG-13. 128 Minutes.
LARSEN RATING: $7