Top Ten 2002
A guy walks into a doctor's office and complains that every time he hits himself on the head with a board, it hurt. The doctor countered "then why do you keep hitting yourself on the head with the board." To which the man replied, "To make sure it still hurt."
How easily some people forget.
Which is why film critics compile a top ten list at the end of every year. It's a reward for being hit from all sides by bad, insipid and inane movies. Just as surfers have to suffer through flat waves and Republicans have to suffer through Trent "Vacant" Lott, film critics have to wade through ten times as many bad movies in order to find ten good ones.
In order, here's the ten that made the cut:
1. ROAD TO PERDITION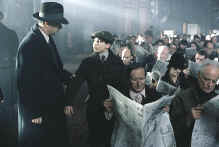 This pitch perfect period piece about gangsters, revenge and fathers and sons showcased Tom Hanks in a whole new light, and you couldn't take your eyes off him. Hanks cast a long, dark shadow as 1930's mob hit man Michael Sullivan, who pays the ultimate price when his oldest Michael Jr. (Tyler Hoechlin) son catches his father in the act. Filled with memorable performances, dramatically charged dialogue, and striking direction, "Road to Perdition" captures the time and place with such perception and precision that it becomes impossible not to get lost in the film. David Self's screenplay is sagacious and to the point, while director Sam Mendes avoids a sophomore slump by creating not just a film but a cinematic masterpiece.
2. THE PIANIST
Roman Polanski's best film since "Chinatown" is also a testament to the strength of the human will. Polanski returns to the Polish ghettos he escaped from as a young boy during World War II to tell the true-life story of classical pianist Wladyslaw Szpilman, who managed to stay alive during the Nazi occupation. Even though fate took away his parents and family, Szpilman evaded detection through the help of friends and acquaintances. Adrien Brody doesn't just play Szpilman, he personifies him. Brody is so assured that not once do we see through his technique. We ride his roller coaster of emotions, praying with him that the madness will end. Polanski crafts every scene with respect, filming events with a reality that transcends the written word.
3. FAR FROM HEAVEN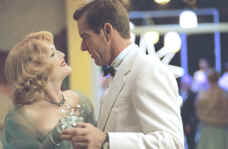 Writer-director Todd Haynes (Poison, Velvet Goldmine) once again explores the effects of homosexuality, this time cleverly disguised as an homage to director Douglas Sirk's 1950s melodramas like "All That Heaven Allows" and "Magnificent Obsession." Utilizing the warm, inviting photography of Edward Lachman, the lush, romantic score of Elmer Bernstein and the detail perfect production design of Mark Friedberg, Haynes has done more than recreate the look and tone of those films. Without hesitation, anyone who didn't know better would swear "Far From Heaven" was one of those films. Julianne Moore is remarkable as Connecticut housewife Cathy Whitaker, who seems to have everything. Her husband Frank (Dennis Quaid) may be one of the top dogs at work, but he's neglecting his husbandly duties at home. One revelation leads to another until Cathy decides to break all of the rules and live her own life. Haynes turns melodrama into great drama.
4. CATCH ME IF YOU CAN
I like when director Steven Spielberg is in a frisky mood, and "Catch Me If You Can" is as frisky as they come. After pummeling us with the high octane "Minority Report," Spielberg returns with this fanciful period piece starring Leonardo DiCaprio as infamous con man Frank Abagnale Jr., a cocky 16-year-old who impersonated a pilot, doctor, college professor and assistant attorney general while on the run from FBI agent Carl Hanratty (Tom Hanks). This light and breezy cat and mouse chase, set in the mid 1960s, is dotted with nostalgic landscapes and icons. DiCaprio and Hanks make terrific adversaries, while Christopher Walken shines as Frank's father. Slick and entertaining, Spielberg asks nothing more of us than to come along for the ride. Request granted.
5. LORD OF THE RINGS: THE TWO TOWERS
For sheer spectacle, nothing comes close than Peter Jackson's second installment in his "Lord of the Rings" trilogy. Jackson was smarter than the average bear by choosing to shoot all three films at one time. Most sequels or continuations come years after the original, allowing a lot of quicksilver and magic to disappear. Jackson's "The Two Towers" avoids all of the second in a trilogy pitfalls, not only moving the story forward, but doing so without dropping the ball. Everything about "The Two Towers" is bigger and more impressive, from it's engaging characters, to dynamic visual and special effects designs that take us to worlds that can only exist on film.
6. FRAILTY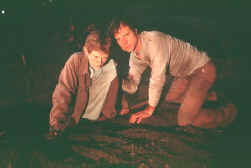 The most frightening film since "The Exorcist." Bill Paxton's debut as a director has all of the earmarks of a classic horror film. Paxton stars in this chilling tale of a single father who has received a message from God to kill demons on Earth. Since the death of his wife, Dad (Paxton) has asked a lot from his two sons Adam and Fenton, but having them to help kill demons tests their faith and love for their father, especially when the demons look like people. What makes "Frailty" so chilling is that writer Brent Hanley presents all of this as matter-of-fact. We know from the news that people like Paxton's dad exist, and the way Paxton plays him hits the nail right on the head. Watching Paxton go from studious father to obsessed fanatic is creepy, while behind the camera, Paxton the director ratchets up the suspense until it's unbearable.
7. PUNCH-DRUNK LOVE
I have always respected Anderson and his grandiose visions, little films about little people pumped up into full-blown epics of human emotions and frailties. "Punch-Drunk Love" may be a little romantic comedy-drama, but it's filled with big ideas and even larger performances. Adam Sandler is amazingly delicate as a toilet plunger manufacturer whose views on women have been soured by his many sisters. When Barry Egan (Sandler) meets Lena Leonard (Emily Watson), his life begins to change, some for the worst, most for the good. What I appreciate about Anderson is his ability to incorporate numerous storylines into a cohesive whole, creating an experience that teeters between real and the surreal. You may not be able to explain everything in "Punch-Drunk Love," but you can't deny it's originality and persuasiveness.
8. THE ROOKIE
Just when Hollywood was ready to write off Dennis Quaid he delivers another home run performance playing a Texas high school baseball coach who makes a deal with his team: they make it to the finals, and he'll pursue the big league career he abandoned years earlier. How refreshing to know that a major Hollywood studio can still produce a family film for families. Quaid is excellent as Jimmy Morris, a man whose dreams of playing professional baseball are put on hold due to an injury. Down but not out, Morris becomes a small town baseball coach, and with the encouragement of his family, team and friends, steps up to the plate for one last shot. A film you will want to watch more than once because it makes you feel so good inside.
9. ICE AGE
While I still appreciate the labored efforts of a good full-length, hand-drawn animated film, there's something about computer-generated animation that makes the characters and situations more accessible. "Ice Age" may be about talking Wooly Mammoths, Saber Tooth Tigers and Sloths, but the characters are so engaging and their dilemma so enthralling that we instantly buy into the premise. The creation of directors Carlos Saldanha, Chris Wedge and a handful of clever writers, "Ice Age" is filled with hilarity, heart and hope, plus the expressive voice talents of Ray Romano, Dennis Leary and John Leguizamo, who breathe life into every joke.
10. MY BIG FAT GREEK WEDDING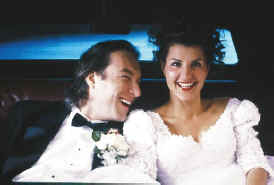 Don't roll up your eyes. I didn't add "My Big Fat Greek Wedding" to the list because I needed filler. Quite the opposite. I didn't see "Wedding" when it first came out, and once it became the romantic comedy that wouldn't die, I avoided it like the plague. A couple of weeks ago I was sent a screener of the film. I was hesitant to watch it. After all, how could a film live up to 36 weeks of hype and more than $200 million in box office? My expectations were so high the film didn't stand a chance. Then I watched it. Then I wanted to watch it again. Wow, what a delightful film. "Wedding" is the only film to gross over $200 million without once securing the number spot at the box office. It made all of that money through word of mouth, and the word is that "My Big Fat Greek Wedding" is more than a movie, it's a celebration of life and love, told in such a way that it manages to connect with all who see it.