Hellfighters
Before Ron Howard ignited the screen with "Backdraft," veteran action director Andrew V. McLaglen ("McClintock") and star John Wayne scorched the screen with "Hellfighters." Despite it's dated look, "Hellfighters" is still whopping entertainment, a perfect blend of melodrama and spectacle.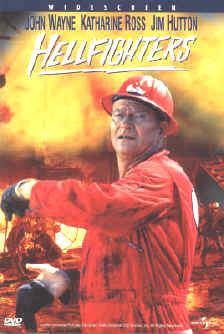 Wayne stars as Chance Buckman, a legendary (think "Red" Adair) Texan whose speciality is capping out-of-control oil well fires. Accompanied by his devoted team, Buckman travels the globe in his company's private jet to tackle incredible conflagrations. During the course of the film Buckman and his crew travel from Louisiana to Canada, then to Malaysia and finally Venezuela.
Their escapades are engagingly captured in Clair Huffaker's screenplay that paints Buckman and his patriots as larger than life. Wayne is very comfortable as Buckman, a man whose job has caused the disintegration of his marriage to Madeline (Vera Miles) and the abandonment on his daughter Tish (Katharine Ross). Madeline couldn't take sitting at home waiting for bad news, so she took Tish and left.
Buckman is kept busy by his job and extended family, including partners Greg Parker (Jim Hutton), Joe Horn (Bruce Cabot), George Harris (Edward Faulkner) oil company executive Jack Lomax (Jay C. Flippen), once a member of Buckman's team, now confined to a wheelchair after a crippling accident (in reality, Flippen had lot his leg to gangrene), and loyal secretary and Gal Friday Irene Foster (Barbara Stuart).
When Buckman is injured in a foolish accident, Parker summons Madeline and Tish, much to Buckman's dismay. While Buckman heals, Parker takes over the operation, and with Tish along for the ride, eventually falls in love with the boss' daughter. In record time they get married, mirroring the former relationship of Chance and Madeline. The film is actually a series of melodramatic moments used to link the awesome firefighting scenes together. While the melodrama is fine, it's the spectacle that really heats up the screen. Director McLaglen does a believable job of putting the actors in the middle of some seemingly perilous situations.
The special effects are outstanding, sending plumes of flames 120 feet into the air. You can almost feel the heat as the character's brave the elements and each other as they struggle to complete their job. The exotic locales (mostly shot in the United States or on Universal's back lot) add extra elements of danger. In Malaysia, Buckman and his team are hired to cap a poisonous well that has killed several men. Their assignment in Venezuelan is complicated by guerillas trying to stop them from completing their job.
The cast is wonderful, especially young lovers Jim Hutton and Katharine Ross. They're the perfect compliment to Wayne and Miles, who prove it's never to late to ignite an old flame. I liked "Hellfighters" because it's one of those great 1960's Universal productions that featured lush production values. Check out the headquarters of Buckman's business. The mock-up of the freeway outside the window is a hoot with it's endless stream of cars. It's these little touches that make the film such a delight. Grand entertainment with one of Hollywood's grandest stars. Now, is this a smoking or no smoking section?
COMPLETE CHECK-UP
VISION: [ ] 20/20 [ X ] Good [ ] Cataracts [ ] Blind
Delivered in the film's original 2.35:1 widescreen ratio, the digital transfer of "Hellfighters" is a mixed bag of pleasures and disappointments. For instance, the DVD features gorgeous color saturation and exacting flesh tones. The blacks are superior throughout, creating excellent definition. However, the original negative is less than pristine, whose flaws are only magnified by the digital mastering. There's also more than a sprinkling of compression artifacts, plus lack of detail in long shots. The transfer also has problems locking on to patterns, especially Wayne's tweed suits. In defense of the DVD, the picture was stunning for a film more than 30 years old. When all of the elements click, the images are vivid, with good depth of field.
HEARING: [ X ] Excellent [ ] Minor Hearing Loss [ ] Needs Hearing Aid [ ] Deaf
The Dolby Digital Surround track delivers impressive low and high ends, an excellent dialogue mix, and a pleasant surround mix that is virtually distortion free. The surround split is reserved for the musical score and some obvious ambient noise. Despite it's lack of definition, the sound mix more than gets the job done. The DVD also features a 2-channel mono track in Spanish.
ORAL: [ X ] Excellent [ ] Good [ ] Poor
Closed captions in English for the hearing impaired, subtitles in French and Spanish.
COORDINATION: [ ] Excellent [ X ] Good [ ] Clumsy [ ] Weak
The DVD features convenient, easy-to-use main and scene access menus, cast & filmmaker's bios & filmographies, and production notes, plus web links to Universal Studios Home Video's web site. Oddly, there are theatrical trailers for Wayne's "Rooster Cogburn and the Lady" and Mile's "Psycho," but no trailer for "Hellfighters." The theatrical trailers are available in the star's biographies.
PROGNOSIS: [ X ] Excellent [ ] Fit [ ] Will Live [ ] Resuscitate [ ] Terminal
I love films like "Hellfighters," and am thrilled with the opportunity to see the film in it's original theatrical format.
VITALS: $24.98/Rated G/122 Minutes/Color/18 Chapter Stops/Keepcase/#20512
ATTENDING RESIDENT: John Larsen
PATIENT: HELLFIGHTERS
BIRTH DATE: 1968
HMO: Universal Studios Home Video