Zero Effect
When Lawrence Kasdan made the leap from screenwriter ("Raiders of the Lost Ark") to writer-director ("Body Heat," "The Big Chill"), Hollywood gained a double-hyphenate that would entertain us for years to come. Little did we know that waiting in the wings was a second-generation Kasdan, son Jake.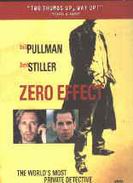 The acorn doesn't fall far from the tree judging by "Zero Effect," a quirky, literate mystery written and directed by Jake. Jake's rousing debut is a cut above the rest, a refreshingly funny and inviting detective story that never walks the straight and narrow. Bill Pullman is outstanding as Daryl Zero, the world's best private detective, and definitely one of the most eccentric. Zero never leaves his luxury apartment to secure a job. He leaves that chore to his man Friday Arlo (Ben Stiller), a loyal friend and employee. Zero only leaves when he's on a job, and even then, he remains undercover and incognito the whole time. Like I said, he's a bit strange.
Still, Zero is very endearing and likeable, so he has that going for him. His latest gig is to free untrustworthy tycoon Ryan O'Neal from blackmailer who is draining him dry. In true film noir style, the case involves mysterious, shady characters, murder, revenge and romance. Romance enters the picture in the form of Kim Dickens, a femme fatale who is too good to be true. Kasdan has filled the film with vividly drawn characters and smart dialogue, so you honestly care what they say and do. There's a lot to recommend "Zero Effect."
COMPLETE CHECK-UP
VISION: EXCELLENT
Zero distortion. Zero noise. Zero artifacts. Get it? Zero. Nada. Excellent transfer of an excellent film. Bill Pope's finely tuned cinematography gets a lot of respect here in both the pan-and-scan and widescreen versions. The widescreen version is highly recommended. The 1.85:1 transfer (16×9 enhanced for widescreen televisions) is vital to some of the more complicated scenes. Nice warm colors and vivid blacks combine for striking images.
HEARING: EXCELLENT
There's only an English language 5.1 Dolby Digital surround track, but it's all you need. Pin-drop clarity and nice mix of music and dialogue put all of the sound elements exactly where they belong. The musical score by The Greyboy All-stars fills the room with strong bass lines and sharp treble.
ORAL: GOOD
Subtitles in English and French.
COORDINATION: GOOD
The DVD features an alternate audio commentary track featuring writer-director Jake Kasdan, and if ever a film-maker's comments were welcome, it's here. I truly admire Lawrence Kasdan, and I was very interested to hear what his off-spring had to say about his first major league effort. Kasdan is refreshingly candid. Also on hand are the usual extras like interactive menus, production notes, 2 theatrical trailers and scene access.
PROGNOSIS: EXCELLENT
"Zero Effect" is such a great movie, and thanks to Warner Home Video's new three-tier pricing program, you can pick up a copy for around $15. How much better does it get?
ATTENDING RESIDENT: John Larsen
PATIENT: ZERO EFFECT
BIRTH DATE: 1998
HMO: Warner Home Video