The Wonder Boys
"The Wonder Boys" is the first great movie of the new millennium. There, I've said it. I usually distance myself from such proclamations, because they sound like I'm writing a quote for a film ad.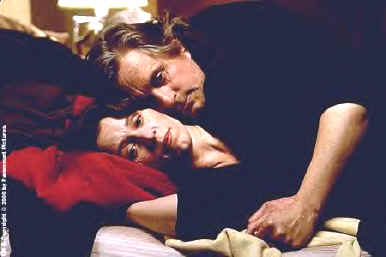 Still, it's true. "The Wonder Boys" bristles with human emotion and comedy, perfectly realized by a terrific cast, understanding direction and a screenplay that brings it all together into a winning package.
Michael Douglas has never been better, playing a middle-aged, pot-smoking college professor resting on the laurels of his first published novel. Unfortunately, that was seven years ago, and Professor Grady Tripp is no closer to delivering his second novel than he is accepting responsibility for his life.
Steve Kloves screenplay, adapted from Michael Chabon's novel, finds Tripp trying to make it through a pinnacle weekend in his life. It's a chaotic time for Tripp, and Douglas always finds the perfect expression or look to convey the character's state of mind. It takes true talent to make a louse like Tripp sympathetic, yet from the moment we meet him, we understand him.
He's not a bad guy, he just got lost after the glow of his first novel dimmed. When he's not wallowing in self pity or in a daze of booze and drugs, Tripp is hammering out his second novel, an opus he can't seem to complete. It's not that he's blocked, but like his current situation in life, he has no idea where it's headed.
On this particular weekend, Tripp finds himself coming to grips with his life. His wife, one of many, has just left him, and his publisher is coming to town. Tripp's ongoing affair with the Dean's wife becomes complicated when he finds out that she's pregnant, and he finds himself the unwitting mentor of a trouble student.
"The Wonder Boys" is filled with many quirky, off the wall moments, but within the context of the film, they all seem quite normal and common place. The characters and the plot take some unexpected turns, yet the film never seems out of control.
Director Curtis Hanson, whose dazzling "L.A. Confidential" was one of 1997's best films, displays a deft touch for human comedy. He showcases the off beat moments of Kloves screenplay without exploiting them.
What Hanson delivers is a film that is a delight to experience. You don't just watch "The Wonder Boys," you become part of their lives for two hours. This is possible thanks to a cast that is not only in tune with their characters, but actually become them. You instantly forget that you're watching actors and enjoy the plight of the characters.
Tobey Maguire is outstanding as James Leer, one of Tripp's students who shows a real flair for the written word, even if his expressions are dark and mysterious. Maguire finds just the right niche as the enigmatic Leer. You're never sure if he's handing you the truth or a line. It's a dark, calculated character, and Maguire brings him to life.
Like Chabon's novel, Kloves screenplay is filled with many wonderful supporting characters. Frances McDormand is delightful as the Dean's wife, who more than ever needs a commitment from Tripp. Like her character in "Fargo," McDormand is able to find the perfect middle ground.
I also enjoyed Robert Downey Jr.'s turn as Tripp's gay editor, a man desperate to stay in the game. His name is Terry Crabtree, and from the moment he arrives at a party with a drag queen to the moment he leaves by making a grand gesture at the author's fair, Downey makes him his own.
"The Wonder Boys" has a lot to say about the state of the middle aged male, and does so with inviting characters and thought provoking dialogue. Some of the choices the main character makes might seem questionable, but that's the point. Tripp is going through a catharsis, and even though it's painful to watch at times, it's important that we be there with him.
Hanson uses music wisely, and the line-up, including a new tune by Bob Dylan, serve as a musical narrative. Everything about "The Wonder Boys" feels like a perfect fit. The production design and cinematography are dreamlike, creating images that are easy on the eyes.
THE "WONDER" OF IT ALL
THE WONDER BOYS
Michael Douglas, Tobey Maguire, Frances McDormand, Katie Holmes, Robert Downey Jr., Richard Thomas, Philip Bosco in a film directed by Curtis Hanson. Rated R. 116 Minutes.
LARSEN RATING: $8