The Whole Nine Yards DVD
The characters in "The Whole Nine Yards" come from opposite worlds, yet share one distinct trait. They're despicable. They're loathsome. They're heartless. They're also pretty funny.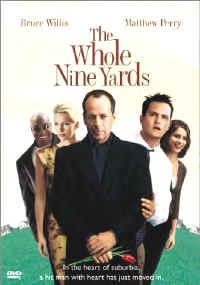 It's always difficult for filmmakers to create lovable bad guys. Most of the time you love to hate them, but actually warming up to them is another story. There are plenty of sympathetic bad guys in "The Whole Nine Yards," a dark comedy that revels in bad taste.
Luckily, the film doesn't leaves a bad taste in your mouth. Audiences hungry for wicked humor will find plenty to laugh about, especially if you enjoy pokes at white trash. "The Whole Nine Yards" is littered with white trash, and enough jokes to fill a dumpster.
Bruce Willis and Matthew Perry are engaging in "The Whole Nine Yards." Willis plays former mob hit man Jimmy Tudeski, who has the unfortunate luck to move next door to henpecked husband/dentist Oz Oseransky (Perry), who immediately recognizes his new neighbor.
Oz's life is already a living nightmare. He's stuck in a loveless marriage to an ungrateful French Canadian white trash wife (Rosanna Arquette), living with his ungrateful mother-in-law, and working off a debt left to him by his former father-in-law and partner. Like Jimmy, all Oz wants is some peace and quiet.
Writer Mitchell Kapner creates some hilarious complications when Oz's wife seeks out Jimmy to kill her husband, helping seal his fate by sending Oz to Chicago to rat out Jimmy and collect a finder's fee. It's not long before the mob heads up to Canada to kill Jimmy, who has met some unusual allies, including Oz's dental assistant, played with comic flair by Amanda Peet.
Kapner and director Jonathan Lynn do an excellent job creating various levels of bad guys. Even though Jimmy is a contract killer with 17 jobs under his belt, he's not nearly as bad as Janni Gogolak, the Hungarian mob boss played by Kevin Pollak. Peet's aspiring hit woman may be bad, but she's not as despicable as Arquette's evil wife. These distinctions make it easy to root for one group, even if they still are the bad guys.
"The Whole Nine Yards" reminded me of a Blake Edwards "Pink Panther" film. Once the film gets rolling, it becomes a caper. Under Lynn's direction, the film is more than a one note comedy. He gleefully exploits the dark elements of the script, and the results are more than satisfactory.
COMPLETE CHECK-UP
VISION: Good

1.78:1 Widescreen

16:9 Enhanced

Full-Frame
Decent presentation, with normally sharp images displaying good color saturation and dependable blacks. Attention to detail is good but not exact, while depth of field sometimes suffers from a soft focus. Flesh tones are good, while colors are nice and warm on the inside, bright and vivid on the outside. There are some minor issues with digital transfer, but they are hardly noticeable. The pristine master print allows for a clean transfer, with no surface dirt or scratches.
HEARING: Good

English 5.1 Dolby Digital Surround

French 5.1 Dolby Digital Surround
The Dolby Digital 5.1 Surround soundtrack isn't very expressive, but it more than gets the job done. The dialogue mix is adequate but not overly strong, but the surround effects keep the bullets flying. Rear speaker output is relegated to musical cues and ambient noise, while stereo split is effective. There isn't much bass action, but what is there serves the purpose. Front sound stage gets the most workout, including precise left-to-right stereo split. Middle and high ends are clean. Musical score sounds smashing, with clarity a high priority.
ORAL: Good

Closed Captions in English for the Hard of Hearing

Subtitles in French
COORDINATION: Okay

Full-length, scene specific audio commentary with director Jonathan Lynn. Not the greatest, but Lynn does provide some insights that we normally wouldn't be privy to, including some flubs in the film and attempts at improvisation. He's not the greatest speaker, but Lynn doesn't put you to sleep either.

Brief interviews with the cast in an Interview Gallery.

The film's original theatrical trailer.

Cast Credits.
PROGNOSIS: Good

A very funny movie that won't kill you if you add it to your collection.
VITALS: $24.95/Rated R/99 Minutes/Color/Snapcase
ATTENDING RESIDENT: John Larsen
PATIENT: THE WHOLE NINE YARDS
BIRTH DATE: 2000
HMO: Warner Home Video