The Secret Life of Walter Mitty
It's hard to believe that "The Secret Life of Walter Mitty" is over fifty years old. It doesn't look a day over thirty. Honestly, someone took good care of the Technicolor negative that was used to strike this DVD.
Aside from the visible reel change marks and a couple of small scratches, the negative is absolutely beautiful.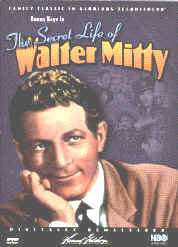 Based on James Thurber's popular novel, "The Secret Life of Walter Mitty" is the perfect showcase for star Danny Kaye, who gets to do it all as the Milquetoast magazine proof reader who constantly gets lost in his daydreams. The witty and functional script by Ken Englund and Everett Freeman finds Mitty living with his domineering mother (the wonderful Fay Bainter) and engaged to be married to the lovely Gertrude (Ann Rutherford).
There's a lot of stress in Mitty's life (his nervous stomach got him out of the draft). His mother won't leave him alone. He's henpecked by his fiancee. His boss keeps stealing his ideas. Even though he works at a popular magazine publishing firm, he still lives at home and is kept on an allowance. It's no wonder Mitty gets lost in his daydreams. Whether he's a pirate or an ace World War I pilot, Mitty is always in charge and gets the girl.
Mitty's life gets a dose of reality when he bumps into a mystery woman (Virginia Mayo) who claims she's being followed. Mitty helps her out of a tight spot, only to become involved in murder and international intrigue. Due to his overactive imagination, no one believes him. It's all great fun with Kaye at the top of his form. He's thoroughly delightful as the doormat who rises to the occasion. Boris Karloff co-stars as a villainous doctor who isn't beyond shoving Mitty out of a high rise window.
Director Norman Z. McLeod does a dazzling job of keeping up with Kaye, who is all over the place. Together, the director and the star show true comic timing. They never miss a beat, and in true Samuel Goldwyn fashion, deliver the musical numbers in one take. It's here where Kaye shows what a true professional he is. You keep waiting for a cut and it never comes. The production values are lush and colorful, with the Goldwyn Girls on hand to flesh out the background. It's been a long time since I had seen "The Secret Life of Walter Mitty." I forgot how much fun it is. Now on DVD, I can appreciate the film all over again.
COMPLETE CHECK-UP
VISION: [ ] EXCELLENT [ x ] GOOD [ ] RESUSCITATE [ ] D.O.A.
Uncommonly gorgeous full-screen transfer for a fifty year old film. The Technicolor print comes alive with bursts of color in every frame. There's an occasional color shift in the flesh tones, but I suspect this more a defect in the original negative rather than a compression problem. The film is filled with flattering close-ups that look as sharp and vivid now as they did then. Truly impressive. I just hope I look this good close-up at fifty.
HEARING: [ x ] EXCELLENT [ ] GOOD [ ] RESUSCITATE [ ] D.O.A.
For a classic Hollywood film, "The Secret Life of Walter Mitty" comes with numerous soundtrack options. You can watch the DVD in it's original English mono soundtrack, or switch over to the faux stereo English soundtrack that bounces the sound to all of the speakers. It's not true stereo, but it sounds okay considering the source. The sound is clear, minus any noticeable hiss. There's also mono language tracks in French and Italian. HBO Home Video has sure covered their bases here.
ORAL: [ x ] EXCELLENT [ ] GOOD [ ] RESUSCITATE [ ] D.O.A.
Closed captioned for the hard of hearing in English, subtitles in Spanish and French.
COORDINATION: [ ] EXCELLENT [ x ] GOOD [ ] RESUSCITATE [ ] D.O.A.
A nice effort for an older film. There's a mini-interview with Virginia Mayo, who talks about the making of the film. There's also the original theatrical trailer that coins all of the jargon of the era. I especially liked the nostalgic menus and scene access menus that look like covers from the pulp magazines from the film. There's also a favorite scene menu, and cast and crew bios.
PROGNOSIS: [ ] EXCELLENT [ x ] GOOD [ ] RESUSCITATE [ ] D.O.A.
No, you're not daydreaming. "The Secret Life of Walter Mitty" is alive and well on DVD thanks to a splendid job from HBO Home Video. I just loved the look of those old Goldwyn films, and this film has never looked better. Truly something special for your DVD collection.
VITALS: $24.95/Not Rated/110 Min./Color/22 Chapter Stops/Snapcase/#90654
ATTENDING RESIDENT: John Larsen
PATIENT: THE SECRET LIFE OF WALTER MITTY
BIRTH DATE: 1947
HMO: HBO Home Video