U.S. Marshals
In my humble opinion, I believe that "U.S. Marshals" got shortchanged at the box office. Director Stuart Baird's follow-up to "The Fugitive" doesn't have the star power of Harrison Ford, but it does have a formidable performance by Tommy Lee Jones as determined Marshal Sam Gerard.
His performance in "The Fugitive" won Jones an Academy Award for Best Supporting Actor. Here, Jones takes the lead, once again tracking down an escaped convict.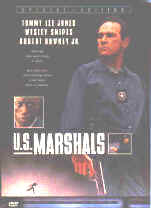 While not as suspenseful as "The Fugitive," "U.S. Marshals" is rousing entertainment served up in healthy doses. Writer John Pogue busts his butt to reinvent the formula while maintaining the flavor of the first film. Jones is very engaging this outing, escorting convicted killer Wesley Snipes aboard one of those "Con Air" planes when it crash lands. During a brave rescue attempt, Snipes disappears. That leaves Gerard no choice but to launch one his famous dog hunts.
He brings in his team of regulars, plus newcomer Tom Wood. Throw in to the mix a Federal Agent played by Robert Downey Jr., a government cover-up and Snipes' ability to dodge the bullet more than once, and Gerard has his job cut out for him. The action sequences are riveting and well staged (especially the plane crash, Baird's forte since directing "Executive Decision"), and the performances strong. There are a couple of clumsy moments, but the film moves at such a clip they're inconsequential.
COMPLETE CHECK-UP
VISION: [ x ] EXCELLENT [ ] GOOD [ ] RESUSCITATE [ ] D.O.A.
The action leaps off the screen thanks to a powerfully rendered transfer. Vivid colors, strong flesh tones and virtually no artifacts make for a sharp and clear picture. The double-sided DVD maintains the film's original 2.35:1 aspect ratio, a must in action films.
HEARING: [ x ] EXCELLENT [ ] GOOD [ ] RESUSCITATE [ ] D.O.A.
Crank up the volume, close the windows, and prepare to be blown away. The fine-tuned 5.1 Dolby Digital Surround track will engulf you in the action. Perfect mix pinpoints the screen action with precision. The bass range is strong, especially during the plane crash sequence. There's also Dolby Surround track in French.
ORAL: [ x ] EXCELLENT [ ] GOOD [ ] RESUSCITATE [ ] D.O.A.
Subtitles in English, French and Spanish.
COORDINATION: [ ] EXCELLENT [ x ] GOOD [ ] RESUSCITATE [ ] D.O.A.
Side one features the widescreen version of the film. There's no pan-and-scan version on side two. Instead, the flip side features a documentary on the history of the United States Marshal service called "Justice Under the Badge," which is informative to say the least. This little history lesson was a real eye-opener. Their involvement in slave trading, and then in the former slave's protection from the KKK is especially interesting. There's also an interactive look at the film's spectacular plane crash. "Anatomy of a Plane Crash" is short and to the point, but it is fun to move around the menu and watch the process unfold. This extra should have been more in-depth. There's also an alternate audio track with director Baird offering his take on the filming of "U.S. Marshals." Nothing groundbreaking, but a nice addition. The DVD also tracks down the list of usual suspects, including interactive menus, productions notes, theatrical trailers (there's two of them), and three television spots.
PROGNOSIS: [ x ] EXCELLENT [ ] GOOD [ ] RESUSCITATE [ ] D.O.A.
Okay, here's the skinny. Warner Home Video has priced "U.S. Marshals" at $19.95. Most outlets knock off $5, and you get to take home an exciting film with a nice set of extras for around $15. What more could you possibly ask for?
VITALS: $19.95/PG-13/131 Min./Color/40 Chapter Stops/Snapcase/#15625
ATTENDING RESIDENT: John Larsen
PATIENT: U.S. MARSHALS
BIRTH DATE: 1998
HMO: Warner Home Video