Ulee's Gold
It's hard to believe, but it's been almost thirty years since Peter Fonda and Dennis Hopper took off on their choppers to discover America in 1968's seminal classic, "Easy Rider." It hasn't been as easy a ride for Fonda, whose later films included "Dirty Mary, Crazy Larry," and "Race with the Devil."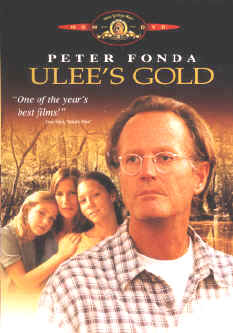 Once an icon for a generation desperate to find themselves, Fonda became a familiar presence in "B" movies and direct-to-video efforts. It seemed as if Peter Fonda's better days were behind him. Now, after twenty-nine years since playing Captain America, Fonda has found the role of a lifetime in the new film "Ulee's Gold," now playing citywide.
Age has caught up with Fonda, making him an unexpected but brilliant choice to play the quiet Florida beekeeper trying to keep his family together. It's a role that would have gone to his father, Henry, twenty years ago. Then it's no surprise that Peter brings along a little of his father into his best performance to date. "Ulee's Gold" not only features a surprising career turn by Fonda, but is in itself an anomaly.
Critics were skeptical when Orion Pictures decided to release this little gem right in the middle of the blockbuster summer crunch. How could a simple family drama find a niche in a summer filled with sequels, explosions, big stars and state-of-the-art special effects? Simple. "Ulee's Gold" is the antidote for those fed up with traditional summer fare. This is the rose you should stop and smell. Fonda delivers a quiet, assured performance as Ulysses Jackson, a middle-age father and grandfather, trying to keep his family and the family business going.
Ulee is a beekeeper like his father and grandfather before him. Even though the work is beginning to take its toll on him, Ulee finds it therapeutic. "The bees and I have an understanding," he tells his granddaughter. Ulee doesn't have the same connection with his family. His teenage granddaughter makes it her business to torment Ulee. Youngest granddaughter Casey (a delightful Jessica Biel) is more loving and respectful, probably because she can hardly remember her mother, who ran out on the family. Jimmy (Tom Wood), Ulee's son, is in prison for robbery and hasn't spoken to his father in two years. Then out of the blue a call comes.
It's Jimmy. He's located his wife Helen (Christine Dunford), and wants Ulee to bring her home. Ulee is reluctant, one reason being that Helen has been strung out on drugs for some time, the other being she's shacked up with Jimmy's accomplices in the robbery. Ulee tracks down and finds Helen, but also has a run in with Ferris and Eddie (Dewey Weber and Steven Flynn). They claim that Jimmy took an extra $100,000 from the robbery and hid it. They want the loot or they will pay Ulee's grandchildren a visit.
Back home, Ulee reunites Helen with the kids. It's not a love-Fest, but it's a start. When Helen starts going through withdrawals, Casey runs across the street and brings back neighbor Connie Hope (Patricia Richardson), a nurse at the local hospital. Pretty soon, the kids start warming up to their wayward mom, while Connie starts to warm up to Ulee.
In one of the film's most poignant moments, he explains that it's been a long time since he's had to express his emotions. Ferris and Dewey show up to collect the missing money, turning Ulee's tranquil existence into a fight for life and death. Director-writer Victor Nunez ("Ruby in Paradise") never resorts to the obvious. Instead, he paces the film like slow pouring golden honey. Nunez has created such vivid characters that he wants us to take time to get to know them.
While their simple actions propel the plot, they also clue us into the make-up of each character. When conflict arises, you feel you the characters well enough to care about what happens to them. Patricia Richardson from television's "Home Improvement" delivers a sweet performance as a twice-divorced woman who moved to a small town so her presence would matter. Christine Dunford goes through hell and back as the tormented Helen, while Flynn and Weber are appropriately menacing as Eddie and Ferris.
COMPLETE CHECK-UP
VISION: [ ] 20/20 [ X ] Good [ ] Cataracts [ ] Blind
Nicely detailed 1.85:1 widescreen transfer. The images for the most part are sharp and vivid. There are some minor issues with the image in Chapter 20, but it doesn't look like a digital transfer problem. The rest of the film bristles with nice, warm colors and realistic flesh tones. Blacks are solid, but there is a small amount of flaking throughout the film. Depth of field is strong, and so is attention to detail. Color saturation is good, and an almost pristine negative allows for clean whites and shadows. No real compression or noise issues. Not enhanced at 16:9.
HEARING: [ X ] Excellent [ ] Minor Hearing Loss [ ] Needs Hearing Aid [ ] Deaf
Decent, almost delicate Stereo Surround soundtrack (also delivered in French). Dialogue mix is strong, while the surround effects are decent but not overwhelming. High and low ends sound clean, while rear speaker ambient noise is excellent. No audible distortion or hiss.
ORAL: [ ] Excellent [ X ] Good [ ] Poor
Closed captions in English for the hard of hearing, subtitles in French.
COORDINATION: [ ] Excellent [ ] Good [ X ] Clumsy [ ] Weak
The DVD features standard issue main and scene access menus, plus the film's original theatrical trailer. Enclosed is also a booklet on the making of the film.
PROGNOSIS: [ X ] Excellent [ ] Fit [ ] Will Live [ ] Resuscitate [ ] Terminal
This film is gold.
VITALS: $24.98/Rated R/113 Minutes/Color/44 Chapter Stops/Keepcase/#907787
ATTENDING RESIDENT: John Larsen
PATIENT: ULEE'S GOLD
BIRTH DATE: 1997
HMO: MGM Home Entertainment