Tomorrow Never Dies
The James Bond franchise is 38 years old and 18 films strong. During that time, five men have played British Secret Service Agent James Bond, 007: Sean Connery, George Lazenby, Roger Moore, Timothy Dalton and Pierce Brosnan. Like all series, the James Bond franchise has had it's highs ("Goldfinger," "Thunderball") and lows ("A View to a Kill," "Moonraker").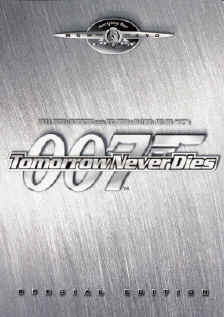 Everyone has their favorite Bond and their favorite Bond movie. Most prefer Sean Connery over Roger Moore, and completely dismiss Timothy Dalton. I didn't like Dalton as Bond. He was way too serious. His eyes looked shifty. If you can't trust Bond, who can you trust? Dalton almost didn't get the opportunity to play James Bond in "The Living Daylights" and "License to Kill." Due to his success on television in "Remington Steele," Brosnan was approached to play Bond, but had to decline when NBC decided to hold him to his contract, even though NBC had already made plans to cancel the series.
They were just being mean, and deprived Brosnan of the chance to step into the highest grossing franchise in the world. Dalton didn't set the screen on fire, and after two low-grossing films, was let go. Thank goodness, because Brosnan makes an excellent James Bond. Take this from a 41 year old male who spent a lot of weekends watching Bond double bills at the local theater. I love the Bond films, and was glad to see Brosnan pump some life and much needed humor into the role.
Brosnan's first Bond film, "Goldeneye," was a big success, and helped revived the series. Now comes "Tomorrow Never Dies," which in context with the series, is a definitive Bond film. It's filled with outstanding action-adventure sequences, exotic locations, excellent performances, a strong leading lady, and a topical, relevant script that made sense. Director Roger Spottiswoode does a superb job of molding it all into the perfect James Bond film. Bruce Feirstein's script pits Bond against megalomaniac communications tycoon Elliot Carver (a devious Jonathan Pryce), who plans to bring the world to its knees all for the sake of a headline.
Bond is joined by Vietnamese secret agent Wai Lin (the amazing Michelle Yeoh), and together they kick some major butt. "Tomorrow Never Dies" features an amazing cache of gadgets and soup-upped automobiles that do the most incredible things, plus some chase scenes that are both creative and breathtaking. What I really enjoyed about "Tomorrow Never Dies" was director Spottiswoode's respect for what came before, and the film maker's insistence to use models instead of computer generated images.
If they're done well, as they are in this film, models make all the difference in the world. The film features an electric score by David Arnold, who totally respects the Bond musical cues and pays tribute to them frequently. "Tomorrow Never Dies" is one of the best Bond films in a long time. It's painted on a large canvas that can hardly hold all of the action and excitement. The special effects and stunt work are, as usual in a Bond film, exciting. I'm glad to see Bond teamed up with a woman who can hold her own. Yeoh gives the film that extra little kick that carries it over the top. Highly recommended and thoroughly enjoyable, "Tomorrow Never Dies" proves that you can breathe life into a dying franchise.
COMPLETE CHECK-UP
VISION: [ X ] 20/20 [ ] Good [ ] Cataracts [ ] Blind
Beautifully rendered 2.35:1 widescreen digital transfer that delivers sharp, vivid images, perfect color saturation, solid blacks and excellent flesh tones. Not one iota of compression artifacts or digital noise. The color saturation is exquisite, never too warm or cold. Nice, strong field-of-depth and clarity. Nothing seems to faze the digital transfer. The RSDL disc has been enhanced at 16:9 for widescreen televisions.
HEARING: [ X ] Excellent [ ] Minor Hearing Loss [ ] Needs Hearing Aid [ ] Deaf
Rock and roll, Hootchie Koo! Shut the doors, close the windows, crank up the volume and prepare to be blown into an alternate universe of thundering sound and powerful ambience. The 5.1 Dolby Digital Surround track is awesome, to say the least ("the least"). Booming basses, pitch perfect trebles, crystal strong dialogue. It's perfect. The stereo separation is outstanding, and the front-to-rear separation is perfectly timed and spaced. Total ambience achieved through all speakers. David Arnold's rambunctious score fills the room with a clarity that puts the orchestra in the middle of your living room. Succinctly mastered mix delivers great definition. You can also catch all of the thrills and spills in a French language Stereo Surround track.
ORAL: [ X ] Excellent [ ] Good [ ] Poor
Closed captions in English, French and Spanish for the hard of hearing, subtitles in English, French and Spanish.
COORDINATION: [ X ] Excellent [ ] Good [ ] Clumsy [ ] Weak
Where do you begin? The "Tomorrow Never Dies: Special Edition" is filled with as many extras and gadgets as a Bond film. The DVD features three additional audio tracks, including:
§ Running commentary by director Roger Spottiswoode and my buddy, screenwriter Dan Petrie Jr. (he worked with Spottiswoode on "Shoot to Kill" and "Turner and Hooch," and now serves as the President of the West Coast Screen Writer's Guild). It's the usual chit-chat about the logistics of making the film, with some interesting insights and behind-the-scenes observations. One thing I wasn't aware of was that Spottiswoode was director Sam Peckinpah's editor for several films, and was cautious about using slow motion in "Tomorrow Never Dies" because he wanted to avoid comparison's to Peckinpah's trademark style.
§ Running commentary with stunt director Vic Armstrong and producer Michael G. Wilson, which is by far more interesting if not self-congratulatory. Armstrong, who also served as second unit director, goes into depth about the numerous larger-than-life set pieces that make up the film, and then sits around with long-running Bond producer Wilson marveling at their work. It's fun to listen to, and both men, long- time Bond associates, have a lot of memories and lots of dish about making this film.
§ You can also access David Arnold's awesome score through an isolated music-only track. I own the CD, and this is better than the CD because you get the entire score. This is one extra I wish more DVD's came with.
§ The DVD also includes the "Secrets of 007" promotional documentary that aired on television when "Tomorrow Never Dies" was released theatrically. The commercials have been removed, but the segue ways between segments are still there. The 45-minute featurette is narrated by Peter "E.T." Coyote, and features clips from all of the previous Bond outings and behind-the-scenes glimpses at "Tomorrow Never Dies." All of the Bond elements are represented here, including the notorious villains, the buxom Bond girls, the nifty "Q" gadgets and the numerous times Bond has saved the world. Lots of fun by pretty elementary.
§ The Sheryl Crow music video of the title song that is simply stunning. It didn't get nearly the rotation it deserved on the music television stations, so now you can enjoy it over and over.
§ A special-effects reel that shows you the different components used to make the world of "Tomorrow Never Dies" a reality. The reel shows you the blue screen with the principals, then the matte or digital picture, and then the final results, which are of course seamless. As Arte Johnson would say on "Laugh-In," very interesting.
§ An extremely innovative storyboard-to-screen presentation for nine different scenes. When you select this option, you can jump to each scene directly. While it's playing, use the angle change button, and a OO7 Logo will appear down in the left hand corner. When the logo is on, see-through storyboards appear on the screen and show you how the scene was charted out. It's a nifty idea, a variation on other story-board- to-screen presentations like on the Criterion collection.
§ An interview with composer David Arnold, who shares his enthusiasm and respect for the Bond series.
§ The original theatrical and teaser trailers for the film.
§ A "Gadgets" run down of the new toys Bond uses in "Tomorrow Never Dies."
§ Sensational, highly evolved interactive menus that require a security check to get in to, and then use a female voice to help you navigate through the impressive menus. The scene access menus use still photos, but when you leave the menu, the frames feature television snow. The menus are easy to navigate, and the sound and music effects are dead one. Very impressive indeed.
§ A 12-page booklet with lots of fascinating Bond trivia and behind-the-scenes information, plus a complete dossier of the series villains, babes and gadgets.
PROGNOSIS: [ X ] Excellent [ ] Will Live [ ] Resuscitate [ ] Terminal
Okay Bond fans, quit whining. "Tomorrow Never Dies: Special Edition" is the DVD you've been waiting for. You don't need a license to kill to get your hands on this lethal disc.
VITALS: $34.95/Rated PG-13/117 Minutes/Color/RSDL/28 Chapter Stops/Keepcase/#906756
John Larsen ATTENDING RESIDENT
ATTENDING RESIDENT: John Larsen
PATIENT: TOMORROW NEVER DIES: SPECIAL EDITION
BIRTH DATE: 1997
HMO: MGM Home Entertainment