Titanic
One of the benefits of reviewing video and DVD is the opportunity to catch up with old friends, and make new ones. A lot of smaller films come and go so quickly in theaters that your only chance to discover them is during their ancillary runs. I had such a privilege this week when I saw a little film called "Titanic." I didn't hear much about it when it played in theaters. Small films like this usually don't have a big advertising budget, so they depend on word of mouth. I guess none of my friends heard of it either. I was pleasantly surprised by this minimalist effort.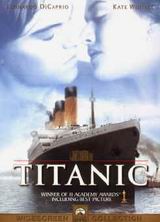 It's about a big boat that sinks in the middle of the ocean after hitting an iceberg. It's also a suspense thriller about a group of people who try to con an old lady out of an ancient heirloom. While I found these parallel plots intriguing, there's also a third sub-plot about a frustrated hussy and a horny peasant that just didn't work. I can't remember the name of the young actor, but I believe he's classically trained because I saw him do Shakespeare once. He plays Jack, and during the whole cruise he tires to seduce the hussy, forcing her to yell "Jack off" more times than during a gay porno film.
The scenery looks nice, but did they really expect us to buy that cheap plastic model standing in for the ship? Not once do you believe any of this, but the old lady seems nice, and the horny pauper goes down before the ship does. The director, James Cameron, has done some smaller, more intimate films in the past, but his attempt to mix drama and spectacle on such a small budget fails. One more thing. What's with that song? It sounds like some French Canadian jingle singer. Of course, if you've read this far, then the joke is on you. Of course I loved this movie. Epic, grand, romantic, sweeping, thrilling, the Best Picture Winner of 1997 has it all.
Director James Cameron does a seamless job of creating an epic event that stirs the emotions and captures the imagination. Leonardo DiCaprio and Kate Winslet are excellent as the star crossed lovers who find each other as time is running out. Kathy Bates shows muscle as the "Unsinkable Molly Brown," while Bill Paxton and Gloria Stuart add credibility to the wrap-around story that gets the tale started. Even though it is over three hours in length, director Cameron (who also wrote the screenplay) never allows the film to take on water. It stays buoyant even when the film's centerpiece doesn't.
The special and visual effects are absolutely breathtaking. It is really difficult to tell where reality ends and fantasy begins. Even though the film cost as whopping $180 million to make, the cost was negligible compared to what it made at the box office. At $2 billion worldwide, the film is the highest grossing film to date. Oh, and I do love the Celine Dion song, so all you French Canadian readers and Dion fans save your e-mail rants.
COMPLETE CHECK-UP
VISION: 20/20
Absolutely stunning 2.35:1 widescreen transfer. Magnificent color saturation and flattering flesh tones are just the tip of the iceberg. The transfer features outstanding depth of field and attention to detail, so all of those little patterns on the wall never waver. The colors are bold and beautiful, from the brilliant sunlit exteriors, to the warm, muted interior shots. Blues are especially inviting, while yellows and oranges are striking. Saturation is perfect, never too hot or to cold, with absolutely no bleeding. No sign of compression artifacts or flecking. A clean original negative allows for pure whites and shadows, and industrial strength blacks.
HEARING: Excellent
The films almost lyrical 5.1 Dolby Digital soundtrack pours out of every speaker with assurance. The ambient noise is intricate and realistic, while the stereo effects (both left to right and front to back) are superior and accurate. Basses are strong and foreboding, while middle and high ends are so clean and pure they sound live. Surround effects are especially effective, while the dialogue mix is a little low but easily adjustable. No noticeable hiss or distortion. The DVD also features Dolby Surround soundtracks in English and French language.
ORAL: Good
Closed captions in English for the hard of hearing, subtitles in Spanish.
COORDINATION: Good
Handsome, animated main menu, plus effective scene access menu. The DVD also includes the film's original theatrical trailer.
PROGNOSIS: Excellent
It's amazing how much life the old ship still has in her.
ATTENDING RESIDENT: John Larsen
PATIENT: TITANIC
BIRTH DATE: 1997
HMO: Paramount Home Video