The Thing: Collector's Edition
In the bonus materials for "The Thing: Collector's Edition," there's an archive of photographs from the film's premiere in Hollywood. It happened in June of 1982 at the Pacific Theater on Hollywood Boulevard. The premiere was hosted by Elvira. Even though you can't see me in the photos, I was at that premiere. If you dressed as your favorite "thing," you got in free.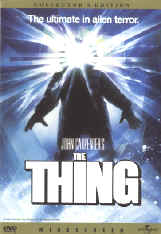 The guy behind me built his own chest-burster from "Alien." The couple in front of us wore giant eyeballs over their heads. Some people went through a lot of effort to win the costume contest. So who won? A guy in drag playing Joan Crawford, beating some young ingenue dressed like Christina Crawford with a clothes hanger. He was screaming "No wire hangers," and the audience went nuts. So a wig and a dress beat out some costumes that must have taken weeks to make. Only in Hollywood. Now down to business. I was at the premiere because I couldn't wait to see John Carpenter's "The Thing." My friend and I were in Hollywood on business, and decided to catch the premiere on a big screen rather than see it later that evening back home on a smaller screen. From the first strains of Ennio Morricone's haunting score I knew I was in for something special. I'm a big fan of Carpenter. I still maintain that "Halloween" is one of the scariest films ever made. "Escape from New York" was a lot of fun, and now Kurt Russell and Carpenter were together again, only this time working for a major studio on the remake of a classic science-fiction film. Carpenter didn't let me down. Working from a tight script by Bill Lancaster, Carpenter created a masterpiece of paranoid suspense. An all male ensemble piece about twelve men trapped at an Antarctic research station with an alien life form that can replicate them, "The Thing" works on many levels. First and foremost, it's a superior suspense thriller that never lets up. There isn't one bad performance among the cast, all who etch memorable characters. Kurt Russell is excellent as the burnt out helicopter pilot MacReady who spends his down time drinking and playing computer chess (he hates to lose). "The Thing" enters their camp in the shape of a dog, being chased by members of a Norwegian research team. When the Norwegians end up dead, the Americans invite the dog into their facility, thus setting off a chain of events that lead to the team members being taken over one by one by the alien. Shot in British Columbia on a glacier and on sound stages in Hollywood, "The Thing" is an exercise in paranoia. Like "Invasion of the Body Snatchers," you're never sure who is and who isn't one of them. Bill Lancaster's script mirrors Agatha Christie's "Ten Little Indians," trapping twelve people in a facility and picking them off one by one. Unlike "Ten Little Indians," Lancaster and Carpenter don't wait until the last page to expose the villain. Thanks to Rob Bottin's amazing special effects, the film maker's are able to play their hand throughout the film. That's what makes "The Thing" so much fun. Just when you think you've seen it all, something new pops up, usually all over the screen. The fact that the actor's play every scene with conviction grounds even the most outrageous moment. My favorite scene? Charles Hallahan's heart- attack that ends with him literally losing his head. For comic relief, you can't get much better than David Clennon's incredulous remark when the head turns into a spider creature and walks away. Sixteen years after it's release, "The Thing" remains grand entertainment. If Universal had released it any other time of the year instead of June, it would have been a huge hit. It's competition at the box office? "E.T.," "Poltergeist," "Firefox," "Star Trek" The Wrath of Kahn" and "Blade Runner." Tough month. Now on DVD, John Carpenter's "The Thing" can get the real respect it deserves.
COMPLETE CHECK-UP
VISION: [ x ] EXCELLENT [ ] GOOD [ ] RESUSCITATE [ ] D.O.A.
"The Thing" has never looked better. A superior digital transfer done by someone who knew what they were doing. "The Thing" is overflowing with images that normally raise red flags: lots of shadows, snowdrifts, low lit interiors, tricky special effects shots. The 2.35:1 widescreen transfer looks sensational on the dual layer disc. Not one trace of compression artifacts, or pixelation. Nicely represented flesh tones, with deep, impenetrable blacks that help bring director of photography Dean Cundey's claustrophobic images to life. The color scheme gets respect from the digital transfer, delivering sharp, vivid reds, ethereal blues and earthy browns. No color smearing or fade outs. Truly an impressive effort.
HEARING: [ x ] EXCELLENT [ ] GOOD [ ] RESUSCITATE [ ] D.O.A.
Sound so real you have to turn around to make sure there's not something behind you. Excellent use of the Dolby Digital 5.1 Surround Sound. Composer Ennio Morricone's symphonic score slowly fills the room with a pulsating bass riff followed by haunting strings that give the digital processor a real workout. The sound mix is dynamic. Bullets and helicopters so realistically whiz by your head that you're tempted to duck. There are a lot of explosions in "The Thing," and the noise circulates through the different channels until you feel like you're right in the middle of it. Outstanding dialogue mix. A real theatrical experience. There's also a Dolby Surround French language track.
ORAL: [ ] EXCELLENT [ x ] GOOD [ ] RESUSCITATE [ ] D.O.A.
Closed captions for the hearing impaired in English, and subtitles in Spanish.
COORDINATION: [ x ] EXCELLENT [ ] GOOD [ ] RESUSCITATE [ ] D.O.A.
The goodies. Universal Studios Home Video doesn't call them "Collector's Edition" for nothing. The mere fact that I can get one of my favorite science-fiction films in widescreen on DVD is reason enough to add it to my collection. "The Thing" comes with a wide selection of extras that truly make it a collector's edition. Since I had already seen "The Thing" about two dozen times, I opted to watch it first while listening to the alternate audio track featuring commentary from director Carpenter and star Russell. This is the stuff I live for. After all of these years getting the opportunity to hear what Carpenter and Russell think about the movie. Their conversation was recorded while the two watched the film, so they provide a blow by blow account of the process of making "The Thing." The two show a lot of enthusiasm and affection for a sixteen year old film, and that made me feel good, because that's how I feel about the film. I don't want to listen to someone ramble on for two hours about a movie unless they appreciate it as much as I do. Their recollections are interesting and candid, and help put a face on what was a difficult shoot. "John Carpenter's The Thing: Terror Takes Shape" is a fascinating and in-depth look at that difficult shoot. With a generous eight chapters at a length of 85-minutes, the documentary covers every facet of the film making process, from the pre-production logistics to the premiere in Hollywood. There's interviews with the stars and the crew, including creature creator Rob Bottin, who just overflows with energy as he describes what was his second major job ("The Howling" was his first). Everything you ever wanted to know about the making of "The Thing" is here, plus location footage of the cast and crew members. Now how much would you pay? But wait, there's more! The bonus materials also include outtakes from the film (nothing major, but still fascinating to watch), behind-the-scenes photographs and storyboards and conceptual art. There's even a switch that allows you to listen to only Morricone's score during the documentary. Toss in the original theatrical trailers, colorful menus, generous scene access, and the usual cast and crew bios and production background information, a colorful and informative booklet, and you have a complete experience. The only letdown? In the documentary, writer Lancaster mentions that Carpenter shot an alternate ending that was more upbeat, but never used it. DVD would have been the perfect place to include such a rarity. Oh well….
PROGNOSIS: [ x ] EXCELLENT [ ] GOOD [ ] RESUSCITATE [ ] D.O.A.
A "Collector's Edition" worthy of the name. A consummate DVD package that's sure to thrill fans of the genre. Worth every penny, "The Thing: Collector's Edition" proves that studios can breathe new life into classic films on DVD. My only concern? Was my DVD the real thing, or an alien life form mimicking a DVD? Only my DVD player knows for sure, unless of course…
VITALS: $34.95/Rated R/109 Min./Color/37 Chapter Stops/Keepcase/#20329
ATTENDING RESIDENT: John Larsen
PATIENT: THE THING – COLLECTOR'S EDITION
BIRTH DATE: 1982
HMO: Universal Studios Home Video